Trucking news and briefs for Friday, Aug. 6, 2021:
Navistar doesn't owe fleet damages over MaxxForce engines, Tenn. Supreme Court rules
Navistar will not be ordered to pay $30.8 million in damages to Tennessee-based Milan Express after a ruling by the state's high court upheld an appellate court's decision that vacated a lower court's ruling.
In August 2017, Navistar was ordered to pay nearly $31 million to Milan, which had purchased 243 International ProStar tractors equipped with MaxxForce engines in 2011 and 2012. Milan alleged that Navistar knew its MaxxForce engines had defects but brought them to market regardless. The jury awarded the carrier $10.8 million in actual damages and $20 million in punitive damages for the problems the carrier experienced with the engines.
However, in August 2019, an appellate court tossed that decision, based on its interpretation of Tennessee's so-called economic loss doctrine.
The Tennessee Supreme Court on Aug. 2 sided with the appellate court's decision, but on separate grounds.
"The Court declined to adopt a broad exception to the economic loss doctrine and instead concluded that, where a fraud claim seeks recovery of only economic losses and is premised solely on alleged misrepresentations or nondisclosures about the quality of the goods that are the subject of a contract between sophisticated commercial parties, the economic loss doctrine applies," the Court said in its opinion. "The Court found the quality and reliability of the trucks were matters which the parties could, and actually did, contract. Applying the economic loss doctrine in these circumstances is consistent with its historical underpinnings and with its central purpose of preserving the boundary line between tort and contract law."
The Tennessee Supreme Court also ruled that the Tennessee Consumer Protection Act (TCPA) does not apply to commercial transactions, noting that the trucks sold to Milan were not "goods" as defined by the TCPA.
"Therefore, the Court set aside the trial court's award of attorney's fees and costs to Milan against Navistar based on the TCPA," the opinion added.
[Related: Dealing with diesels' aftertreatment demons]
Battery-electric Pete visits the nation's Capitol
Peterbilt took its battery-electric 579EV model to Washington, D.C., as part of a demonstration to government agency officials and members of Congress. The visit began with a U.S. Department of Energy press conference where Energy Secretary Jennifer Granholm announced $60 million in funding for 24 research and development projects that include projects directly related to reducing emissions through battery and electrification technologies in commercial transportation. Following the press conference U.S. Commerce Secretary Gina Raimondo took the Model 579EV for a ride around the Capitol as part of a video with Granholm and White House National Climate Advisor Gina McCarthy.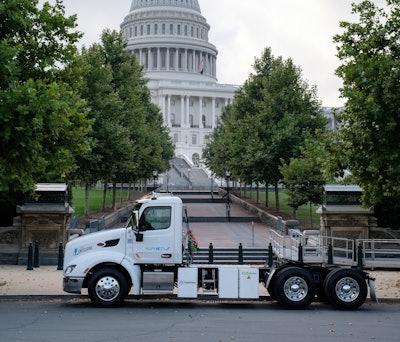 "Seeing a Peterbilt Model 579EV drive around our Nation's Capital is a testament to our commitment towards zero-emission progress," said Jason Skoog, Peterbilt general manager and Paccar vice president. "We were honored to share our message with leading government agency officials and members of Congress."
Peterbilt's electric models, in addition to the 579, include the 520EV and 220EV., all now available for order along with a line of charging products and infrastructure services. Paccar Parts has been offering customers assessments of their electric grid and charging infrastructure needs, completed in advance of any purchase.
The unit that visited D.C. was one being used as part of a California Air Resources Board dray truck demonstration funded by California Climate Investments, a statewide initiative that puts cap-and-trade dollars to work.
Cargo theft attempt thwarted by use of GPS tracking
A tractor and 53-foot trailer were stolen from a truck stop in Meadowview, Virginia, on Aug. 3, while left unattended during a DOT break, according to a risk alert from cargo theft recording firm Sensitech.
The tractor was located later that night in Kingsport, Tennessee, but there were no signs of the trailer until the Sensitech GPS device embedded in the trailer provided an updated location in Knoxville, Tennessee.
Through coordinated efforts with the Knox County Sheriff's Office and the Sensitech Emergency Response Team, the stolen trailer was found at a local truck stop, leading to the successful recovery of the cargo, which had a high product and resale value, Sensitech said.
The firm believes the theft was carried out by an organized criminal group. Sensitech said the criminals target loads while unattended, then unhook the trailer and abandon the tractor. A second stolen tractor is used to transport the stolen trailer once unhooked.
The criminals then paint over any logos and identifying numbers on the trailer, which is then staged at an inconspicuous location awaiting potential recovery responses facilitated by tracking devices.
Sensitech said this particular criminal group operates within an area of at least a 144-mile radius of the theft location.