Trucking news and briefs for Friday, Aug. 13, 2021:
Bill introduced to help lower cost of fuel-efficient tech
Legislation introduced by Rep. Rodney Davis (R-Illinois) would establish a Department of Energy voucher program to help truck owners in purchasing and installing fuel-saving, emission-reducing technologies.
Specifically, the voucher program would cover expenses related to adopting fuel efficient technologies in Class 8 trucks.
Davis' Supporting Trucking Efficiency and Emission Reductions (STEER) Act, if passed and signed into law, would cover the lesser of the following:
$4,000 or 75% of total costs per unit for fleets operating 10 or fewer trucks
$3,500 or 72.5% of total costs per unit for fleets operating 50 trucks or fewer
$3,000 or 70% of total costs per unit for fleets operating 100 trucks or fewer
$2,500 or 67.5% of total costs per unit for fleets operating more than 100 trucks
The vouchers would cover "any physical alterations of a Class 8 truck that can be installed as a retrofit and that adapt automatically to control vehicle performance factors and improve fuel efficiency, including active aerodynamic, active rolling resistance, dynamic axle lift control, non-APU active idle reduction, and other such emerging improvements."
According to a press release from Davis, adopting these technologies can improve Class 8 fuel efficiency by as much as 15% and cut national fuel consumption by 4.5 billion gallons a year.
The bill has been introduced in the U.S. House and will need to be approved by the House Committee on Energy and Commerce before advancing to the full House floor for a vote. It would then need to pass the Senate before becoming law.
[Related: Another lower-cost alt-HVAC option: Mike Greenberg's custom set-up]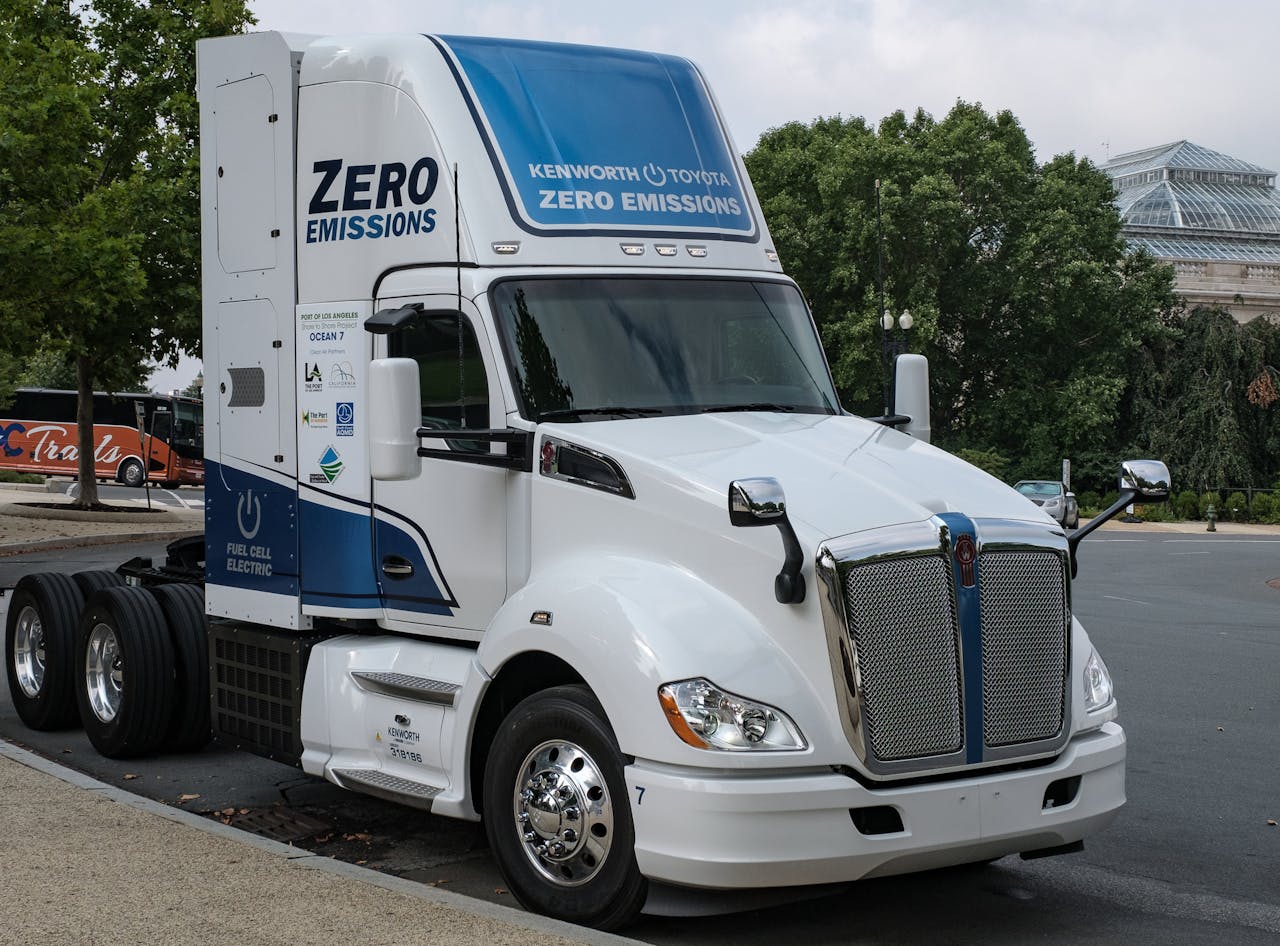 Kenworth's hydrogen fuel cell-powered electric-driver truck goes to Washington | Government agency officials and members of Congress recently had the opportunity to see a Kenworth T680 fuel cell electric vehicle (FCEV), powered by hydrogen, in Washington D.C., as pictured. The T680 daycab served as part of a backdrop for a U.S. Department of Energy (DOE) press conference, detailed via this link. Energy Secretary Jennifer Granholm was joined by White House National Climate Advisor Gina McCarthy for a discussion and ridealong in the Kenworth T680 FCEV. The following day, members of Congress, committee staff, and trade association executives stopped by for a visit and discussion. "This was a great opportunity to provide a hands-on look at the T680 fuel cell electric vehicle to leading government agency officials and members of Congress and their staffs," said Kevin Baney, Kenworth general manager and PACCAR vice president. Kenworth has built 10 zero-emissions T680 FCEVs under the $82.5 million Shore-to-Store (S2S) project led by the Port of Los Angeles. The project is part of California Climate Investments, a statewide initiative that puts Cap-and-Trade dollars to work reducing greenhouse gas emissions. The demonstration project is moving forward with a $41.1 million grant from the California Air Resources Board's Zero- and Near-Zero Emissions Freight Facilities (ZANZEFF) program. Kenworth's zero-emissions EV program also features the Class 8 Kenworth T680E battery-electric and medium duty Kenworth K270E and K370E battery-electric vehicles, which are all available for order. The vehicles are designed for local pickup and delivery, drayage, and short regional haul applications.

Plan for less parking along I-40 in Arizona
Added parking restrictions are planned to begin this weekend at the Meteor Crater Rest Area on Interstate 40 east of Flagstaff.
The facility has been open to commercial truck parking while under renovation since the beginning of the year, but beginning Sunday, Aug. 15, the parking lot will close to all vehicles to allow for further improvements. During the closure, the nearest traveler facilities will be in Flagstaff and Winslow.
As part of the ongoing project to renovate the rest area, located at milepost 235, crews will close the parking lot in order to replace the pavement and restripe the parking spaces. The parking lot will be closed until the fall.
The nearly $3.5 million renovation project also includes upgrading the facility's electrical, mechanical and water/wastewater systems as well as site improvements. Construction is expected to be completed by the end of the year.