Trucking news and briefs for Friday, Nov. 25, 2022:
International LT is top sleeper tractor for retained value
Price Digests, a provider of vehicle values and specs data for more than 100 years, in October announced the winners of its 4th annual Price Digests Highest Retained Value Awards (HRVA) -- the only industry awards program that leverages third-party, unbiased, data-driven residual values of commercial trucks to recognize those that best hold their value.
In the heavy-duty segment, Volvo and International took home top honors. The 2022 Volvo VHD64FT led the heavy-duty conventional day cab tractor category this year with a five-year retained value of 65.21% -- 30 points higher than last year's winner, the Freightliner Cascadia, which had a retained value of 35.86%.
The VHD64B retained nearly 75% of its value for the top spot in the conventional cab and chassis category.
International's LT625 took the top spot among sleeper tractors with a retained value of 57.74%.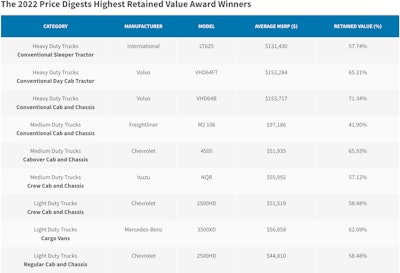 "This year, we've seen higher retained values across the board for heavy- and medium-duty trucks," said Jessica Carr, Price Digests Director of Data and Analytics, adding the impact of COVID-19 supply chain woes changed the trajectory of retained value, keeping it higher than in years past. "We expect the supply chain issues to continue to keep prices higher than normal during the next two to three years, especially for heavy- and medium-duty commercial trucks, so the investments people and companies make in their trucks will remain high."
Price Digests monitors new and used truck values each month, with data analysts updating its Truck Blue Book data to ensure accurate values, VIN decoding and specifications. Price Digests is powered by The Truck Blue Book.
Shippers' conditions took nosedive in September
While conditions were difficult for trucking companies in September, with FTR's Trucking Conditions Index falling from near-neutral to -2.35, conditions for shippers were even worse, the firm noted.
FTR's Shippers Conditions Index (SCI) fell in September into negative territory at -3.1 from a positive 5.0 in August. The freight environment was tougher for shippers in September as capacity utilization tightened and freight volume increased. The monthly decline appears to be an outlier, the firm said, as conditions, although volatile, should generally improve as capacity utilization loosens. However, fuel costs remain a major wild card.
"A slowing freight market will help ease shippers' pain points over the coming weeks and months with the slow freight growth expected to continue for much of 2023," said Todd Tranausky, vice president of rail and intermodal at FTR. "This will in particular give rail carriers an opportunity to hire to meet demand and use that headcount to improve service levels for the next upward cycle."
The Shippers Conditions Index tracks the changes representing four major conditions in the U.S. full-load freight market: freight demand, freight rates, fleet capacity and fuel price. The individual metrics are combined into a single index that tracks the market conditions that influence shippers' freight transport environment. A positive score represents good, optimistic conditions. A negative score represents bad, pessimistic conditions.