Owner-operators Rick and Terry Henderson call Rittman, Ohio, home. Yet the creature comforts in what Terry notes is the "eighth house truck" they've operated, their 2022 Peterbilt 389 with a 144-inch ARI big bunk, bring home to the road, where they haul arms, ammunition and explosives (AA&E) freight for the military, leased to Bennett. "This will be our pathway to retirement," Terry said of what's well-known as a lucrative freight niche, which the pair first got into in 2020 leased to a different company.
Yet she could also easily be talking about the new build. There's another truck in their tentative plan as it stands now, but "I don't know how you top this one," Terry said, a sentiment expressed by Rick as well.
She's a looker inside and out, no doubt.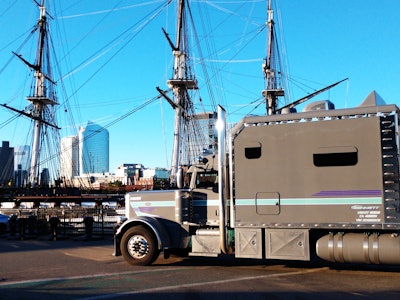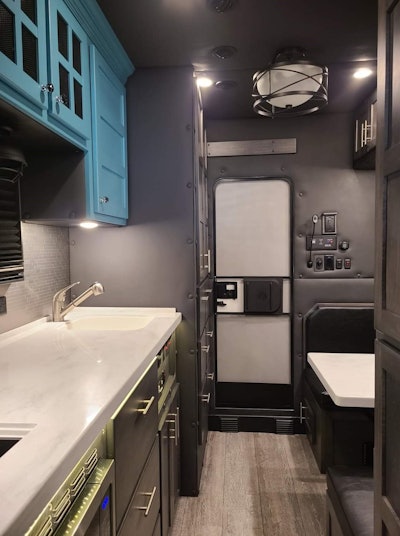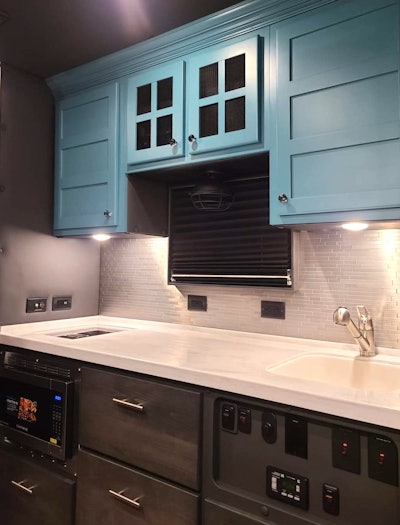 The truck is a big winner this year in Overdrive's virtual Pride & Polish truck show, where it bagged a first in the Interior class and first runner-up in its working bobtail class.
The Hendersons met for the first time "on a CB in a traffic jam," Terry said. She was a Schneider company driver. Rick was hauling yachts, among other freight, and since they got married in 2009, "we've been teaming," Terry said. They bought their first truck in 2011 after working through past credit issues to finance the purchase. When they got married "we had horrible credit -- we were like two train wrecks that came together."
They've come a long way since, hauling pharmaceuticals for years before getting their feet wet with military AA&E at FedEx. Their first such load, Terry recalled, was one she can't talk directly about with specificity but which gave her pause, knowing what was in the trailer. "Rick, can this thing blow?" she remembers asking.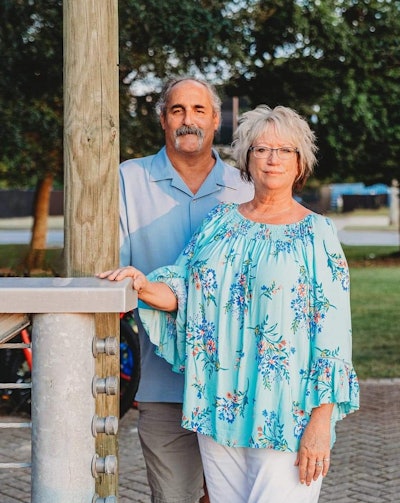 Said Rick, "A plus B equals Boom. A and B are never packaged together."
The 344-inch-wheelbase 2022 389 replaces a 2020 plain-wrapper white Pete with a black frame that they made a lot of money with, particularly after getting military clearance for AA&E, Terry said. So much, in fact, that in 2021, consulting with their tax advisor at business services firm ATBS, they were told to plan on handing an extra $40K-$50K to the IRS with the income jump. The Hendersons didn't have a mortgage to write off, and Terry didn't feel "disciplined enough to be sitting on a bank account with $50,000 in it."
She turned to Rick and said, "We need to build a truck." Hence this 2022's name, which will be emblazoned on the back of the sleeper eventually: "Tax Write-Off."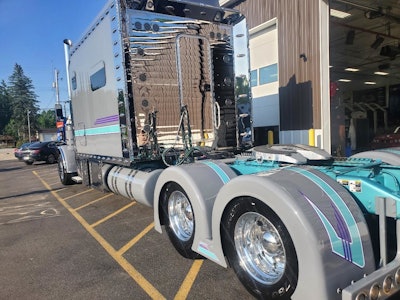 They got a build slot working through TLG Peterbilt in St. Louis, Missouri, essentially duplicating their prior 2020 build specs, with a 20,000-lb. front axle, 565-hp Cummins engine and an 18-speed transmission, with the fifth wheel spec about the extent of Rick's input, Terry said. This tax write-off would be her creation.
"Rick's plain-wrapper," Terry said. "He loves the old-school -- we've never had a stripe on anything." Until now.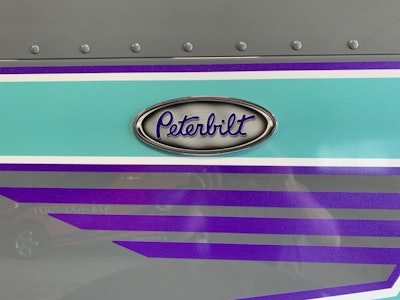 There were many, many steps toward realizing the final vision.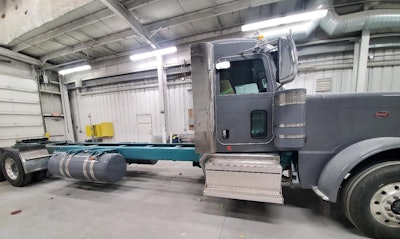 The rig's transformation from the factory began with Brandon Sturgis and the team at ARI in Indiana with partners in Nationwide Chrome in Fremont -- who supplied lights, chrome accessories, hydraulic lift front 22-inch bumper, and much more -- and CRS Custom in Osceola for the painted tanks, breathers and other work. "We created a triangle," Terry said, as the three shops forged new partnerships.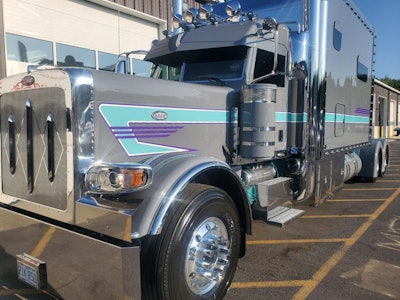 In some ways, Rick's old-school tendencies when it comes to truck design led to myriad small battles he ultimately lost, yet Terry notes that for all his protestations, he got part of what he wanted, too, in dressing up the Pete.
As Terry told ARI's Brandon Sturgis one day when discussing lights, "Rick wants a light between every light," she said.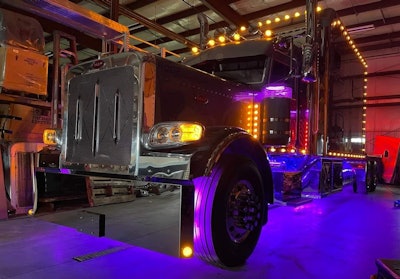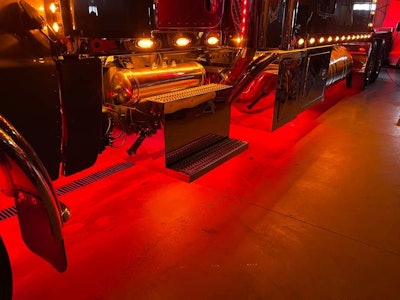 All light lenses, Terry noted, are smoked, and sourced through Nationwide Chrome.
The newly connected three points of the Bermuda Triangle (CRS, ARI, Nationwide Chrome), meanwhile, "have five to six projects going on" as business relationships were cemented during Tax Write-Off's build, which wrapped up early this year, Terry said.
Here's a big congrats to all on a job well-done.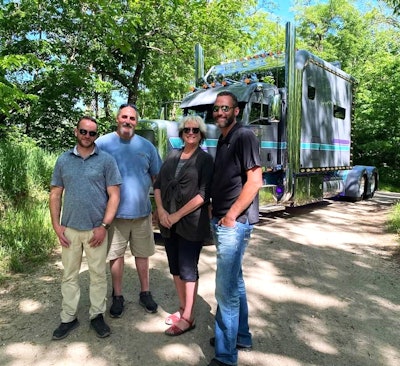 [Related: Custom champs: Classic Mack B61 helping revive longtime trucker ministry]