Trucking news and briefs for Monday, April 17, 2023:
Used truck sales ballooned in March, and prices ticked up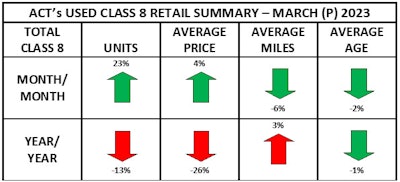 Preliminary Class 8 same dealer used truck retail sales volume managed a sizable gain in March, ballooning 23% month over month from February, according to the latest preliminary release of ACT Research's "State of the Industry: U.S. Classes 3-8 Used Trucks" report.
The improvement was consistent with, but smaller in comparison to, the 93% increase in auction sales and a 34% bump in wholesale transactions. Bringing auctions and wholesale transactions into the mix, the used truck industry saw sales increase 53% month over month.
Compared to February, average retail volumes increased 23% and prices increased 4%, while miles per average truck were down 6% and age per truck down 2%.
Compared to a year ago, though, sales volumes were down 13%, and prices were down even further -- 26%. Miles and age were fairly consistent with a year ago.
Steve Tam, vice president at ACT Research, said March is historically one of the strongest months for used truck sales, but typically "not as strong as indicated by [March's] preliminary data," he noted. "Regardless, buyers are taking advantage of improved inventory and lower prices to refresh their fleets with younger, lower mileage units."
Tam said the 4% retail price increase for Class 8 used trucks from February to March brought the average sales price to $74,500. "The unexpected gain is somewhat the result of younger, lower mileage trucks making their way into the market as the logjam on new truck purchases and subsequent trades continued to break up," he said.
[Related: Download Overdrive's early 2022 Truck Purchase & Lease Survey report]
Tennessee enables likely tolls for 'Choice Lanes' on highways to improve congestion
Tennessee Gov. Bill Lee on Monday signed a bill into law that would, among other things, allow the state to explore tolled "Choice Lanes" on congested highways to improve traffic flow in urban areas.
According to the Tennessee Department of Transportation, the lanes would give motorists the option of using tolled lanes on congested highways. TDOT said such lanes typically use pricing, vehicle eligibility and/or access control to improve congestion, adding they typically operate at around 50 mph during rush hours when traditional lanes are barely moving or even at a standstill during peak periods.
Unlike a traditional toll road, only specific lanes of a highway would be tolled rather than the entire highway, and motorists would not be required to use the tolled lanes. It's unclear if trucks would be allowed to use the tolled lanes.
The cost to use the Choice Lanes would use congestion pricing, changing during the day based on how many vehicles are using them, TDOT said, with the user fees advertised well in advanced of using the lanes. Once a driver enters the lane, they will be guaranteed to only pay the price they saw.
Currently, there are around 70 Choice Lane corridors open in 12 metro areas across the U.S., TDOT said, with just as many being designed and under construction. States like Texas, Georgia, Florida and North Carolina have used Choice Lanes to address urban congestion, with Georgia seeing speeds increase in the non-tolled general purpose lanes by 20 mph once their Choice Lanes opened.
[Related: Toll roads on the rise: What's an owner-op's best electronic collection option?]
New Love's adds 91 parking spaces in South Carolina
Truck drivers traveling along I-85 through South Carolina have a new parking option with the opening of a new Love's Travel Stops location in Piedmont.
The location features 91 truck parking spaces, a Hardee's restaurant, nine diesel bays, seven showers, a Speedco opening May 1 and more.
The Piedmont location is the 13th Love's to open in South Carolina.
[Related: How drivers are crowdsourcing a solution to the truck parking crisis]
Driver named Highway Angel for rescuing woman from burning van
Anthony Blunnie, a truck driver from Woodville, Texas, has been named a Highway Angel by the Truckload Carriers Association for rescuing an injured woman after a crash that left her vehicle engulfed in flames. Blunnie drives for Knight Transportation.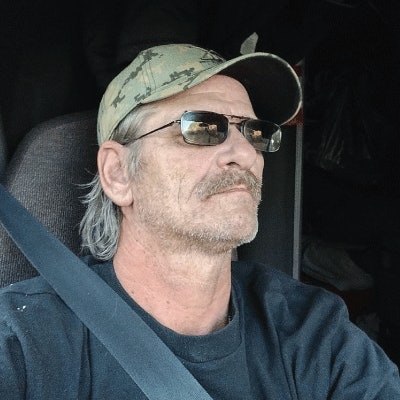 On Feb. 15 around 1 p.m., Blunnie was training a driver on I-20 in Jackson, Mississippi, when he saw a van blow a tire and veer off the road, flip and catch fire. He had the driver trainee pull over immediately.
"I jumped out of the truck," Blunnie said, grabbing his fire extinguisher, and rushing to rescue the woman. By the time he reached the driver's side door, the flames were inside the vehicle and approaching the injured woman.
"I went around to her side and tried to pull her out," he said, finally having to break all the van's windows to pull her out of the vehicle, with the help of another person.
"If he hadn't come, I don't know what I would've done -- I couldn't have gotten her out by myself," Blunnie said.
Blunnie said the woman was a Domino's pizza delivery driver on her way to work, and she sustained multiple injuries in the crash. "Her face was all bloody and she broke her nose -- the airbag got her," he said.
He said he didn't hesitate to jump into the dangerous situation to help .
"She would've been dead," he said, if he hadn't. "Ten seconds after we got her out of the van, it was gone."