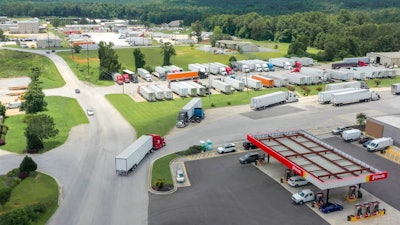 Autonomous truck tech company Kodiak Robotics has partnered with Pilot Company to open the first "autonomous truckport" at the Pilot Travel Center in Villa Rica, Georgia.
The facility, just west of Atlanta, will be used by Kodiak to launch and land its autonomous trucks. It will also serve as a hub for drivers to pick up and drop off first- and last-mile deliveries.
The truckport offers services such as refueling at the Pilot Travel Center, light maintenance, and pre-trip inspections, including "Enhanced Inspections" specifically tailored for self-driving trucks.
Kodiak said in July it became the first company to pilot the Commercial Vehicle Safety Alliance's Enhanced Inspections, which require that a CVSA-certified inspector, who has completed a 40-hour CVSA training course and passed a corresponding exam, conduct a thorough inspection of an autonomous truck combination, which is valid for a 24-hour period. Autonomous trucks then communicate the outcome of that inspection, as well as other relevant safety information, to roadside enforcement officers. Trucks that undergo this process will not be subject to routine inspections at weigh stations and other inspection sites.
The Villa Rica truckport will Kodiak's 18,000-mile-long autonomous deployment network -- a set of mapped routes for self-driving trucks. The trucks currently still include a "safety driver," an operator in the cab to oversee the truck's operations.
[Related: California bill requiring drivers in autonomous trucks advances]
The Villa Rica location will serve as Kodiak's eastern hub, the company said, extending its reach across the freight-dense Dallas to Atlanta corridor, while the company's Dallas-Fort Worth hub will continue to serve as the main terminal for its autonomous truck fleet.
"Truckports are needed in order to scale autonomous operations, which will change the landscape of long-haul freight transportation, making it safer and more efficient," Kodiak said in press release. "Our Villa Rica truckport is a step toward our goal of letting self-driving trucks handle long-haul highway miles, leaving local, first- and last-mile deliveries to professional drivers who can stay closer to home."
[Related: 'Nothing to hide, nothing to fear,' right? Get ready for Level 8, automated inspections]]