Inspection numbers are down, and with state truck enforcement units struggling with staffing issues that predated but were certainly exacerbated by the COVID-19 pandemic, some in the roadside enforcement community see more automated inspections as a way to build those numbers. Commercial Vehicle Safety Alliance Roadside Inspection Specialist John Sova noted enforcement's desire to "leverage the use of technology as the number of inspections" has fallen, he said. "How do we get the best data to be able to identify carriers that might need additional intervention?"
The last year has been something of a watershed when it comes to concrete steps taken toward a future for roadside inspections that could in fact be well more automated than anything happening today. Various developments on the regulatory front have begun to lay the groundwork to (eventually) make a now five-year-old inspection standard a reality. Some benefits could be derived by truckers with "nothing to hide, nothing to fear," as the old saying goes, in the form of many more clean inspections.
Yet the Owner-Operator Independent Drivers Association recently flagged constitutional concerns around "automated surveillance" in the form of inspections. And seen in the context of recent moves by the Federal Motor Carrier Safety Administration around its CSA Safety Measurement System and intention to move on a revamp of carriers' safety ratings, other watchers fear a data-driven approach to ratings could backfire for the smallest fleets.
Some independent owner-operators and very-small fleets view the recent CSA SMS changes as FMCSA offering a bit of a "kinder, gentler" approach with CSA SMS, in the words of transportation attorney Hank Seaton, with more of the smallest fleets likely to fly under the radar of the SMS's scoring metrics. Yet if automated inspections become a compulsory part of truckers' travels past scale houses and/or other mobile checkpoints nationwide, voluminous inspection/violation data collected could mean quite the opposite of kinder and gentler.
Moves toward making the Level 8 inspection reality on the ground

The Commercial Vehicle Safety Alliance in 2017 wrote and adopted its Level 8 electronic inspection standard as, essentially, a driver inspection. In theory, that inspection would occur without intervention of a trooper at a weigh station or roadside.
'The definition mirrored a Level 3 inspection," said CVSA's Sova, formerly lead federal Motor Carrier Safety Assistance Program liaison in his leadership role with the North Dakota state truck enforcement unit. "This was something that we thought could eventually be developed into an electronic inspection."
That inspection standard, though, essentially "laid dormant for several years," Sova said. Before it came into being, and after, private-sector companies like Drivewyze, working with ELD providers, among others, had shown the potential to transmit data from a rolling truck forward to an inspection facility in so-called e-inspection, or "expedited Level 3," trials.
Among such data were elements of what the Level 8 standard called for, namely:
A "descriptive location, including GPS coordinates"

Electronic validation of the current operator, including "driver's license class" and any endorsements, a "valid Medical Examiner's Certificate" and, where applicable, a Skill Performance Evaluation (SPE) Certificate for those with medical waivers for missing limbs
Current hours of service status and compliance information
The USDOT or (Canada) NSC number of the authorized carrier, power unit registration information, operating authority info, and Unified Carrier Registration (UCR) compliance information.
Not all of this was included in those expedited Level 3 trials, but a majority in fact was, proving that technology to do this, at least for motor carriers voluntarily participating in such a program, has long been somewhat feasible.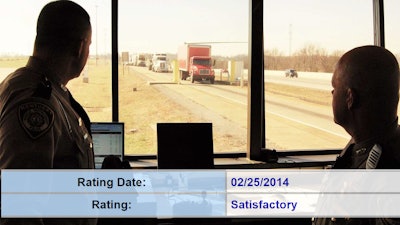 In the e-inspection demonstrations to date, virtually all have been enabled by the presence of an electronic logging device in the trucks involved, yet another outgrowth of the 2017-implemented ELD mandate.
Few owner-operators view the notion of automated, rolling inspections of this manner positively, that's sure. As shown in the chart above, 58% of Overdrive's State of Surveillance survey respondents felt the Level 8 inspection represented just another step in ongoing intrusions on "privacy and personal data." Few, however, saw it coming to a scale house anytime soon. Only 1 in 10 respondents felts states were close to it now.
Yet CVSA last Fall established an ad hoc committee devoted to the Level 8 and its future implementation, Sova said. Around the same time, FMCSA asked for public comment on a CVSA petition for a unique electronic identifier (often referred to with the UID acronym) that could be transmitted to roadside. Steve Vaughn, Senior Vice President for Field Operations with the PrePass Safety Alliance, in a talk featured in the Overdrive Radio podcast series at the time, too, connected the dots between UID and the Level 8. He viewed any established electronic UID system as a stepping stone to get to those Level 8 inspections, and those as charting a path toward yet another automated inspection program -- CVSA's plan for how to account for fully automated trucks, where no driver is present in-cab.
[Related: Electronic IDs for trucks: 'Big Brother' or a step forward?]
CVSA at its Fall 2022 meeting adopted a new standard for inspections of automated vehicles. Turns out these vehicles may not exactly be inspected by law enforcement as much as they are by the controlling motor carrier and its personnel, certified to CVSA standards for that purpose. There's more to it than that, though. Vaughn gives a fairly realistic assessment of the vision for what a connected, fully autonomous truck might be able to communicate with the roadside.
Those trucks, he said, "will have all the critical components on that vehicle -- brakes, brake lights, steering, other items -- they will all have sensors on them. They'll be tested before they leave the yard. As it's driving down the road, if any of those sensors indicate there's a problem, then that vehicle will be required to pull in." Motor carriers using such trucks under CVSA's new standard are envisioned to be required to conduct point-of-origin and -destination inspections, including inspections at specific intervals throughout the trip.
CVSA's Sova notes elements of the automated-trucks inspection program surfaced in discussions at a forum held in March that was dedicated to hashing out the future of the Level 8 inspection. Held in Omaha, Nebraska, the forum was attended, like most CVSA events, by not only state enforcement reps but federal regulatory personnel and plenty of CVSA associate members -- i.e. reps from motor carriers large and small.
Sova noted seating assignments at the forum placed reps from different constituencies with each other -- state troopers who do the inspections with federal regulators with CVSA staff and all with motor carriers who see clearly the other side of the inspection process. The result, he said, was "a nice mix of all these conversations before bringing it to the larger group," and an education in road realities for CVSA staff and the feds.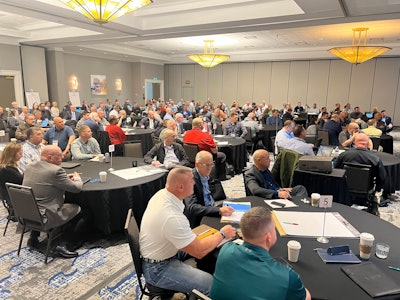 There was talk of creep toward more-automated vehicle inspection as part of the Level 8 standard as technology progresses and regulatory structures adapt. Yet vehicle component inspection automation "adds a whole new level of, how do you verify that kind of stuff?" Sova said. "Could we scale it down the road to offer different types of a Level 8 inspection?"
Presentations during the forum detailed a variety of vehicle-component sensors that are available. "We'd like to see [the Level 8] incorporate vehicle components," Sova said, yet numerous complexities exist on the verification of physical data transmitted. "Sensors can tell you whether or not something works, but they also tell you whether or not the sensor is working," Sova added, noting that distinguishing between the two conditions would be paramount. "You don't want to cite a violation" for the equipment condition simply because "the sensor isn't working."
Where all this is going, and what it's motivated by, is perhaps best illustrated by a late May release from the Department of Transportation's Volpe Center for technical development. They'll be supporting an FMCSA-led Level 8 proof-of-concept demonstration that could begin as early as this year, according to CVSA's Sova.
Among potential benefits of the Level 8 inspection, the Volpe release noted a "tenfold increase in the total number of vehicle inspection data collected annually," which might enable "better decisions about which carriers to prioritize for inspection."
Yet at what cost?
When the Owner-Operator Independent Drivers Association filed comments with the White House Office of Science and Technology Policy recently about "automated surveillance" in workplace settings, the association cast efforts around UID and roadside inspections this way: "The federal government wants to mandate trackers on truckers so that they can be remotely monitored at any moment by law enforcement. … The motivation for pursuing this rulemaking appears to be nothing more than adding convenience for enforcement agencies. This creates concerns about the potential for unreasonable search and seizure and violation of drivers' privacy rights under the 4th Amendment to the U.S. Constitution."
OOIDA has fought similar battles on similar grounds before, when their challenge to the ELD mandate itself met its end in a Chicago federal courtroom in 2017. Yet a degree of automation of hours recordkeeping is one thing, automated inspections by state agencies another. A majority of Overdrive State of Surveillance respondents, as noted, agree at least that privacy intrusions are a major concern.
If the Level 8 does get off the ground in any real way -- Sova estimates it's at least five years out -- and starts the march toward 10 times the current level of data collected, results will be decidedly negative for those flagged with violations. Yet Sova was quick to point out that CVSA's associate members in the carrier community have insisted on a clean-inspection benefit, too, from any Level 8, with potential to more readily improve carrier metrics in the CSA Safety Measurement System. Furthermore, he added, participating in the Level 8 program initially is likely to be a voluntary matter on the part of carriers, not a compulsory, always-on type of automated inspection regime for every motor carrier.
Discussions of that possibility have been a part of CVSA's work, though. The tech that would be required in all trucks, and in all states, presents barriers to get there. For now, John Sova is looking for carrier and state participants for the aforementioned real-world Level 8 inspection trial. Interested carriers can contact him directly via his email address, he said. "In the first phase we are limited to nine carriers," he added, and that may necessitate somewhat more sizable fleets as participants, not "someone with just one or two trucks." Further phases down the line, however, could be more likely to incorporate some of the smallest fleets.
In the final piece of Overdrive's State of Surveillance special reports, the following podcast, attorney Hank Seaton illustrates some of the ways more automated inspections might impact carrier CSA SMS scoring and official safety ratings in the future, as FMCSA moves to change the way those scores are determined. All of it may be a long time coming, he said, in his view, and in the interim there are better ways to enhance safety ratings for all carriers outside of purely data-driven scoring.
Podcast -- Truckers 'canaries' in the tech mine: Inside story around 'Data Driven' book on ELD mandate, rise of 'new workplace surveillance'
Video monitoring, in two parts:
**Can AI transform the prying eyes of in-cab cameras for the better?
**In-cab and out, camera options expand amid push-pull of privacy concern, regulatory attention
ELDs/smartphones and location tracking -- Broker intrusions on the rise with ubiquitous location tracking capability
Truck and trailer telematics -- Telematics beyond ELD systems: Promise, redundancy and real expense/uptime benefits
Data mining -- The third parties following you around freight networks: Brokers looking more like carriers with 'data driven' decision-making
Smartphones/GPS -- Counterpoint to some truckers' tech reticence: 'If you use a smartphone, you embrace it'
Roadside inspections -- 'Nothing to hide, nothing to fear,' right? Get ready for Level 8, automated inspections
Podcast -- FMCSA offering 'kinder, gentler' approach to safety scoring? Not if automated inspections go live