Trucking news and briefs for Thursday, July 6, 2023:
Split-sleeper exemption request denied
The Federal Motor Carrier Safety Administration announced Thursday it has denied a request from truck driver Matthew Killmer that would have allowed him and other truck drivers to shorten the required seven-consecutive-hour sleeper-berth period to five hours to accumulate the required 10-hour rest period under split-sleeper logbook rules.
Current regulations allow drivers to split sleeper-berth time into 8/2 or 7/3 segments to satisfy the 10-hour break requirement, as long as driving time before and after each rest period, when added together, does not exceed 11 hours or exceed the 14-hour on-duty limit.
Killmer, in his request, said in the current 10-hour break and 8/2 and 7/3 sleeper-berth splits FMCSA has not "considered the serious amount of lost time" a truck operator experiences on a weekly basis. "Already commercial vehicle operators face lost time from family, hardships with safe parking, lost income/revenue and much more. The 5/5 sleeper-berth split may not alleviate some of what they face, yet it will effectively help them in safe truck parking and lost income/revenue."
[Related: Rolling the 14: How to pull off the split-sleeper in the hours of service]
In denying the request, FMCSA said Killmer "failed to establish that he would likely maintain a level of safety equivalent to, or greater than, the level achieved without the exemption." The agency added that in its most recent hours of service changes in 2020, it modified the split-sleeper rules to the current 8/2 or 7/3 splits "to provide more flexibility for drivers."
FMCSA said that it considered other split configurations, like Killmer's 5/5 request, but found "there is no clear evidence -- to say nothing of a scientific consensus -- that a 6-hour (or shorter) sleeper-berth period is long enough to prevent cumulative fatigue. That is especially obvious since drivers cannot be expected to fall asleep immediately." The agency added that regulators believed the 7-hour rule "allows enough time for drivers to relax, de-compress, and obtain more than 6 hours of sleep."
[Related: FMCSA rejects another HOS exemption, as split-sleeper flexibility sought]
Comment period on automatic emergency braking opens
The Federal Motor Carrier Safety Administration and the National Highway Traffic Safety Administration are now accepting comments on a proposal that, if finalized, would mandate automatic emergency braking (AEB) systems on new trucks with a gross vehicle weight rating of more than 10,000 pounds.
The notice of proposed rulemaking (NPRM) published Thursday is open to public comment for 60 days through Sept. 5. Comments to NHTSA can be made here, while comments to FMCSA can be made here.
The NPRM responds to a mandate under the Bipartisan Infrastructure Law directing the Department of Transportation to enact a Federal Motor Vehicle Safety Standard (FMVSS) that requires heavy commercial vehicles with FMVSS-required electronic stability control systems to be equipped with an AEB system, and also promotes DOT's January 2022 National Roadway Safety Strategy to initiate a rulemaking to require AEB on heavy trucks.
The notice also proposes Federal Motor Carrier Safety Regulations (FMCSRs) requiring the electronic stability control and AEB systems to be on during vehicle operation.
"Considering the effectiveness of AEB and electronic stability control technology (ESC) at avoiding these crashes, the proposed rule would conservatively prevent an estimated 19,118 crashes, save 155 lives, and reduce 8,814 nonfatal injuries annually once all vehicles covered in this rule are equipped with AEB and ESC," the agencies said in the NPRM. "In addition, it would eliminate 24,828 property-damage-only crashes annually."
The proposed requirements also include two tests to ensure that the AEB system does not inappropriately activate when no collision is actually imminent. These AEB false positive tests provide some assurance that an AEB system is capable of differentiating between an actual imminent collision and a non-threat, the agencies said. While the tests are not comprehensive, they establish a minimum performance for non-activation of AEB systems.
[Related: NHTSA investigating AEB false positives in certain Freightliner, Western Star trucks]
This proposal would require that all of the NHTSA AEB requirements be phased in within four years of publication of a final rule. Trucks and certain large buses with a GVWR of greater than 26,000 pounds that are currently subject to FMVSS No. 136 would be required to meet all requirements within three years. Vehicles not currently subject to FMVSS No. 136 would be required to have ESC and AEB systems within four years of publication of a final rule.
FMCSA's proposed rule is intended to ensure that commercial motor vehicles equipped with the ESC and AEB systems mandated by NHTSA are maintained and operated safely.
NHTSA and FMCSA also jointly determined not to propose AEB retrofitting requirements for existing heavy vehicles or ESC retrofitting for vehicles not currently subject to FMVSS No. 136. "For technical reasons, AEB and ESC retrofits are difficult to apply broadly, generically or inexpensively and thus this NPRM does not propose a retrofit requirement," the agencies said.
[Related: FMCSA, NHTSA set to propose automatic braking mandate]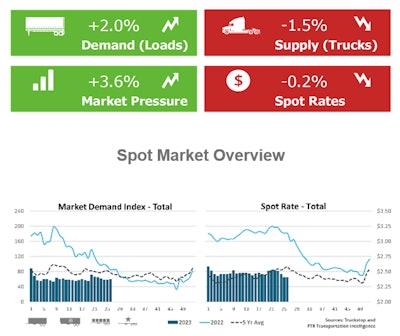 Relay Payments sponsoring NASCAR team through end of '23 season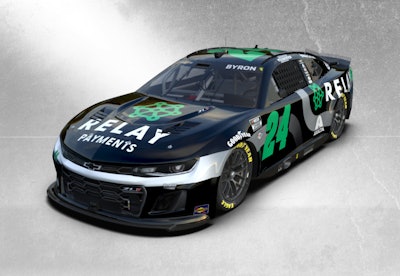 Digital payments network Relay Payments has joined NASCAR driver William Byron and the No. 24 Hendrick Motorsports team as a sponsor ahead of the July 9 Atlanta Motor Speedway event in its home market.
The partnership includes associate sponsorship in all remaining 2023 races and two primary paint schemes in the NASCAR Cup Series playoffs: Sept. 16 at Bristol Motor Speedway during Truck Driver Appreciation Week and Oct. 15 at Las Vegas Motor Speedway.
As part of the agreement, Relay Payments will appear on the No. 24 Chevrolet Camaro ZL1, team equipment, and the uniforms of Byron and crew members.
"Relay is experiencing rapid adoption of our digital fuel and unloading payment solution within the trucking industry," said Relay cofounder and CEO Ryan Droege. "We know that the trucking industry and NASCAR have always had a special bond, and we're excited about promoting our brand and highlighting drivers through this partnership with Hendrick Motorsports. Relay's goal for the sponsorship is to bring greater awareness to the important job that truck drivers have for our economy."
Relay offers a digital payment network designed to increase efficiencies, reduce fraud, improve driver satisfaction, and eliminate operational headaches, the company said.
"Truck drivers are the unsung heroes of our industry. The race cars Hendrick Motorsports fields each weekend are driven hundreds or thousands of miles to the racetrack to compete in front of our amazing fans," said Jeff Gordon, vice chairman of Hendrick Motorsports. "But truck drivers are vital to many industries, and the efficiency of Relay helps deliver products and services to businesses and customers in a quicker manner that benefits a lot of people. Hendrick Motorsports is of the same mindset -- be the first to the finish line."
[Related: Truckers deliver $45K toward breast-cancer cure, treatment, support]