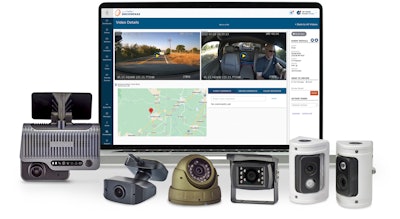 J. J. Keller & Associates introduced last week four new auxiliary cameras that help carriers and drivers protect themselves in rear-end and sideswipe collisions -- both significant causes of Federal Motor Carrier Safety Administration-defined non-preventable accidents.
The new lineup of J. J. Keller auxiliary cameras includes two styles of cargo/utility cameras, side-view cameras, and a rugged exterior camera.
6-Pin Cargo/Utility Camera -- Compact and lightweight interior camera, designed for vehicle cab and trailer placement
4-Pin Cargo/Utility Camera -- Ideal for interior passenger and trailer placement, offering intelligent night vision and anti-tampering features
Side Cameras -- For vehicles with side access doors, withstands rugged environments and includes driver- and passenger-side cameras and mounts
Exterior Camera -- IP67-rated for heavy-duty applications, providing reliable video event footage of vehicle rear and cargo areas
The new cameras are part of the company's VideoProtects Video Event Management System and Encompass Video Event Management System.
[Related: Can AI transform the prying eyes of in-cab cameras for the better?]
"The addition of these auxiliary cameras to our line of dash cameras not only strengthens a fleet's commitment to driver safety and accountability, but also provides rear and side video footage that could help fleets lower their CSA Crash BASIC scores when submitted to the FMCSA Crash Preventability Determination Program" (CPDP), said Jason Hartwig, Sr. Product Manager-Technology Solutions at J. J. Keller.
According to the FMCSA's CPDP Quarterly Statistics, carriers submitted nearly 40,000 preventability determination requests through the DataQs system. Of the eligible crashes submitted, 96% were deemed non-preventable and eliminated or scheduled for elimination from the carrier's CSA Crash BASIC.
[Related: Pickup truck cuts off tractor-trailer: Could the crash be anything other than 'nonpreventable'?]