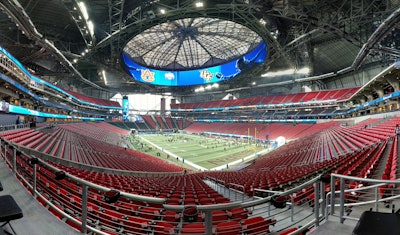 elisfkc via Wikimedia Commons
When trucking goes electric it will transform not only the industry, but also the country and its physical layout, according to a new study from National Grid, one of the world's largest publicly listed utilities.
The study looks at 71 sites across New York and Massachusetts, where national grid operates in the U.S., and Geotab's ITS Altitude transportation analytics platform to estimate how much power charging site will need if these states are to hit their emissions goals. As both states have adopted California's Advanced Clean Trucks regulations, they're slated for a phased progression to 100% zero-emissions medium and heavy duty vehicle sales by 2045.
The chart below shows how these sites will have to grow until many are consuming as much electricity as a small town or a large factory. In short, the demand for on-highway fast-charging will have a massive impact on the grid. By 2030, a typical highway gas station will need as much power as your favorite major league sports stadium. By 2035, that could climb to the level of a small town. By 2045, a simple truck stop could demand as much power as an automotive manufacturing plant or aluminum refinery.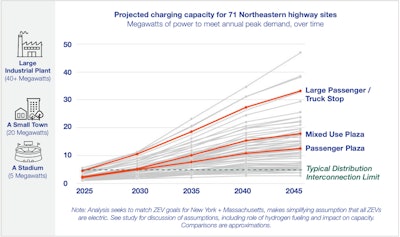 While these numbers may seem eye-popping today, remember that the U.S. already transformed itself into a nation of billions of miles of road and 64,000 gas stations once before. While the challenge of electrification looms large, the study's authors and other experts were confident that the nation can once again meet the task.
What trucking needs to know about electrification
Perhaps the biggest takeaway from National Grid's study shows fortune favors the trucking industry. Truck stops, for the most part, sit along highways, and so do a lot of high-voltage transmission lines, the study's authors said.
"These are places where it makes sense to do big charging installations because the transmission is right there," Charlotte Fagan, one of the study's authors said. "We can bring the chargers to the big wires instead of bringing the big wires to the chargers."
Fagan and her co-authors didn't account for the many ways that trucking companies and logistics professionals could schedule duty cycles to allow for off-peak and depot charging, but rather simply measured where vehicles stop and go and need power currently. So, while smart fleets can make extensive use of their own charging infrastructure to control cost, the study indicates that a lot of the heavy lifting of fleet charging will be taken off their plates at prime on-highway locations.
As anyone with any experience in building infrastructure and extending power lines knows, these are tricky projects and often a hard sell to the voting public. National Grid knows that "those big wires, if you have to move those many miles, it doesn't make the neighbors happy," said Fagan. "To me, if anything, we need to make sure we're building in smart places with the lowest cost and to serve the most passenger and heavy duty vehicles."
Also, National Grid's can-do attitude toward charging infrastructure represents something of boon to small and medium fleets, as well as trucking's independents.
"We see that public charging and having public charging sites is essential to supporting small fleets and carriers who aren't going to build infrastructure at home or at their five-truck operation," she said.
Where will all the power come from?
The U.S. trucking industry currently burns about 46 billion gallons of diesel annually. Each gallon contains bout 37 kilowatt hours of energy, meaning that if EVs run as efficiently as diesel trucks, there's about 1.7 trillion kWh to make up if we stop pumping diesel. Importantly, this study looks at passenger vehicles as well as trucking, but it still presents clear takeaways for the trucking industry.
The study's authors said the country would need to generate an extra 15% to 20% more power to fully fuel vehicle electrification, "which isn't necessarily a huge increase," Gideon Katsh, another of the study's authors said. "A lot of that will be renewables too."
Overall, the National Grid study authors projected complete confidence in their ability to add more capacity. After all, they are in the business of selling power.
"Our state has very clear goals when it comes to electrification, and our role as utility is to support our state to get there," said Fagan. She went on to say that despite the large task ahead, she found the study an "optimistic story of saying the transition to the electric future is coming."
Katsh similarly lauded the "tremendous environmental and public health benefits to electric transportation, not just in terms of carbon, but also particulate matter," and driver comfort.
Since it's National Grid's problem to worry about generating all the power, all fleets need to worry about is getting it into the vehicles. The study's authors encouraged fleets to contact local utilities when building depots, and to shoot for "no regrets" infrastructure that's overbuilt and future-proof.
[Related: How to build a future-proof truck stop or freight facility]
"Build the grid infrastructure once, and build it right," the study recommends.