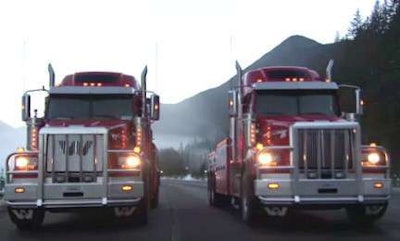 In case the History Channel's "Ice Road Truckers" didn't provide enough winter trucking action, there's another show currently airing that can fill that void.
The Weather Channel's "Highway Thru Hell" series, now in the midst of its fourth season, follows Jamie Davis and his heavy rescue company based in British Columbia, Canada.
Davis and his team specialize in untangling big rig wrecks along the mountainous Coquihalla Highway, and the show follows Jamie Davis Towing during the harsh Canadian winter months.
"Highway Thru Hell" airs Sunday nights at 10 p.m. Eastern. In one of the episodes, drivers from the Jamie Davis Towing service dealt with a wreck on Highway 881 in Alberta in which a tanker loaded with gasoline collided with a log truck, causing a massive fire, according to Overdrive sister site's Truckers News Editor David Hollis. There was one fatality in the crash, and the show followed the process of Davis' company cleaning up the wreckage.
The report from this episode, as well as others, can be found on Truckers News.