Showtime Trucking owner Troy Huddleston, of Yale, Illinois, passed away unexpectedly on Tuesday, June 7, at the age of 54.
He was well-known in the trucking industry from his time on the competitive truck show circuit and for being an ambassador for custom aftermarket stainless steel accessories manufacturer RoadWorks.
At the Shell Rotella SuperRigs event last week, Overdrive caught up with a group of Huddleston's friends from the truck show circuit, from business dealings with him through RoadWorks and from trucking in general. In the video above, from the drop-deck trailer behind Truett Novosad's "Troublemaker" 2007 Peterbilt 379, all reflect on their time with him, all that Huddleston meant to them and the custom-rigs community -- and the trucking business itself.
"Troy Huddleston was everyone's friend and a gentleman in the truest sense of the word," said former Pride & Polish organizer and truck show competitor Suzanne Stempinski. "He was the kind of industry ambassador that raises our profiles in the most positive way. Dedicated to his family, his loss leaves us profoundly sadder. He took an old Freightliner and kept reinventing it -- each time raising the bar higher -- and had fun in the process. His smile and laugh, creativity and work ethic will be missed."
Ralph Banks, Vice President of Sales, Heavy Truck for RoadWorks parent company Truck Hero, said Huddleston was an amazing ambassador for RoadWorks during his four-plus years in the role.
"I was part of the group when we first acquired RoadWorks, and Troy was one of my first hires when I realized we needed to be out at these truck shows doing grassroots marketing," he said.
Banks said Huddleston helped him realize that RoadWorks and its sister company Belmor -- which manufactures parts aimed more at fleet trucks -- are two separate companies with different customer bases.
"Troy was the only guy that would tell me 'no,'" Banks added. If he went to Huddleston with a new part to be added to the RoadWorks show truck, if Huddleston didn't think it flowed with the theme, he told him so. "I've caught myself already in this short time he's been gone twice saying, 'Would Troy think this is cool? What would Troy think?' It's going to be a tough hole to fill, for sure."
Huddleston's funeral was held Monday, June 13. Memorial donations may be made to the family c/o Markwell Funeral Home, P.O. Box 175, Casey, IL 62420.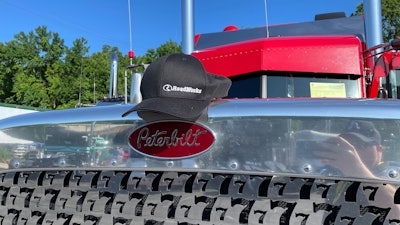 This video posted to Facebook by West End Reception and Events shows the funeral procession and convoy for Huddleston on Monday:
From Huddleston's obituary, a description of his time in trucking:
Taking after his father, Troy had a love for driving a semi, so he bought his own and started Huddleston Trucking and Showtime Trucking, LLC. He expanded his trucking business in hauling anhydrous ammonia, propane, grain and liquid fertilizer. Troy also rebuilt, designed and customized many semis and propane/anhydrous trailers before becoming a well-known Ambassador for Roadworks. His passion carried over for creating, designing and customizing their show truck for the past four years, which he thoroughly loved. Not only designing, but Troy also drove the semi and show trailer all over the U.S. to many trucking events. He took great pride in driving the show truck for Roadworks.




This led to him having many friendships he cherished so deeply, they became family. Anyone that met Troy knew he was a loyal friend, never met a stranger, was full of laughter, and was a mentor to many. Troy was a one-of-a-kind guy who continued to stay humble through all of his popularity. The root of Troy's joyous heart was his family. If you saw him at a truck show or any event, he would light up while he spoke about Maria, Austin, Allison, and Alivia. His family was his life.




Although his time was cut too short, he will always be known as "The Legend." As Troy used to sign-off, "Tootaloo."