Trucking news and briefs for Thursday, Aug. 11, 2022:
Hotshot driver found not guilty in deaths of seven motorcyclists in New Hampshire
A jury in Concord, New Hampshire, on Aug. 9 found a truck driver innocent of causing the deaths of seven motorcyclists in a 2019 collision in northern New Hampshire.
Volodymyr Zhukovskyy, 26, of West Springfield, Massachusetts, was found innocent on seven counts of manslaughter, seven counts of negligent homicide and one count of reckless conduct in connection with the June 21, 2019, crash in Randolph, New Hampshire.
Jurors deliberated for less than three hours after a two-week trial during which prosecutors argued that Zhukovskyy -- who was said to have taken heroin, fentanyl and cocaine earlier on the day of the crash -- repeatedly swerved back and forth before the collision and told police he caused it. But a judge dismissed eight charges related to whether he was impaired.
Zhukovskyy's attorneys blamed the lead biker, Albert "Woody" Mazza Jr., saying he was drunk and not looking where he was going when he lost control of his motorcycle and slid in front of Zhukovskyy's truck.
Mazza was one of 10 members of the Jarheads Motorcycle Club riding on Route 2 in Randolph when the crash occurred.
Zhukovskyy, who was born in Ukraine, was reportedly detained by U.S. Immigration and Customs Enforcement (ICE) following the trial. ICE said in a statement that Zhukovskyy has been served a notice to appear before an immigration judge and will remain in ICE custody pending the outcome of that appearance.
At the time of the crash, Zhukovskyy was driving a pickup and trailer for Westfield Transport Inc. Westfield Transport closed soon after the fatal crash.
[Related: As small fleet owners face charges, confusion snares popular ELD]
California project makes funding available for non-diesel truck swap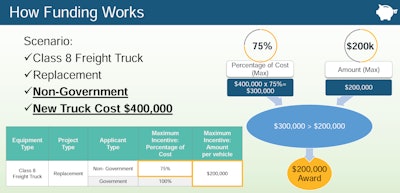 Approximately $9 million is available from California's South Coast Air Quality Management District for truck owners to replace an existing diesel-powered truck with a "zero-emission" truck.
Both public and private companies that own and operate eligible vehicles can apply. Funding is available to replace Class 8 freight trucks, including drayage trucks; waste haulers; dump trucks; and concrete mixers.
The funding is part of the Volkswagen Mitigation Program and is available to eligible entities statewide on a first-come, first-served basis. Applications are accepted online with the solicitation closing when all funds have been fully allocated.
Interested truck owners will need the following to apply:
Copy of title (no lienholder)
Existing and new vehicle/engine information
Photos and documentation supporting existing vehicle/engine
Vendor quote for new vehicle
12 months of vehicle registration documentation
12 months of insurance documentation
12 months of records showing odometer readings
4 required business documents
Other requirements for funding include:
Proof of ownership for at least one year
Operate old and new vehicle at least 75% of the time within California
Existing vehicle must be scrapped
New vehicle must be a 'zero-emission' vehicle
New vehicle must be certified or verified by CARB
Funding cap per entity: 10% ($2.7 million)
Applicants granted an award must submit annual usage reports for the term of the contract
[Related: Admission of emissions anxiety: A look at roadside smoke testing, now and in the future]
Driver named Highway Angel for pulling woman from burning car seconds before it exploded
The Truckload Carriers Association has named Robert Coats, from Stow, Ohio, a Highway Angel for rescuing a woman from a burning car seconds before it exploded. Coats drives for Hogan Transports based in St. Louis, Missouri.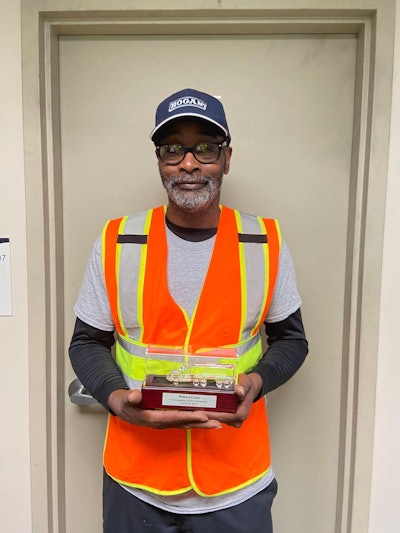 On March 24, he was traveling on I-65 Southbound in Kentucky when he approached an accident involving two commercial motor vehicles and a car, all three of which were on fire.
"I saw a big plume of smoke, and then flames," Coats said. "Something just said, 'pull over.'"
Upon reaching the accident scene, he found a woman trapped in her car, which was on fire. The driver's side door was engulfed in four-foot-high flames. Coats climbed in the driver's side back seat.
"As she was stuck in there, I reached in," he said, "I said, 'Ma'am! Ma'am -- we've gotta get out! We've gotta get out!"
Without a moment to spare, Coats coaxed her to climb over the seat of the burning car into the back seat, and he proceed to pull her out of the rear door window to safety. "And shortly thereafter, the car exploded," he said.
The woman suffered multiple injuries and was airlifted to receive medical attention. Three weeks later, the woman contacted Coats to thank him. Since then, he has met with the woman and her family, who were very grateful for his help during the accident.
"Mr. Coats used his fire extinguisher to stave off the fire that had ignited the victim's car," said Kentucky State Police Officer Kelly Anderson. "He entered into a funnel of two CMV's that were on fire, as well as the surrounding area. Witnesses stated he was holding back the fire until he was able to remove her and pull her to safety moments before the car exploded."
Coats said that it was a miracle neither he nor the crash victim suffered any burns, despite being in a car engulfed in flames.
"There wasn't a second thought about it," he said. "I just did it -- I saw, and I went -- that was it. Everything worked out in God's favor -- that's how He wanted it."
The Kentucky State Police reported that Coats "went above and beyond and saved this lady's life. He is a tribute to his profession."
TCA has presented him with a certificate, patches, lapel pin, and truck decals. The company has also received a letter acknowledging him as a Highway Angel.