Trucking news and briefs for Friday, March 3, 2023:
Arizona troopers seize meth, fentanyl, cocaine from truck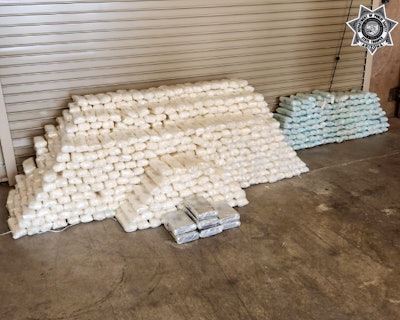 On the morning of Monday, Feb. 20, an Arizona State Trooper initiated a traffic stop of a commercial motor vehicle on Mariposa Road east of Interstate 19 in Nogales.
During an inspection of the truck, the trooper observed several indicators of criminal activity. A subsequent search of the truck led to the discovery of the following concealed within the trailer:
Approximately 1,035 pounds of suspected methamphetamine
Approximately 173 pounds of suspected fentanyl pills (about 784,000 pills)
Approximately 21.75 pounds of suspected cocaine
The driver, a 38-year-old male from Nogales, was booked into the Santa Cruz County Detention Center on charges including possession and transportation of a narcotic drug for sale and possession and transportation of a dangerous drug for sale.
The street value of the methamphetamine seized is estimated at just over $1 million, while the estimated value for the fentanyl seized is approximately $3.1 million. The estimated street value of the cocaine is approximately $197,000.
[Related: Operator gets 'following too close' after suspected fentanyl, heroin found on trailer]
Comment period on proposed broker financial regs changes closes Monday
Owner-operators and others in the trucking industry interested in commenting on proposed changes to certain broker regulations have until the end of the day Monday, March 6, to file comments.
In early January, the Federal Motor Carrier Safety Administration issued a Notice of Proposed Rulemaking (NPRM) to implement regulations in five separate areas related to brokers' financial responsibility: assets readily available; immediate suspension of broker/freight forwarder operating authority; surety or trust responsibilities in cases of broker/freight forwarder financial failure or insolvency; enforcement authority; and entities eligible to provide trust funds for form BMC-85 trust fund filings.
[Related: FMCSA proposing new broker, freight forwarder financial responsibility regs]
Surety bond provider JW Surety Bonds this week gathered feedback, mostly from brokers, who said FMCSA should focus more on double-brokering and other fraud that's occurring.
"FMCSA should focus on the rampant fraud schemes and unauthorized brokering that is going on," one anonymous commenter told the team at JW. " This has more of an impact on all players in the industry."
Another noted that "there should be more stringent guidelines and oversight on becoming a broker" because the commenter believes "there [are] more fraudulent brokers than there [are] legitimate ones currently."
[Related: FMCSA needs a 'cop on the block' fighting brokered-freight fraud]
Arizona parks 106 trucks, 135 drivers in 5-day enforcement blitz
A recent five-day enforcement effort in Arizona aimed at commercial motor vehicles placed 106 vehicles and 135 drivers out of service.
During the special enforcement detail "Operation Southern Shield," the Arizona Department of Public Safety's Commercial Vehicle Enforcement Task Force and partners completed 693 inspections and recorded 2,238 overall violations.
The enforcement blitz was held from Monday, Feb. 20, through Friday, Feb. 24, on Interstate 10 from Phoenix to the New Mexico state line, and on Interstate 19 from Tucson to the international border.
Throughout the operation, state personnel placed special emphasis on violations involving reckless driving, failure to use a turn signal or improper signaling, failure to yield the right of way, and improper lane changes, according to a statement from the ADPS. These are all among the American Transportation Research Institute's top five driving behaviors that are consistent indicators of future crash involvement.
Additional importance was placed on seat belt usage and cell phone distractions -- 69 seat belt violations and 15 cell phone use violations were reported.
Michigan continues rolling back spring weight restrictions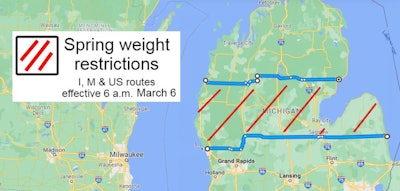 Michigan's annual "frost law" spring weight restrictions are being rolled back to cover less of the state, beginning Monday, March 6.
The Michigan Department of Transportation institutes annual spring weight restriction in certain areas in a move to protect roads as the ground thaws.
Beginning at 6 a.m. Monday, March 6, weight restrictions will be imposed and enforced on all state trunkline highways within the following areas of Michigan:
Highways north of a line on M-46 in Muskegon County from the U.S. 31 Business Route in the city of Muskegon, then east to U.S. 131, then north on U.S. 131 to M-46, then east to the intersection of M-25 in Port Sanilac Sanilac County
Highways south of a line on M-55 from the U.S. 31 intersection in Manistee County east to M-66 in Missaukee County, then north on M-66 to M-55 in Missaukee County, then east on M-55 to the intersection of U.S. 23 in Tawas in Iosco County.
All state trunk lines between these two lines will have weight restrictions imposed and enforced. State routes typically carry M, I, or U.S. designations.