Trucking news and briefs for Friday, Sept. 8, 2023:
Landstar owner-op comes away victorious in truck giveaway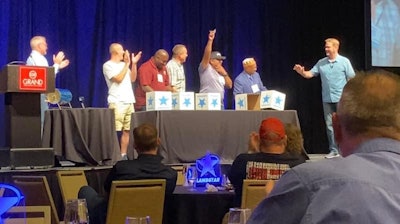 Landstar-leased owner-operator Peter Perez, of Houston, Texas, won a 2024 Freightliner Cascadia, including registration and fees, during the company's annual giveaway held on Aug. 29, in Reno, Nevada.
"The funny part is that I wasn't going to come to the event," Perez said. "I was stressed. I've had my truck in the shop, and I thought, 'I've got to work.' And then it started clicking that this is when Landstar gives away a truck every year. With the way that God moves things around, I'm just happy and thankful."
Perez was one of five finalists randomly selected from the contest's pool of eligible business capacity owners (BCOs), the term for independent owner-operators who lease with Landstar.
The truck giveaway is the highlight of Landstar's BCO Appreciation Days, a two-day event held annually to thank the owner-operators for their commitment to safety and customer service.
"Landstar's safety-first culture is upheld by its independent owner-operators, and we're thankful for that continual commitment," said Landstar President and CEO Jim Gattoni. "We're proud to acknowledge and celebrate our BCOs for their excellent customer service."
Eligible Landstar owner-operators automatically earn entries to the Deliver to Win Truck Giveaway throughout the year by delivering loads safely during the giveaway period. They can earn more entries for the giveaway by attending safety meetings and participating in Landstar's monthly Safety Thursday Conference Call. After the entry period closes, all entries are pooled, and a computerized random number generator selects finalists. Those finalists must be present at the giveaway to win.
Landstar does this twice a year. This giveaway marks the 48th in the company's history. Landstar Million Mile Safe Driver and Roadstar honoree Willie Mixon won the Landstar BCO All-Star Truck Giveaway in July.
[Related: Landstar owner-op wins brand-new truck]
Maryland reopens weigh station closed since late 2020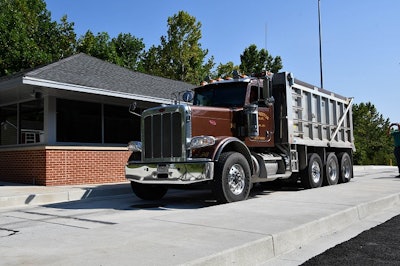 The Maryland Department of Transportation State Highway Administration has completed $5.8 million in renovations to the U.S. 1 (Conowingo Road) Truck Weigh and Inspection Station in Darlington, improving safety for motorists and commercial vehicles that travel along the highway in Harford County.
The original Conowingo Truck Weigh and Inspection Station, which consisted of an office trailer, was built in 1996. Site improvements were made in the early 2000s. The facility closed in December 2020 to allow for geometric and technology improvement to begin. The new weigh station was completed in July and is fully operational as of Sept. 6.
"The renovations to this critical asset along U.S. 1 will improve overall operational efficiency and accessibility for commercial trucks," said State Highway Administrator William Pines. "With this new facility, we also will improve safety for motorists who travel the corridor in non-commercial vehicles."
Improvements to the truck inspection and weigh station include:
A wider entrance to improve accessibility and traffic flow within the site
A new static scale with a maximum horizontal clearance of 14 feet to accommodate wide loads
Better alignment for trucks accessing the static scale and inspection pit
A new inspection pit and work shed with easy truck access
A new scale house with more space, an industrial-grade roof and high-grade windows
Upgraded and replaced Intelligent Transportation Systems equipment including: two new LED "Open/Closed" signs, variable message sign, four new CCTV cameras and LED overhead lane use signs to direct vehicles to the static scale or bypass lane
More parking spaces for trucks declared out of service due to safety defects
Additional employee/visitor parking near the scale house
Parking lot security light poles with photocells
Improved site drainage to provide adequate drainage and meet current standards.
TA seeking 2024 Citizen Driver nominations
TravelCenters of America is now accepting Citizen Driver nominations for the 14th year of the program.
TA created the Citizen Driver program to recognize truck drivers who demonstrate traits that bring a high level of respect to the truck driving profession, including good citizenship, safety, health and wellness, community involvement and leadership.
Nominations are being accepted through Oct. 27. A panel of trucking professionals will review all the nominees to select Citizen Driver finalists.
As part of the honor, Citizen Driver Award winners may select a TA, Petro Stopping Center or TA Express location to be dedicated in their name, allowing their story to be continuously displayed for all travelers that pass through. In addition, TA will make a $2,500 donation to each winner's organization of choice.
The Citizen Driver program puts a spotlight on some of the most extraordinary drivers today and illustrates the fine examples of professionalism embedded in the truck driving profession. Over 150 nominations for the Citizen Driver award were received last year, from fleet owners and executives, professional drivers, trucking organization members and trucking industry suppliers. Truck drivers can also nominate themselves for this industry award.
To date, 41 Citizen Drivers have been awarded with this prestigious honor.
Visit Citizen Driver 2024 to complete the nomination form.