Trucking news and briefs for Wednesday, Sept. 6, 2023:
Transition Trucking veteran rookie trucker semi-finalists named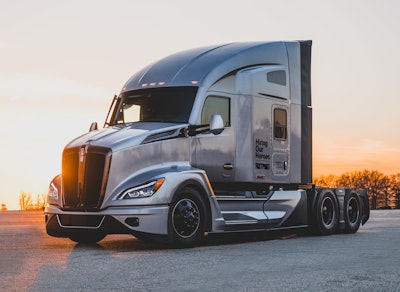 After a record number of nominations for the 2023 "Transition Trucking: Driving for Excellence" award, Kenworth, Fastport, and the U.S. Chamber of Commerce Foundation's Hiring Our Heroes initiative announced the semi-finalists for the ultimate prize: a Kenworth T680 Signature Edition truck.
Launched in 2016 as part of an overall plan to recognize the achievements of veterans transitioning into the transportation industry, this year's program semi-finalists represent each branch of the United States Military, including the National Guard and Reserve.
The semi-finalists for this year's award are:
Andre Matthews, U.S. Army, Melton Truck Lines
Anthony Nelson, U.S. Air Force, Roehl Transport
Brandon Meredith, U.S. Army, Slay Transport
Christian Slingerland, U.S. Army, Paschall Truck Lines
James Ferrante, U.S. Navy, Epes Transport System
James Smith, U.S. Army, Viking Electric
Jeffrey Pitts, U.S. Air Force and Air Force Reserve, NFI Industries
Jessica White, U.S. Army, Stevens Transport
Kareem Isaac, U.S. Army National Guard, Ryder
Joseph Harmon, U.S. Marine Corps, USA Truck/DB Schenker
Larry Todd Kraus, U.S. Army, Werner Enterprises
LaTravis Wilcox, U.S. Marine Corps, Prime Inc.
Ondrae Meyers, U.S. Marine Corps, CRST
Ryan Buttenob, U.S. Air Force, Schneider
Tameca Dale, U.S. Army Reserve, U.S. Army/Kingdom Message Carriers
Tobie Myers, U.S. Army and Army Reserve, Putnam Trucking
William "Bill" Masters, U.S. Air Force and Army National Guard, Veriha Trucking
In recognition of Kenworth's 100th anniversary, this year's award is the T680 Signature Edition truck, equipped with a 76-inch sleeper and the Paccar MX-13 engine rated at 455 horsepower, Paccar TX-12 automated transmission and Paccar DX-40 tandem rear axles.
As part of the eighth annual award program, the semi-finalists will be honored throughout the month, and each will attend a ceremony at the National Veterans Memorial and Museum on Sept. 21 in Columbus, Ohio. The following day will include a tour of the Kenworth Chillicothe manufacturing plant and a ceremony at the MHC Road Ready Center, where semi-finalists will be recognized and finalists continuing in the program will be announced.
Those select finalists and the ultimate winner will be part of a greatly expanded veteran-focused week that includes a Veteran-Ready Summit on Dec. 15, the Transition Trucking: Driving for Excellence Award announcement on Dec. 16, Employment Support of the Guard and Reserve (ESGR) Statement of Support Signing Ceremony later that afternoon, and Wreaths Across America on Dec. 17.
A public vote will occur online from Nov. 1 until Veteran's Day. This voting is an important determiner for the award's Selection Committee, which makes the ultimate choice for the next Transition Trucking award winner.
[Related: A 'real truck driver's truck': Kenworth W900L Limited Edition]
Drivewyze expands traffic alerts to Delaware
Weigh station bypass and connected trucking service provider Drivewyze has expanded its Smart Roadways service through a new partnership with the Delaware Department of Transportation (DelDOT).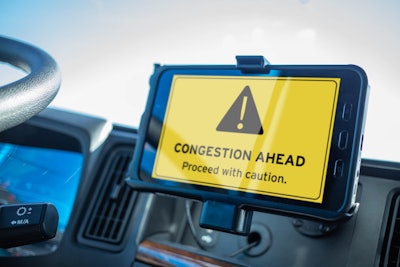 Commercial truck drivers, traveling on all freeways through the state, now have access to real-time heavy congestion and slowdown traffic alerts. The alerts notify operators about hazards, such as where drastic speed changes or heavier than normal congestion is detected, using visual messages such as "sudden slowdown ahead" along with an audible chime.
The alerts are configured to allow ample time for trucks to slow down or stop. The alerts are also available in six other states -- North Carolina, Georgia, Ohio, Virginia, New Jersey, and the Pennsylvania Turnpike. More states are expected to be added in the near future.
"We are continually working to improve safety on our roads, and Smart Roadways will benefit commercial drivers across the state by providing critical in-cab traveler information where and when drivers need it most," said Nicole Majeski, Delaware's Secretary of Transportation. "Studies have shown nearly 30% of collisions occur on interstates, and many are secondary incidents, where a vehicle is rear-ended when in a queue from an initial crash. This Smart Roadways program will help reduce those numbers."
The congestion and sudden slowdown alerts, part of Drivewyze Smart Roadways, was developed through a partnership between Drivewyze and INRIX. This application is embedded in most ELDs, as well as on mounted mobile devices. Alerts are also available for free on any Android smartphone (and soon iOS phones) for all drivers who download the Drivewyze app. No subscription required.
'It's just what I do': Trucker recognized for helping crash victim
Indiana-based John Dunne, a 24-year trucking veteran, has been named a Highway Angel by the Truckload Carriers Association for stopping to help a woman pinned inside her car after a crash. He also was able to rescue the woman's dog. Dunne drives for ABF Freight.
On Aug. 8 around 11 a.m., Dunne was traveling on I-294 in Rosemont, Illinois, when he saw a cloud of dust. Unsure of what was happening ahead of him, he began to see papers flying everywhere. As Dunne got closer, he saw a wreck, so he positioned his truck to block traffic and protect the wrecked car and got out to help.
"The car was sideways on the road," the trucker and volunteer firefighter said. "I knew she was pinned in the car -- the steering wheel was up against her chest."
Dunne kept talking to the woman trapped in the car, trying to keep her calm. He even was able to extract her large dog from the car, with a leash, and take the frightened dog out of the vehicle safely.
Once emergency vehicles arrived to help the crash victim, Dunne stayed in place with his truck to protect everyone involved from oncoming traffic. He said it took about a half hour for firefighters to cut her out of the vehicle. Dunne didn't hesitate to stop to help, even though most just kept driving.
"It's just how I feel; it's just what I do," he said. "You're in a wreck, I help you."