Trucking news and briefs for Monday, July 26, 2021:
FTC aims to crack down on 'right to repair' violations
In a policy statement issued earlier this month, the Federal Trade Commission said it will begin devoting more resources to combat unlawful repair restrictions from OEMs.
The FTC said it will now prioritize investigations into unlawful repair restrictions under relevant statutes, such as the Magnuson-Moss Warranty Act and Section 5 of the Federal Trade Commission Act.
"Restricting consumers and businesses from choosing how they repair products can substantially increase the total cost of repairs, generate harmful electronic waste, and unnecessarily increase wait times for repairs," the Commission said in its statement. "In contrast, providing more choice in repairs can lead to lower costs, reduce e-waste by extending the useful lifespan of products, enable more timely repairs, and provide economic opportunities for entrepreneurs and local businesses."
To help crack down on unlawful practices, FTC is encouraging the public to submit complaints and provide other information to help with enforcement of the Magnuson-Moss Warranty Act and its implementing regulations.
The Commission added that while current law doesn't provide for civil penalties against violators of the Magnusson-Moss Warranty Act, it will consider filing suit against violators to see injunctive relief.
"The Commission will also closely monitor private litigation to determine whether the Commission may wish to investigate a pattern of unfair or deceptive acts or practices or file an amicus brief," FTC added. "Further, the Commission will explore rulemaking, as appropriate."
[Related: 'Right to repair' battle won by truck owners, independent shops]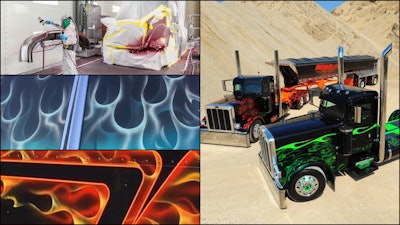 Trucker named Highway Angel for aiding driver in multi-vehicle crash
Trinidad Arebalo, a Crete, Illinois-based truck driver for Nationwide Rail Services, has been named a Highway Angel by the Truckload Carriers Association for rushing to the aid of a driver involved in a multiple-vehicle accident.
It was after 2 a.m. one cold night in February near Chicago, and Arebalo was southbound on I-55 when he came upon a multi-vehicle crash. A tractor-trailer was cut off by another driver and hit a patch of black ice, causing the truck to jackknife. The driver of the sedan wasn't able to avoid the truck and slid underneath the chassis and caught fire.
Arebalo pulled over as quickly as he could and ran to help the driver of the car as others checked on the truck driver.
He quickly found that the driver, a young woman, was trapped in her vehicle and her foot was caught. He grabbed his fire extinguisher and was able to quickly put out the flames. Although the driver was conscious, Arebalo said she was somewhat incoherent.
As he assured her that help was on the way, she asked him to call her husband. Arebalo made the call and relayed what happened and then handed the phone to the driver. As she was talking to her husband, another vehicle came along, lost control, and narrowly missed them as it, too, crashed into the truck's chassis.
Arebalo waited on scene with the driver until first responders arrived. He was able to tell the driver's husband which hospital she was being taken to.
Arebalo has been driving for five years, three of which have been with Nationwide Rail Services. For his willingness to help, TCA has presented him with a certificate, patch, lapel pin and truck decals. His employer has also received a certificate acknowledging their driver as a Highway Angel.
Love's donates $100K to St. Christopher Fund
Love's Travel Stops announced Monday it has donated another $100,000 to the St. Christopher Truckers Relief Fund.
Love's first donated to St. Christopher in April 2020 when the company gave $100,000 to help drivers during the coronavirus pandemic. The relief fund helps with expenses like rent, mortgage, utilities, insurance and vehicle payments as well as provides health and wellness programs for drivers.
"Professional truck drivers keep America moving, and this is one way we're thanking them for all they do for the country,'' said Jenny Love Meyer, executive vice president and chief culture officer of Love's. "St. Christopher is a great organization that helps drivers every day, and we're glad to continue to support the organization."
Columbus Kenworth opens new parts, service dealership
Columbus Kenworth is offering expanded support to truck owners and fleets in central Ohio with the addition of its new parts and service dealership in Zanesville, Ohio.
Kenworth of Zanesville, a division of Columbus Kenworth Inc., is approximately one hour east of Columbus. The new dealership is conveniently located along Interstate 70.
The 24,000 square-foot building is situated on 25 acres with plenty of room for drivers to park their trucks. The facility features 12 service bays and a 1,100 square-foot parts retail display area. There is also a 10,900 square-foot space allocated to bulk storage, allowing for ample parts availability.
Kenworth of Zanesville is located at 3925 All American Way in Zanesville. Hours of operation are from 7 a.m. to 5:30 p.m. Monday through Friday and 8 a.m. to 12 p.m. on Saturday. The phone number is 740-487-4295.