This year's Mid-America Trucking Show has long since come and gone, with the usual avalanche of new product announcements. With all of the great stuff that was rolled out at this year's show, it'd be a near-miracle is anyone was able to keep track of it all.
Naturally, a few noteworthy items might have gotten lost in the shuffle, but here for your convenience is a summary of this year's highlighted products. Click on the headline for more details on each item.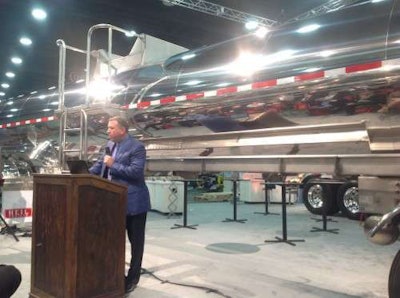 After a nearly 15-year absence, trailer manufacturer Heil is again manufacturing and selling stainless-steel tanker trailers for general chemical hauling applications.
Heil's new tanker line consists of four different application-based models, including a round/double conical model, a dry bulk model, a stainless-steel round/double conical design and a carbon-steel round cryogenic trailer.
The new trailers are designed to be highly adaptable for a variety of applications. Features include low tare weights, a driver-friendly configuration for efficiency and safety and a standard roll stability system.
Continental's expanded truck tire lineup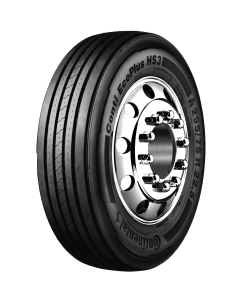 Continental rolled out its new Conti TerraPlus HD3 designed for construction applications. The off-road drive tire – designed for the high-traction needs of construction vehicles, work trucks and heavy commercial pickups – will be available in size 225/70R19.5 with an open shoulder and a 19/32-inch tread depth.
The company also introduced its Conti EcoPlus HS3 long-haul steer tire designed to offer a 10 percent reduction in rolling resistance as well as a 12 percent increase in mileage over the previous generation. It will be available in early summer in size 295/75R22.5, load range H, with a 19/32-inch tread depth.
Also introduced was the Conti Hybrid HS3 steer and all-position tire for the combined regional and long-haul segment, available in size 295/75R22.5, load range H.
Alcoa's lighter aluminum wheel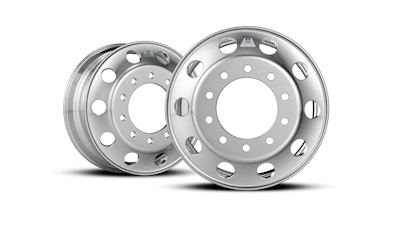 Alcoa Wheel and Transportation Products rolled out its new, lighter Ultra One aluminum wheel that is 5 pounds lighter than previous-generation lightweight Alcoa wheels due to the company's new MagnaForce alloy. MagnaForce also is 17 percent stronger than Alcoa's 6061 alloy in similar applications.
The 40-pound wheel is available in all of Alcoa's finish options in a 22.5-by-8.25-inch size for heavy-duty commercial transportation.
Michelin launched its wide-base X One Line Energy T line-haul trailer tire that features its Advanced Casing Technology designed to reduce irregular wear while adding removal mileage. Available in size 445/50R22.5, the SmartWay-verified tire is engineered with solid shoulders and microsipes that help resist irregular wear.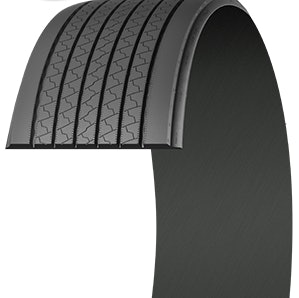 Michelin also introduced the X One Line Energy T Pre-Mold Retread designed with a 13/32-inch tread depth and up to a 15 percent improvement in removal mileage when retreaded on an X One Line Energy T casing. A winged tread helps provide maximum shoulder adhesion, while waved groove bottoms help prevent stone drilling for added durability.
SAF-Holland's air disc brake axle system, integrated yoke mount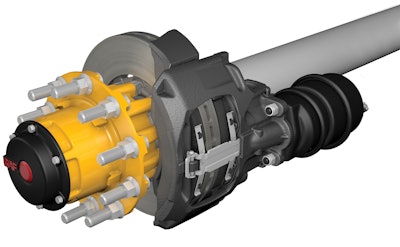 SAF-Holland introduced its SAF Integral Air Disc Brake Axle System with P89 Wheel End Package suited for SAF air suspension systems. The P89 accommodates up to 2-inch offset wheels for application and maintenance flexibility and can accommodate both single wide-base wheels with up to 2-inch offsets and dual-wheel configurations. The hub design incorporates the company's Integral bi-metallic rotor and uses premium matched-set bearings that can be replaced with standard bearings for field service. It uses a premium spindle nut with right-hand threads.
The company also announced the release of its CBXy Series, its first integrated Yoke Mount Air Suspension Axle System, designed to work in conjunction with the low-profile CBXu underslung model to allow for load equalization in lowboy and dropdeck trailer applications. The cast-steel yoke-mount beam's lightweight 5.75-inch-diameter axle comes with the Integral air disc brake P89 or a drum brake wheel-end package with standard spindles or optional parallel spindles.
Hendrickson's slider, suspension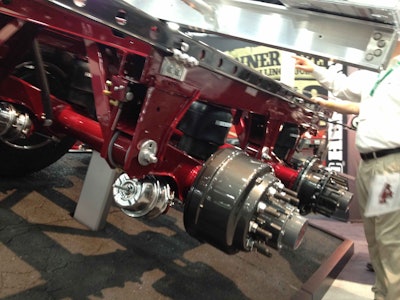 Hendrickson Trailer Commercial Vehicle Systems rolled out its lightweight Vantraax Ultraa-K slider system. The company also announced its Softek NXT, a lightweight front steer axle with a monoleaf spring suspension.
The Ultraa-K is designed to be stronger than Hendrickson's Vantraax-HD models and features a high-tech hot-dip coating process. Instead of shock absorbers, Ultraa-K uses Zero Maintenance Damping (ZMD) air springs designed for uniform and consistent suspension damping. Pivoting mudflap brackets are standard.
Softek NXT combines the company's Steertek NXT axle with its Softride Monoleaf Spring Technology and is designed for heavy-duty truck applications rated from 12,000- to 12,500-pound capacities. Softek NXT, designed with a lightweight clamp group, is compatible with drum or disc brakes and incorporates a two-piece knuckle assembly.
Trail King's all-aluminum step deck

Trail King introduced a prototype All-Aluminum Center Frame Step Deck trailer, the TK80AACS, with standard corrosion-resistant materials, all-aluminum framing, armor-coated landing gear and zinc-plated steel components.
The TK80AACS is lightweight yet durable, with a low deck height designed to accommodate taller payloads with multiple cargo load configurations.
Mitsubishi Electric's 200-amp alternator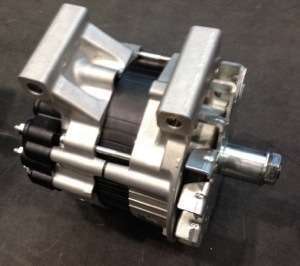 Mitsubishi Electric unveiled its 200-amp heavy-duty alternator for heavy-duty trucks, the Diamond Power A200 (DP A200), a brushless pad-mount 12-volt alternator engineered for high efficiency.
The unit weighs 21.8 pounds and is designed for improved fuel economy because it requires minimal engine horsepower to operate. It provides 137 amps of output at engine idle speed and features "remote sense" and "5-wire" technology to fit all major North American OE trucks.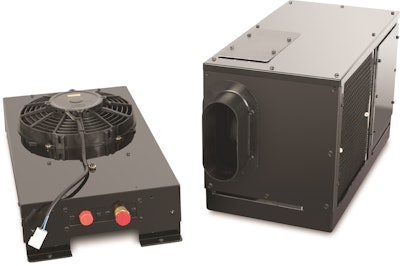 Dometic debuted its Split-System Blizzard 134a, a battery-operated air conditioning unit that provides 10 no-idle hours of cooling.
Available in 7,000- and 10,000-Btu models, the split system is engineered for easy installation, allowing the noise of the condenser unit to remain outside while the quieter evaporator unit blows cool air to the cab's interior. External ports are designed for easy access to help simplify service access.
The system also is available with optional electric heat.

Toyo announced its latest tires for medium-duty applications, including the SmartWay-verified M177 regional and long-haul steer tire, the M170 regional steer tire and the M920 drive traction tire for regional and long-haul use. All feature the company's proprietary e-balance technology designed for improved tire life, endurance and retreadability, plus reduced rolling resistance and irregular wear.
The M177 also is suitable for trailer use and is available in both G and H load ratings in sizes 295/75R22.5, 285/75R24.5, 11R22.5 and 11R24.5. The M170 is available in sizes 11R22.5 and 12R22.5, both with an H load range, and the M920 is available in sizes 245/70R19.5 and 11R22.5.