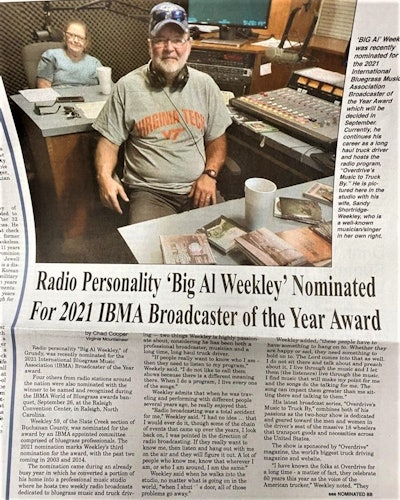 Streaming radio host "Big Al" Weekley is in the running for the "Broadcaster of the Year" honor in the 2021 awards program of the International Bluegrass Music Association. Weekley is a longtime host on The Bluegrass Jamboree's streaming platform, where he's hosted "Overdrive's Music to Truck By," a weekly music program, since this Spring. His background in radio runs alongside a long career as a working CDL driver, too -- he brings that experience to bear in hosting the two-hour Overdrive show, streaming live at 10 a.m. every week.
The recent nomination, made by a panel convened by the IBMA, is his third -- he was also nominated in 2003 and 2014.
This week on the show, Weekley will continue a series of countdowns of variations on the top 10 trucking songs of all time, following last week's airing of the Overdrive reader-determined list on the occasion of the magazine's 50th anniversary in 2011. (If you have nominations for the updated list we're working on for our 60th-anniversary year, make them via the comments under this post.)
[Related: Updating the top 10 trucking songs of all time]
This week, he'll spin some of the tracks from a top 10 from more recent history. In 2011 that list was put forward as alternative to the classics. Find it here.
Weekley's two-hour show, "Overdrive's Music to Truck By: Today's tunes from the men and women behind the wheel," streams from TheBluegrassJamboree.com homepage at 10 a.m. Eastern each Friday, with a replay 1 a.m. Wednesdays.
The show highlights music by and about professional truckers, as well as new and classic country and bluegrass tunes. Weekley also airs news and music-related feature contributions from Overdrive.
You can catch podcast replays of past shows courtesy of Bluegrass Jamboree via the playlist below, most recent listed first: