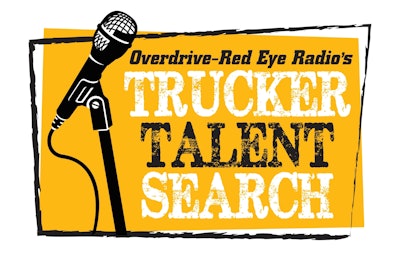 Partnering with Overdrive in our Trucker Talent Search program recognizing singer-songwriter talent among highway haulers is Red Eye Radio — the radio network's own Eric Harley interviewed driver-songwriter Tony Justice recently about his upcoming participation in the talent-search program: He'll be emcee-ing the event at the Great American Trucking Show where the final three contestants will compete for the win.
Listen to the podcast below for the talk, which ranges over Justice's late work promoting the Apple Pie Moonshine record he released in December as well as what he thinks about the opportunity coming up at GATS. Best part of said opportunity? Justice: Meeting like-minded drivers with a bent toward songwriting/performance.
Podcast: Play in new window | Download
And given voting wrapped up last week and results, resulting in the final three contestants, I thought I'd highlight a couple other entries that caught my eye — or ear, as it were.
The first is an old favorite, a new take on owner-operator Howard Salmon's own "These Trucks Are Made of Gold," the title track of a record he put out several years ago — read more about it via this link. (Salmon's own past video of the production take of the track follows here.)
[youtube SkjwxSE9WBY nolink]
[youtube werCrqHrlp4 nolink]
Next is one that suprised me. Randal Bouwens is a name I recognize from the comment boards here on the website and (if I'm remembering correctly) emails exchanged with the reader over the years. In any case, his entry into the competition was unique in a few ways. Not a hint of country and western, for one, and Bouwens is a fantastic piano player. Thanks, Randal. Here's his tune:
[youtube zAZ_bTkRXZ8 nolink]
Check out all the contestants' videos via TruckerTalentSearch.com.