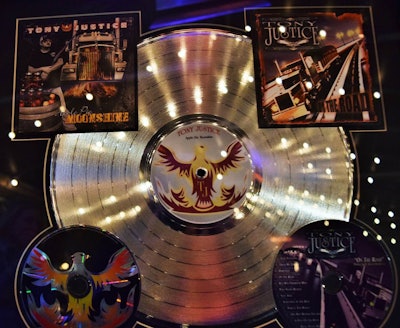 Oct. 17, with a two-day vocal session for his third studio album of original trucking music under wraps, Tony Justice gathered with friends, associates and some media to commemorate a milestone for the independent singer-songwriter and Everhart Transportation driver.
The above-pictured record was presented by close friend J.D. Walker in order that Justice, as Walker put it, might "give a little credit" to himself for a change for reaching the 50,000-units-sold mark in just a few years since release of the "On the Road" record, followed then in late 2013 by "Apple Pie Moonshine."
The bulk of those units sold in truck stops around the nation, Justice's success is not only a testament to the quality of the work, but also to the massive effort he and business partners, including his wife, Misty, have put in to cement deals with the distribution companies the truck stops work through to stock their shelves.
In the Overdrive Radio podcast here, Justice details that work in addition to sessions ongoing for the new record, tentatively titled "Brothers of the Highway." Among the 13 songs being recorded for it between Justice's weekly runs for Everhart is the title track, planned as a vocal duet between Justice and legendary singer-songwriter, and former longtime trucker himself, Aaron Tippin.
Podcast: Play in new window | Download