It's an increasingly common occurrence in today's world of rapid-fire information and relative ease of quick-and-dirty digital impersonation: identity theft, which among other consequences can have huge negative effect on your personal and business credit rating. It happened to owner-operator Scott Reed a few years back. His identity was stolen by a still-undetermined individual far west of his Ohio home, and after being surprisingly denied on a simple credit application, he was pulled over in the normal run of trucking and notified that, to his surprise, there were several warrants out for his arrest in places he'd not been in years.
That's when the reality of just what had happened to his credit (previously in the 700s, good for a credit score) truly sank in.
Along the way, he had to let go of a prized power unit (the first truck he called his own, a Kenworth W900), then began to slowly claw his way back into profitability after a health issue, and more, all of it compounded by a lack of access to credit.
He tells the rest of the story in the podcast you can hear at top and below, and along the way we'll hear the story of how he got into the business of trucking in the first place.
He also shares a resource that's worked for him to clean up his credit following the identity theft scenario, one he says he'd recommend as an alternative to large-lump-sum attorneys who deal in such matters. The Utah,-headquartered but nationally focused Lexington Law Firm specializes in the area of credit clean-up/ID theft, and their service is a relatively-low-fee ($80-$120 approx.) monthly subscription that continues until such time as the problem is resolved. The company can also serve as an ongoing credit-monitoring service for issues that continually arise.
Reed and I, regular readers will remember, talked over two days' worth of trucking around his home state back in late April.
Podcast: Play in new window | Download
Have you been a victim of identity theft? Tell us in the poll here or in the comments below. If the answer if yes, what avenues did you use to clean your record?
Speaking of Reed, speaking of ELDs…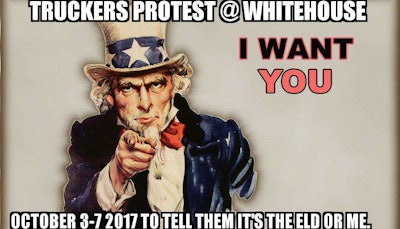 I also talked to Reed just the other day, during which he shared a little more about the efforts now centered around Tony Justice's creation and continued moderation of the "ELD or me" Facebook group — which has grown in size rapidly. Oct. 3-7, as shown above in what's now the cover image for FB group, are the dates now set for what's being planned not as a convoy on Washington, D.C., or a shutdown, but a traditional demonstration. Reed and others are working on logistics for transportation and lodging, staging sights outside of the city for trucks and the like, all in hopes of getting the Trump administration's attention relative to the ELD mandate, first and foremost.
Reed, Justice and others involved in the effort will be at the Take Pride Truck Show in Brookville, Ohio, next week, fyi. Read more about it all in the earlier post: