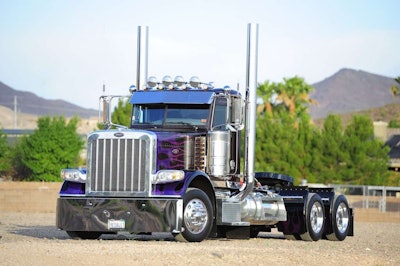 One way we're celebrating the 25th anniversary of Overdrive's Pride & Polish this year is highlighting 25 of our best custom rig videos.
In the third week of the countdown — which will span 25 weeks — we're going back a few years to June 2011 and that year's Great West Truck Show in Las Vegas.
"Big John" Gonzales brought his then nearly new black cherry 2009 Peterbilt 388 to compete in the Vegas-held Overdrive's Pride & Polish competition, and he picked up a few trophies with the purple- and pink-flamed daycab.
The next two years, however, Gonzales made a run at Great West, winning Best of Show with the 388 in 2012, along with an armload of other awards, and then Best Paint and Best Interior in 2013. The truck's near twin, a black cherry skull-themed 2010 Pete 388, also picked up several awards at the Great West Pride & Polish shows from 2011-2013.
Here's the video, footage for which was shot outside of Vegas in 2011: