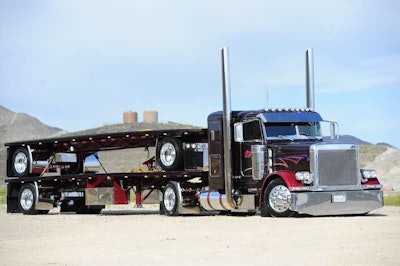 One way we're celebrating the 25th anniversary of Overdrive's Pride & Polish this year is highlighting 25 of our best custom rig videos.
In the fifth week of the countdown — which will span 25 weeks — here's Ryan Hooten's grain-hauling 1995 Peterbilt 379 and matching flatbeds, which over the years have taken home an armload of Pride & Polish Best of Show awards and competed in 2013 in the Pride & Polish National Championship.
Hooten had put nearly a million and a half miles on it by 2007, when he decided to tear the rig down and build it back up. He dropped a new engine in the truck, converted the cab to a Unibilt, added the black cherry paint and turned the interior into an ode to the old West, as leather and cowhide abound.
Click here to see a full gallery of the truck. There's also plenty to see in this video, produced a few years ago on Hooten's rig: