This profile is part of a multi-week series in which Overdrive is publishing stories on the six Pride & Polish National Championship winners — crowned in August at The Great American Trucking Show — and the five best of show winners from the event. Click here to see more profiles.
Despite picking up Best of Show at last year's GATS, 25-year-old owner-operator and fifth generation trucker Jordan Jay wasn't quite done with his 2015 Peterbilt 389 and its matching flatbed.
In addition to putting another 120,000 miles on it since last August, Jay, his dad and his brother repainted the truck, painted its engine, added new stacks, countersunk all the truck's bolts, repainted the frame and added a specially made custom tarp to the flatbed, mirroring the look of a curtainside trailer.
They also added an in-frame toolbox, the design for which Jay had patented and occasionally builds for others. Those custom features come in addition to the truck's already-existing bevy of custom work.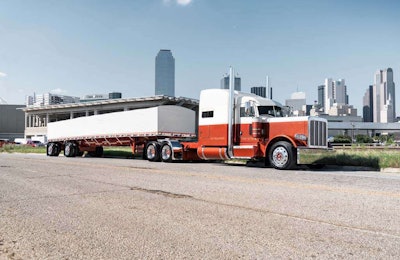 "My dad's been doing shows for 20 years and always had fancy trucks," he says. "I look up to him and I always loved fancy trucks. I bought the company from him two years ago. This is the first one we built, and it's my version of a clean, simple but eye-catching truck."
Jay's company, Jay Transport out of Rigdy, Idaho, hauls specialized over-length shipments on the West Coast. The fleet runs 23 trucks total, most of them leased owner-operators. But the seven fleet trucks owned by Jay himself all sport the two-tone look. "It's kind of my thing," he says. "My dad kinda had his theme, and I have my theme. I wanted it to be similar — classy and clean just like his, but in my own way."
Click here to see the full list of winners from the 2016 GATS Pride & Polish show.