This profile is part of a multi-week series in which Overdrive is publishing stories on the six Pride & Polish National Championship winners — crowned in August at The Great American Trucking Show — and the five best of show winners from the event. Click here to see more profiles.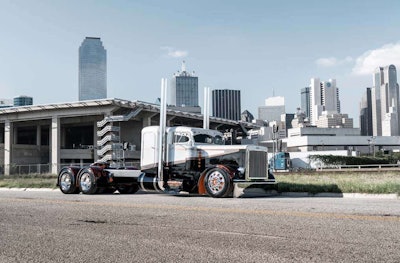 Following a few years off from the showing his small fleet's trucks, Minnesota-based aggregates hauler Jonathan Eilen said he wanted to "come back and make a statement" on the Pride & Polish circuit this year.
Eilen first showed his new build, "The Hustler," in July at the Fitzgerald Pride & Polish event in East Tennessee, where the 1990 Peterbilt 379 won Best of Show and qualified to compete in the GATS-held finale. Just six weeks after qualifying, Eilen left GATS with his statement made and a National Championship trophy in hand.
Eilen bought the Pete four years ago for its motor and transmission, he says, intending to use them for parts or in a separate rig, if needed. "One thing led to another, and my winter project turned into a multi-year project," he says. "It was pretty ratted out. I had to tear it down, and before I knew it, I was down to just two frame rails."
From there, Eilen set out to build "something never seen before," he says, akin to his highly custom 2010 Peterbilt 389 that won the Pride & Polish National Championship in 2011.
The Hustler's street-rod styling was fully designed and built by Eilen in his own shop. "Every panel — dash panels, cab panels, the hood panel — and the visor, the deckplate — everything started out with a piece of metal," he says. "I formed it and bent it and did it all myself in the shop. I started with just some metal tubing for the dash, and I started bending it around until I got the shape I wanted. I wanted something that looked like a street rod. That's why I went with the four bucket seats, too."
Eilen owns seven trucks total, five of which work daily hauling end-dump loads.
Click here to see the full list of winners from the 2016 GATS Pride & Polish show.