This profile is part of a multi-part series in which Overdrive is publishing stories on the five Pride & Polish Best of Show winners from the 2017 Great American Trucking Show in August.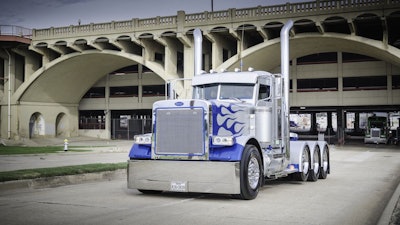 After a rollover crash about a decade ago, this 1988 Peterbilt 379 sat at the back of Lindamood Heavy Hauling's yard in Irving, Texas, until around 2013.
That's when company VP Jake Lindamood decided to tear it down and bring it back to its former glory. It was originally black with orange flames, but to make it consistent with the rest of the fleet, Lindamood painted the truck silver with blue flames. The rig, which has been in the company since around 1990, is known for its flames, so there was never a question of keeping the flames or not.
The engine block is painted silver with blue valve covers, and anything on the truck inside and out that isn't painted blue or silver is chrome.
The truck doesn't work every day but is used as needed to haul loads up to 250,000 pounds.
Click here to see the full list of winners from the 2017 GATS Pride & Polish show.