Transcript
The 2023 Overdrive's Pride & Polish virtual competition came to a close today, Nov. 10, with five trucks and their owners being named winners across six categories.
Three finalists were chosen by Overdrive readers in each of the six categories over a voting period that ended Oct. 1. Truck owners submitted dozens in multiple categories, and these entries received hundreds of online votes.
Catch more information about all of the winners and view all of the finalists in this story announcing the top three in each category and detailing the entries. Find plenty detail in the replay video of the awards presentation up top, too, hosted by Overdrive Editor Todd Dills.
Without further ado, with a big congrats to all finalists, here are the 2023 Overdrive's Pride & Polish winners:
Antique | Kevin Cimmiyotti, 1966 Peterbilt 281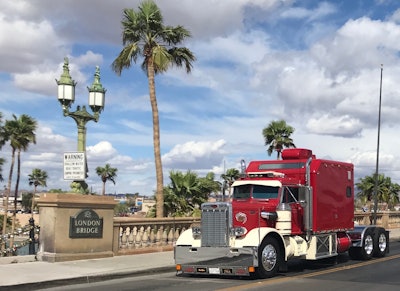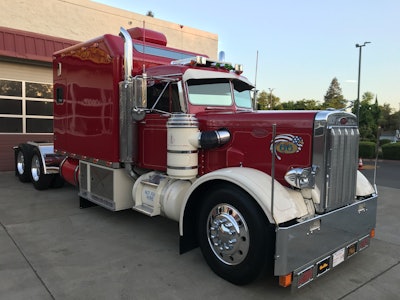 Interior | Cody Davis, 2022 Kenworth W900L, "Mojito"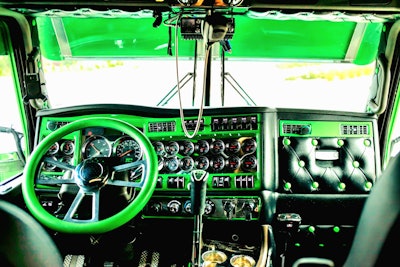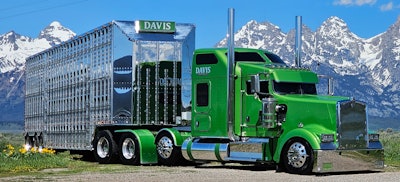 Limited Mileage | Matt Bankert/Twin Pine Farm, 1985 Kenworth K100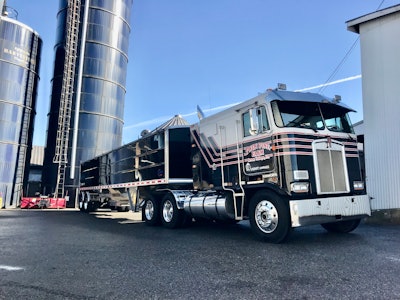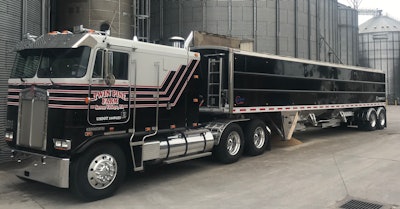 Working Bobtail | Ron Kelsey, 1981 Peterbilt 359, "Sunrise Express"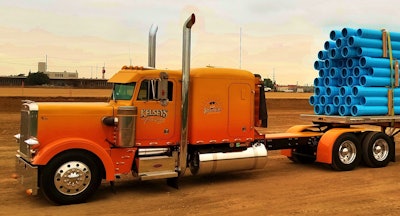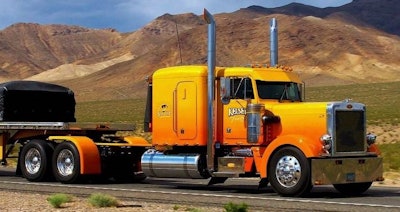 Working Combo, 2008 & Newer | Cody Davis, 2022 Kenworth W900L and 2023 Merritt, "Mojito"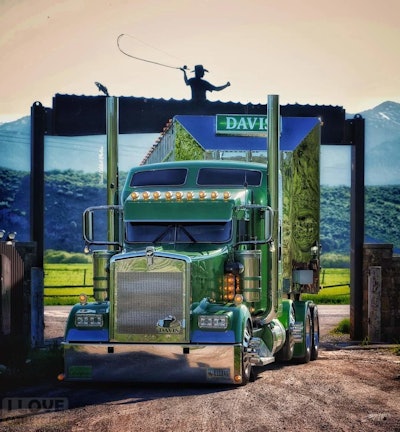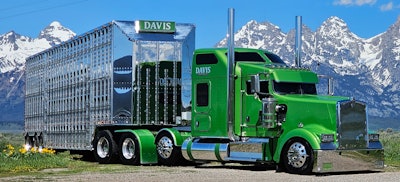 Working Combo, 2007 & Older | C.J. Donovan, 1984 Peterbilt 362 and 2023 Great Dane reefer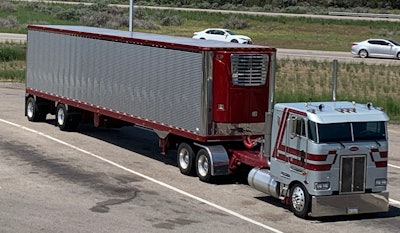 Transcript
Todd Dills: Hey everybody, a big thanks for joining us for this 2023 Overdrive's Pride & Polish finale. I'm Overdrive Editor Todd Dills, and it's been quite a spectacular show season all around the nation this year, and that in spite of what's no doubt been a difficult trucking market for many of you. That hits the pocketbooks of owner-operators, but rarely the pride in a truck well-maintained, polished, restored or tricked-out with custom adds all around. That's all on display for all to see in this year's results, a fine way to, we hope, put a little cap on the show season here for the year. We're showcasing work put in by truck owners all across the nation on some of the very best in custom rigs.
Over the summer, dozens upon dozens of Overdrive readers entered their working, show-ready rigs with photos that we then put up for a round of audience voting. For the competitors watching right now, know that it's your owner-operator peers who picked these winners.
We've got the champs coming up here in six categories – three for solely working trucks. There's one Limited Mileage category for those strictly showpiece builds and otherwise lower-use rigs. There's an Antique category open to anything older than 25 years – so the 1998 model year this time around-- and a Best Interior class. So sit back and enjoy.
Here we go.
First up, the classics, and man do have some lookers here this year.
Second runner-up in the Antique class in Overdrive's 2023 Pride & Polish is owner Brent Sherrod, the second, with his 1979 Mack R686. Owner-operator Sherrod hauls with the Mack under his own authority out of Greenville, Kentucky, clearly with versatility, given multiple trailer types shown with pictures of the rig.
It was bought new originally by a man in his area to haul fuel, then Sherrod's own grandfather hauled coal with the truck from 1982 on. Sherrod brought the Mack back into the family about a decade ago after time as a a farm truck. It's powered by a 350 Mack engine with a 13 speed. Sherrod installed that 20-inch bumper himself, cleaned the rig up, and polished everything. It was the first rig Sherrod ever drove, he said, and future plans include a full custom restoration and handing that legacy on to his son. Well-done keeping the 1979 Mack in the family, Brent. And congrats.
Next in the Antique class is first runner-up and past Pride & Polish winner C.J. Donovan in the immaculate 1984 Peterbilt 362 cabover you see here hooked to a 2023 Great Dane tri-temp reefer trailer. Yes, Donovan still works the rig, running out of a Pennsylvania home base with his own authority, and interestingly I got a good look at it in person during Peterbilt's Pride & Class parade just a couple weeks ago. It looks as good in person as it does in these photos, that's sure.
Donovan describes the rig as four-year work in progress, Cummins-powered with a rebuilt transmission, and an airliner suspension with 3.55 rears. He's put air ride on the front end, all in all a real resto-mod vibe front to back. Since putting it back to work full-time he's focused his time on driver comfort, accessibility, and usability, he said. But clearly the 1984's a head-turner in today's world. Nice work, C.J., and everybody stay tuned for more on that trailer. Donovan's also a finalist in one of the working-combo classes.
And the winner of Overdrive's 2023 Pride & Polish competition in the Antique category is, appropriately, the oldest rig of the bunch of finalists, the retooled 1966 classic Peterbilt model 281 of owner-operator Kevin Cimmiyotti of California. Before Kevin's fantastic custom resto of the unit, the beautiful 1966 was a two-axle out of the factory and pulled bottom dumps and lumber flats for much of its life.
After it retired in 2004, Kevin bought it, put in a Cummins BigCam 1, 15-speed against-the-dash transmission, a Pete air leaf suspension from a 1997 model, power steering, AC, tilt wheel, Bluetooth radio – and the sleeper, oh man the sleeper, yes you're looking at a pristine 1992-model 110-inch Double Eagle painted and refurbished with running water, toilet and more. Most important, maybe, according to the leased owner-operator -- his 13-weekend project on successive Saturdays, stretching that frame to 276 inches. As he puts it, all told, the labor of love "rides better than my pickup."
Awesome ride, no doubt. A big congrats to Kevin Cimmiyotti for the win.
Next up, our top three in the Interior class feature a few rigs that might be familiar to longtime Overdrive readers.
For the second runner-up, we've got independent flatbed owner-operator Ron Kelsey and his brilliant Sunrise Express 1981 Peterbilt 359, decked out with a marble floor that stretches back from the front of the seats and a sharp take on the classic 359 dash with all custom knobs and switches there, likewise the shifter and specially fabricated pedals. Kelsey's owned the beautiful 81 359 since it was just a couple years old. He and friends made all those interior pieces because, as he told us a two years when he also placed in this category, "back then," he said, "you couldn't buy all that stuff. All that's custom."
Nice work, Ron.
First runner-up for Interiors is another past Pride & Polish winner for Overdrive in John McCormick's "Bandit" W900L Kenworth, a 2021 model I had the opportunity to haul in with owner-operator McCormick last Fall after he won the Working Bobtail class for 2022. If you've ever seen Smokey & the Bandit, you can't miss the Long-way-to-go, short-time-to-get-there theme of this rig inside and out.
John McCormick's leased to Oakley pulling dry bulk tank running mostly regional in and around his home base -- and this past year has been a big one for Interior upgrades, including most notably a custom-painted Rockwood floor detailed by a go-to local paint man McCormick knows well but only by the name "Chop," out of his native Robards, Kentucky, near Henderson. We told a good bit of that story earlier this year after catching the upgrades at the Mid-America Trucking Show, where McCormick also placed in the Interior category.
Big congrats, John.
And now, for the big Interior winner for the 2023 Overdrive's Pride & Polish we have the 2022 Kenworth W900L livestock hauler of Wyoming-based Cody Davis. The extensive interior work here was put in by Two Bee's Upholstery out of Washington State, in addition some that Davis took on himself. The floor comes from Rockwood, installed by Davis, and the dash was pieced together with a variety of suppliers' parts, Davis said, all of it painted to match.
The independent, out of Wyoming, cleaned up with the truck at the Shell Rotella SuperRigs event earlier this year in his home state. His 2022 W900L won in three categories -- the Tractor-Trailer Division, Best Chrome, and Best Lights. Significantly, it also won the People's Choice Award after a public voting period.
That's Cody Davis of Cokeville, Wyoming, the big winner of the Interior category in Overdrive's Pride & Polish.
Now, on to the category for builders' showpieces, for non-working project trucks of all types, for low-mileage rigs with the benefit of lesser wear and tear. For the Limited Mileage category in Overdrive's 2023 Pride & Polish we've got …
Second runner-up, past Pride & Polish finalist with a beautiful 1973 cabover White Freightliner – it's none other than Georgia-based David Parmer, who placed in last year's Pride & Polish in the Interior category. This beauty of find Parmer picked up from its former owner via eBay, out of Michigan, and set to work in 2017 rebuilding the 350 Detroit engine and 13-speed transmission, with that tasteful, immaculate interior completed as of 2021. He added twin chrome stacks and swapped out for new the brakes and slack adjusters, air lines, suspensions, tires and more.
Parmer hauls as a company driver, and calls this showpiece of a 1973 White Freightliner the Big Green Mean Machine, for perhaps obvious but not less stellar reasons.
Big congrats to David.
And for the first runner-up for the Limited Mileage trophy we've got a rig from a much more recent decade at a solid 50 years younger than Parmer's. It's Mark Havens' near-brand-new 2024 Peterbilt 389 decked out old-school with plenty lights and plenty chrome – all to Havens' design. The leased owner ordered the truck stripped down to a degree with no exhaust, no cab lights, no bumper or quarter fenders. A blank slate, if you will, and he took it from there, spending a good 10 months on it all to get it ready.
If Havens' name sounds familiar to you, know this isn't his first run through Pride & Polish. You can check out a profile of his prior rig, a 2019 Peterbilt 389, after it won here two years ago in the working bobtail category.
Here's a big shout to you, again, Mark.
And for the Limited Mileage category win, we're dropped back several decades again into the 1985 Kenworth K100 of Matt Bankert, with Twin Pine Farm in Seven Valleys, Pennsylvania. Though its miles are limited indeed, the K100 works, believe it or not, pulling local in South Central Pennsylvania hauling the farm's grain.
Bankert picked up the rig in 2013, then the next year set to stripping it down, repainting and polishing front to back. Truly a looker, no doubt, through the years the K100 cabover's also been the beneficiary of an electric wiper conversion, replaced and upgraded gauges and, clearly, plenty of TLC.
Congrats on the big win, Matt – first in Limited Mileage in Overdrive's 2023 Pride & Polish.
Now, on to the stars of trucking world – the bigtime workhorses. We've got three working classes this year – two working combo classes for rigs 2007 model and older, another for newer trucks. The third? Working Bobtail where for the Second runner-up let's take a closer look here at leased owner-operator Steve Massat's "Old Glory" 1989 Marmon 57P, a considerable rarity to see running the nation's roads in this day and age. Though that's not the case on lanes into and out of Massat's home base in the Chicago area.
Massat's leased to T Max Transportation, and this rig is powered by a rebuilt but still original 425-horsepower B-model Caterpillar. The truck started its life as a black flattop. Massat swapped sleepers on it, also rebuilding the transmission and changing out the rear ends, dressing it up in a myriad ways otherwise with some patriotic imagery as well. The stainless dash inside sports all digital gauges and a headliner console, and otherwise he's continuing to put work into it.
Just an awesome, awesome truck, and one whose story we told in part when owner-operator Massat was Overdrive's Trucker of the Month this past August.
First runner-up in the Working Bobtail class is Jason Mayrand's sweet, low-slung, 280-inch-wheelbase 2023 Peterbilt 389, powered by a 565-horsepower Cummins with a PDI tune and an 18 speed. The independent owner-operator notes the rig was ordered as a basic fleet truck, but when he finally saw how the paint turned out it reminded him of his grandfather Flat Top's old blue 1993 Volvo so much that he set out to replicate that rig's design as much as possible, in tribute. Right down to the pinstriping, done by an artist local to Mayrand around Holland, Michigan.
Custom adds include those made by the HD Equipment shop of 12 Gauge box covers, Hogebuilt fenders, Dynaflex stacks and bumper, and a Merritt deck plate.
He put his grandfather's "Flat Top" handle on the back of bunk, and if you zoom in you can just see the the image of a wooden shoe with flowers at the top of the back part of the bunk on the driver's side. That was painted on all the trucks Flat Top drove.
Fitting tribute, Jason, no doubt.
And for the Working Bobtail win, we've got a familiar rig – it's Arizona-headquartered independent Ron Kelsey, again, with the Sunrise Express classic of a 1981 Peterbilt 359. Man, clearly owner-operators love this beauty of a rig, and for good reason. In addition to that stunning Interior lauded earlier, Kelsey's put all kinds of TLC into the flatbed puller, replacing the Cummins Big Cam 2 with a Caterpillar C15, outfitting it with 7-inch straight pipes and much more. That includes the paint, which fades from orange to yellow, and a big stretch of the frame all the way out to 301 inches.
Kelsey's modified the rig throughout his four decades of ownership. It's got Vortox air cleaners, a custom drop visor, ghost flames on the half-fenders, front fenders and hood. He also custom made the front fenders with drop sides and added chrome rear light bars, a custom deck plate with ghost flames and plenty LED lights. That includes on the interior of the 7-inch stacks, painted on the inside. Those lights positioned inside then lend a unique nighttime-glow effect.
Again, Ron, killer work on Sunrise Express. That's a first in Working Bobtail in Overdrive's 2023 Pride & Polish.
Now for working combos 2008 and newer – the model year for this category refers solely to the tractor. And for Second Runner-up I've got one Gary Johnson and his 2021 Peterbilt 567 and 2018 XL Specialized RGN. It's owner-operator Johnson's second straight year placing in this category with the pristine rig, which he calls "The Hustler." Johnson pulls leased on with this workhorse of epic proportions, out of his home base of Kingsport, Tennessee.
The 567 is powered by a Cummins X15 and boasts a PDI tune and PDI intake and exhaust manifolds.
Clearly, he spends all kinds of time with polish and elbow grease for the bright parts, including that beautiful headache rack. The paint is Spanish gold and Legendary black, and the power plant puts 755 horsepower on the ground with a 2,050 Torque rating and an 18 speed transmission and 3.73 rears. It's double-framed for intense work with a 20,000-lb. Steer axle and pusher, and 46,000-lb. drives.
As Johnson put it – this thing is a hauling beast. Great placement, Gary, keep it up.
First runner-up for Working Combo 2008 and newer, one more time we've got the "Bandit" of owner-operator John McCormick out of North-Central Kentucky with its Cummins power plant and no shortage of additions all around. The 2021 Kenworth W900L is shown here hooked to 2022 Mac pneumatic tank I know McCormick added plenty to in the way of lights up, down and under its length.
The tractor's got a Roadworks 13-inch drop visor, bug shield and mirror lights, and WTI full fenders custom painted to fit the Snowman theme in a nod to the classic 70s Smokey and the Bandit movie. A 22-inch Valley Chrome bumper with a 12 gauge flip kit and underglow lights from Shift Products complete the rig.
The Bandit moniker also makes reference to a former ridealong companion for McCormick from his more OTR cross-country days, a Yorkie with black around the eyes like a raccoon mask, hence the little guy's name.
Great to see the ongoing work on the truck this year, John. Congrats on the placement here.
And back to the front for this big Working Combo win is owner-operator Cody Davis with that 2022 Kenworth W900L that was tops in Interior. Here it's hooked to a 2023 Merritt livestock trailer for a combo Davis calls Mojito. It's full of custom work front to back, no doubt. From a 12 gauge visor, window chops, mirror brackets and lift bumper to I-29 Customs fenders and brackets, and front bumper. PDI Custom-built the air ride front end and deck plate, and Davis runs several PDI adds under the hood – exhaust manifold and air intake, turbo, dual oil cooler, boots, intercooler, and PDI's tuner.
A Dynaflex 7-inch exhaust kit with steps completes the tractor, with auto-chains for the Wyoming-based independent's' frequent west and northwest runs in the wintertime. Finally, look at the shine on that fully polished out livestock hauler – got to be a job keeping that in tip-top shape.
Phenomenal work by Cody Davis and company here. Catch a video of the rig when it cleaned up at Rotella SuperRigs earlier this year at Overdrive's website.
OK, finally, we're running back in time a bit for the very last category of Overdrive's 2023 Pride & Polish show with Working Combos 2007 and older.
For the second runner-up it's the spectacular 2006 Peterbilt 379 and 2019 Wilkens Xtreme Wide Belt walking floor trailer of Scott Huber, running independent out of Kansas. Love the simplicity and style of the lines running front to back on this combo. Huber rebuilt the tractor all from the ground up with a Caterpillar C15 crate motor and a sleeper replacement – cutting bunk length from 63 to 48 inches on a frame stretched to a 300-inch wheelbase. Huber replaced the hood, shortened air filter housings, and put in a 12 gauge front air ride. Seven-inch Lincoln stacks, single-hump fenders on the drives and a custom deck plate, and a great deal of adds on the interior, too – a new sound system pumps out 9000 watts through speakers that include 6 10-inch subwoofers under the bed in the sleeper.
Great work on the rig, Scott – plenty of owners agree, no doubt.
First runner-up in the final Working combo category takes it back to near the beginning of the century with the 2003 Peterbilt 379 of Michael Castaldi, hooked to 2010 Utility 3000R reefer. And talk about lines – the old-school over-the-hood broad stripe set extends the length of this "Paradise Express," as the independent owner-operator calls the rig.
The truck originally came with a factory 63-inch sleeper and a 260-inch wheelbase, but Castaldi went the big-bunk route in 2011 with this 132-inch ARI, stretching the rig out to a 320-inch wheelbase in the process. Over its clearly eventful life, Paradise Express has racked up a grand total 3.2 million miles – the trailer about 1.9 million, Castaldi said. The independent runs out Florida steady between Florida & the Southwest.
Michael Castaldi, hats off to you for the second spot in Working Combo, 2007 and older.
And for our final rig of the night, winner of Overdrive's 2023 Pride & Polish Working Combo 2007 and older Class, it's C.J. Donavan again with that sweet Pete cabover 362. The 1984 model is hooked to a dressed-up 2023 Great Dane tri-temp reefer that's been outfitted, Donavan said, with the latest quote unquote "driver friendly" amenities for getting around tight areas and unfriendly docks. Fresh paint compliments sets off the stainless, for sure, and keeps the cool factor flowing from nose to tail. She rides on a blanket of amber underglow, as you can see with the Pete Pride & Class pics I caught of it at dusk a couple weeks ago here. She's not hard no doubt to to pick out riding across the desert at night.
C.J., here's to you, my friend, for preserving this 1984 classic, and share the beautiful combo with us all.
And that's a wrap for Overdrive's 2023 Pride & Polish. A big thanks to all our owner-operators for entering their rigs and know that, for all of the finalists mentioned here today, we've got specially made award plaques headed your way, so keep an eye on the mail in the coming.
For the rest of you, thanks for joining us for another year of the event. Keep tuned to all our custom rigs at OverdriveOnline.com, and know that we'll have feature profiles of all the category winners in the coming weeks and into early next year. Look forward that, no doubt. I know I do.
Over and out.