The votes are in, and the results have been tallied.
After dozens of Overdrive readers submitted photos that made up more than 60 total entries in one or more of six categories in the 2023 Pride & Polish competition, votes from readers have been counted and the finalists for each category have been determined:
Antique
Interior
Limited Mileage/Builders/Show
Working Bobtail
Working Combo, 2007 & Older
Working Combo, 2008 & Newer
Overdrive's 2023 Pride & Polish truck beauty competition caps off the 2023 truck-show season Friday, November 10, at 5 p.m. Eastern time with a live online presentation.
Sign up so you don't miss the awards presentation or bookmark this page in your browser and mark the calendar for the event.
Finalists were determined by Overdrive reader voting over a two-week period that ended Oct. 1. See all the winning trucks below, with owner listings in each category.
And here's a big congrats to all the finalists!
Antique -- for rigs at least 25 years old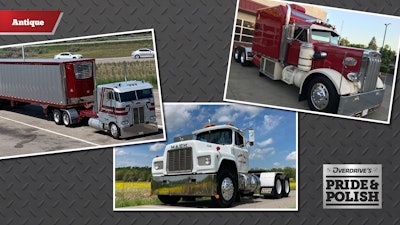 C.J. Donovan's classic 1984 Peterbilt 362 is a four-year work in progress, he said. It's powered by a Cummins engine with a rebuilt transmission, airliner suspension and 3.55 rears. It also boasts an air-ride front end "with a real resto-mod vibe," he added.
With the truck working full time, completion has slowed since Donovan, but Donovan said he's been focusing on driver comfort, accessibility and usability with his more recent changes.
The 1979 Mack R686, owned by Brent Sherrod II, was bought by his grandfather in 1982 and was used to haul coal in western Kentucky, before Sherrod's dad bought it to add to his own small fleet of coal trucks. It ran through to the mid-1990s, when the business slowed down and it was retired to a farm truck hauling grain and hay for nearby growers. It was eventually sold outside the family, but Sherrod bought it back 10 years ago and has been customizing it since.
Kevin Cimmiyotti's 1966 Peterbilt 281 pulled bottom dumps and lumber flats all its life until it was retired in 2004. It features a Cummins Big Cam I with a 15-speed. It's outfitted with modern comforts such as power steering, air-conditioning, tilt wheel, Bluetooth radio and more. The 1992-model, 110-inch Double Eagle sleeper on it has also been refurbished and repainted. Cimmiyotti also spent 13 Saturdays stretching the frame to 276 inches. "It rides better than my pickup," he said. He's owned the truck for 19 years.
Interior creature comforts, style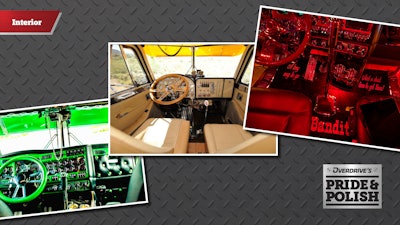 Davis Trucking owner Cody Davis, out of Cokeville, Wyoming, built his 2022 Kenworth W900L, "Mojito," from the factory. The truck's interior was done with Two Bee's Upholstery and Spare Time Fab. The rig is also a finalist in the Working Combo, 2008 & Newer category (see below).
The 1981 Peterbilt 359 of Ron Kelsey, known as "Sunrise Express," features a custom interior among many other touches on the rig. It's also a finalist in the Working Bobtail class.
John McCormick's 2021 Kenworth W900L, "Bandit," features a Rockwood aluminum floor, custom lighting and more inside the truck. After being voted as the winner in the Working Bobtail category in the 2022 Pride & Polish competition, McCormick's truck is now a finalist in both Interior and Working Combo, paired with a 2022 Mac vacuum pneumatic tanker.
Limited mileage/show -- from well-preserved part-timers to new builds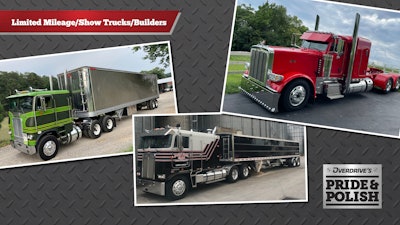 David Parmer bought his "Big Green Mean Machine" -- a 1973 White Freightliner cabover -- off eBay in 2004 from its previous owner in Deckerville, Michigan. He started restoring it in 2017, rebuilding the Detroit engine and 13-speed transmission. Parmer completed a new interior in 2021 and added twin chrome stacks, all new brakes, slack adjusters, new air lines, suspension and more.
The 1985 Kenworth K100 of Matt Bankert runs local in south-central Pennsylvania hauling grain for Bankert's Twin Pine Farm. He bought the truck in September 2013, stripped it down in 2014, and repainted everything in addition to polishing the wheels and tanks. He installed an electric wiper conversion and has replaced a couple gauges with Teltek gauges.
Mark Havens ordered his 2024 Peterbilt 389 pretty much stripped down with no exhaust, cab lights, bumper and fenders, among other parts. Starting with a clean slate, he "tricked it out from there," he said.
The workhorses: Bobtail class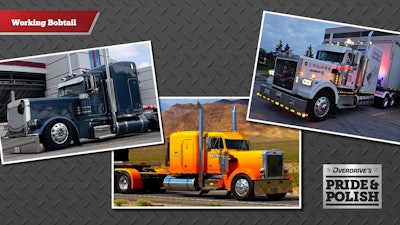 Jason Mayrand didn't know how his 2023 Peterbilt 389's color would turn out when it was ordered to be a fleet truck. When he saw it in person, it reminded him of a 1993 Volvo that his grandfather, aka "Flat Top," drove when he was a kid, so he wanted to replicate that rig. A good it of work was then done by HD Equipment, including 12 Gauge box covers, Hogebuilt fenders, Dynaflex stacks, a Merritt deck plate and more. With a picture of the old Volvo, Mayrand had a local pinstriper match the design that was on that truck to his. He even added "Flat Top" to the back of the bunk.
Kelsey's "Sunrise Express," also a finalist in the Interior category, boasts a custom paint job, a stretched wheelbase to 301 inches, an 800-hp C15 Cat, 7-inch straight pipes and more. Kelsey has owned the truck for decades, since way back in 1983.
Steve Massat's 1989 Marmon 57P started out as a black flattop. He swapped sleepers and rebuilt the engine and transmission and changed out the rear ends. The truck features a stainless dash with all digital gauges and a headliner console.
Working Combo, the biggest field of entries, divided into two classes by tractor model year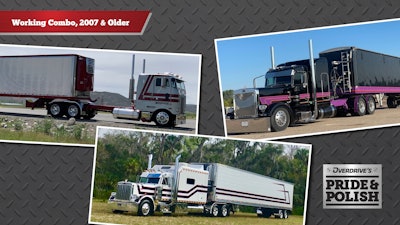 Donovan's '84 Peterbilt 362, paired with a 2023 Great Dane Tri-Temp Reefer, is also a finalist in the Antique category. The trailer has been outfitted with the latest "driver-friendly" amenities, Donovan said, which helps him get around tight areas and unfriendly docks. Fresh paint on the truck complements the stainless reefer "and keeps the cool factor flowing from nose to tail," he said.
Michael Castaldi bought his 2003 Peterbilt 379 in August 2022. From the factory, it had a 63-inch sleeper and a 260-inch wheelbase. In 2011, it was stretched to a 320-inch wheelbase and a 132-inch ARI sleeper was added and painted to match the 2010 Utility 3000R. The truck has more than 3.2 million miles and the trailer around 1.9 million miles. Castaldi runs the truck steady year-round on a route between Florida and the Southwest.
Independent owner-operator Scott Huber rebuilt his 2006 Peterbilt 379 from the ground up, stretching the frame to a 300-inch wheelbase and installing a Cat C15 crate motor. He replaced a 63-inch sleeper with a 48-inch, replaced the hood, added a 12 Gauge front air ride and much more. It features more than 250 Trux Dual Revolution lights and a 9,000-watt stereo system with six sets of components and six 10-inch sub woofers under the bed.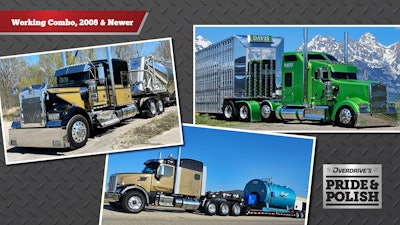 Also a finalist in the Interior category, John McCormick's 2021 Kenworth W900L, "Bandit," and 2022 Mac vacuum pneumatic tanker features a RoadWorks 13-inch drop visor, bug shield and mirror lights, WTI full fenders, a 22-inch Valley Chrome bumper with a 12 Gauge flip kit, underglow lights from Shift Products and more. Leased to Oakley Trucking, McCormick mainly hauls PVC powder to pipe plants.
Gary Johnson's 2021 Peterbilt 567, "The Hustler," coupled with a 2018 XL Specialized 3-axle stretch RGN, is powered by a tuned-up Cummins X15, putting out around 755 hp with 2,050 lb.-ft. of. torque, with an 18-speed and 3.73 rears. The rig is double-framed with a 20K steer axle, 20K pusher and 46K drives. It features a unique Spanish Gold and Legendary Black two-tone paint scheme.
Independent owner-operator Cody Davis hauls livestock in his Davis Trucking operation, drives upward of 200,000 miles a year with "Mojito," his 2022 Kenworth W900L and accompanying 2023 Merritt livestock trailer. Also a finalist in the Interior category, the truck's paint color was chosen by his son. Davis has added a 12 Gauge visor, window chops, mirror brackets and a lift bumper. It also has I-29 Customs fenders, brackets and bumper. PDI Customs built the air ride front end and deck plate. The rig also boasts a PDI exhaust manifold, air intake, turbo, dual oil cooler, boots, intercooler and tuner. It also has a Dynaflex 7-inch exhaust kit with steps.
---
For custom-equipment features delivered to your email inbox weekly, subscribe to Overdrive's weekly Custom Rigs newsletter via this link.