Trucking news and briefs for Tuesday, March 23, 2021:
Contract freight market contracted in February
The American Trucking Associations' advanced seasonally adjusted For-Hire Truck Tonnage Index fell by 4.5% in February after rising almost 2% in January, suggesting a decline in tonnage under contract moved by for-hire carriers amid the weather woes and other disruptions last month.
Spot freight and rates on average were up in February in spite of such disruptions, while the "severe weather that impacted much of the country during the month" might well be the single cause for the contract freight's drop, as represented in the index, said ATA Chief Economist Bob Costello. "Many other economic indicators were also soft in February due to the bad storms, but I continue to expect a nice climb up for the economy and truck freight as economic stimulus checks are spent and more people are vaccinated."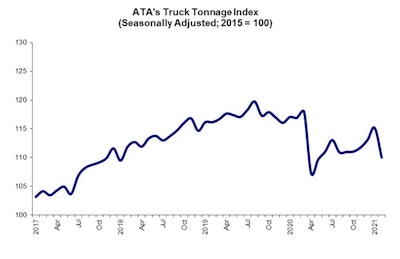 FMCSA sidelines California-based trucker who crashed into house, falsified med cert
The Federal Motor Carrier Safety Administration effectively shut down a California-based truck driver after he crashed into a house in Arizona, resulting in one fatality and two serious injuries.
FMCSA's imminent hazard order says trucker Daniel Tobon, also known as Daniel Moran, was driving a tractor-trailer on Dec. 31, 2020, when he crashed into a house in Mesa, Arizona. He was exiting U.S. 60 at Crismon Road when the truck failed to stop at the off-ramp intersection, crossed over a center curb, struck a signal pole and crashed through a masonry block wall before hitting the front entrance of the residence and destroying the house.
The crash report from the Mesa Police Department noted it appeared Tobon made no evasive maneuvering to avoid the crash, adding the possible influencing conditions for the crash was "illness or physical impairment."
FMCSA investigators found that in September 2020, Tobon had fraudulently certified his medical certification. He also fraudulently certified the form in September 2018.
Failing to comply with the provisions of the federal imminent hazard order may result in civil penalties of up to $1,928 for each violation. Knowing and/or willful violations may result in criminal penalties.
Tobon may not operate a commercial motor vehicle until such time he is successfully completes a return-to-duty process including obtaining a valid medical certification issued by a certified medical examiner.
New truck stop opens on I-40 in Texas
Truckers crossing the Texas panhandle on Interstate 40 now have another place to stop with a full suite of driver amenities and some 120 truck parking spots.
The latest and largest store in the Toot'n Totum chain is located at 7909 E I-40, at the intersection of I-40 and Lakeside Drive in Amarillo.
This 24-hour travel center includes:
Wendy's
Mitch's Texas-style BBQ
Drivers' lounge
Showers
Laundry facilities
10 diesel lanes
Toot'n Totum, which began in 1950, today has 70 locations.
Artur Express increases starting team driver pay
Artur Express is now offering a starting pay of 76 cents per mile for its company team drivers, plus a $10,000 sign-on bonus.
The company says it offers coast-to-coast routes and 90% drop-and-hook freight. Artur says company teams can earn more than $200,000 in their first year with multiple lanes to choose from.
Watch this 820-ton bridge move
It's not heavy haul in any U.S. trucking-traditional sense, but super-load aficionados will enjoy this video from Faymonville, maker of the Commeto series of self-propelled platform modules as well as plenty heavy-haul trailers besides. It documents in part a move that staged recently in Germany to put a mammoth bridge in place: