Trucking news and briefs for Tuesday, May 4, 2021:
Driver vision qualifications, diabetes to be discussed at Medical Review Board meeting
The Federal Motor Carrier Safety Administration's Medical Review Board will evaluate the vision standard for truck drivers at its next meeting, which will be held May 19-20. The virtual meeting is open to the public.
According to an agenda for the meeting published Tuesday in the Federal Register, the MRB will evaluate comments and the vision assessment form from a proposed rulemaking from January.
The January proposal, if finalized, would allow drivers who cannot meet either the current distant visual acuity or field of vision standard, or both, in one eye to be physically qualified to operate a commercial vehicle. Currently, these drivers are prohibited from operating in interstate commerce without an exemption from FMCSA.
The board will also conduct a review of the medical assessment form for CMV drivers with non-insulin-dependent diabetes mellitus and finalize the recommendations from the MRB's April 2020 meeting on updates to the Medical Examiner Handbook.
Those interested in participating in the virtual meeting are encouraged, but not required, to register in advance. Registration will be available here in the coming days.
Fuel prices rise for first time since March
Following a month of decreasing but mostly flat fuel prices, the average price for a gallon of on-highway diesel increased last week for the first time since March.
According to the Department of Energy's weekly update, the nation's average fuel price for the week ending May 3 was $3.142 per gallon, a 1.8-cent increase over the previous week. Prior to last week, prices had fallen throughout April before holding flat at $3.124 during the weeks ending April 19 and April 26.
During the most recent week, prices increased in all regions across the U.S. except California, where prices fell by three-tenths of a cent. The most significant increase was seen in the West Coast less California region, where prices increased by 3.2 cents.
The nation's most expensive fuel can be found in California at $3.983 per gallon, followed by the Central Atlantic region at $3.285 per gallon.
The cheapest diesel can be found in the Gulf Coast region at $2.924 per gallon, followed by the Lower Atlantic region at $3.004 per gallon.
Fuel prices in other regions, according to DOE, are:
New England – $3.084
Midwest – $3.085
Rocky Mountain – $3.25
West Coast less California – $3.282
ProMiles' numbers during the same week saw fuel prices increase by a half-cent, bringing its national average to $3.056 per gallon.
According to ProMiles' Fuel Surcharge Index, the most expensive diesel can be found in California at $3.873 per gallon, and the cheapest can be found in the Gulf Coast region at $2.894 per gallon.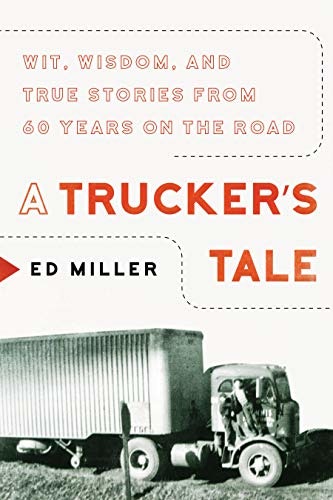 Former trucker's memoir part of Amazon promotional program
Parts of former trucker, carrier operations and safety man Ed Miller's memoir "A Trucker's Tale: Wit Wisdom and True Stories From 60 Years on the Road" saw their first light of day in the pages of Overdrive in embryonic form, back in 2015. This month, the book is part of Amazon's "Kindle Monthly Deals" program. Through May 30, it's available in ebook form for those of you with sizable screens and/or a variety of other electronic readers for just $1.99.
Miller, retired officially since 2010, continues to drive school bus and write from his home in Maryland.
Hear an interview with him about "A Trucker's Tale" and more via the following 2020 edition of the Overdrive Radio podcast.
Iowa 80 offering COVID vaccines next week
Iowa 80 Truckstop has partnered with Hy-Vee Pharmacy to offer five COVID-19 vaccine clinics starting May 10.
The clinics will be open to anyone over 18 and will be conducted on-site at the truck stop, in the main building on the third floor. Both the Pfizer and Johnson & Johnson single dose vaccines will be offered. There will be 200 doses of each vaccine available.
Clinic dates and times are Monday, May 10, from 2-4 p.m.; and Thursday, May 13, through Sunday, May 16, from 5-8 p.m. each day.
Those who wish to make an appointment can do so here, but walk-ins will also be welcomed.
Michigan lifts seasonal weight restrictions
As of Monday, May 3, the Michigan Department of Transportation has lifted the remaining spring weight restrictions on all state trunkline highways in the entire state. State routes typically carry M, I, or U.S. designations.
County road commissions and city public works departments put in place their own seasonal weight restrictions, which usually, but not always, coincide with state highway weight restrictions. Signs are generally posted to indicate which routes have weight restrictions in effect.
Weight restrictions on state highways are implemented during the spring frost-thaw period and are now completed for the 2021 season, according to MDOT. A typical timeframe for these restrictions is from February to May, with specific dates determined by weather and road conditions. They will be posted again when the 2022 season starts.