Trucking news and briefs for Wednesday, Sept. 22, 2021:
DOT asking truckers for info on supply chain challenges
The Department of Transportation is requesting information from trucking and other transportation industries to assist DOT in preparing a report for President Biden on supply chain disruptions. Specifically, DOT is soliciting "practical solutions from a broad range of stakeholders to address current and future challenges to supply chain resilience in the freight and logistics sector."
DOT is asking the public to answer 13 questions listed in a Federal Register notice. Some topics include:
Identifying major infrastructure or operational bottlenecks and chokepoints across the freight and logistics supply chain that slow or impede efficient cargo movement.
Major risks to resilience within the freight and logistics sector, including defense, intelligence, cyber, health, climate and more.
Effects of climate change on transportation and logistics infrastructure.
Technology issues, including information systems, cybersecurity and more.
Key opportunities and challenges with respect to the existing and future workforce.
DOT is accepting comments in the Federal Register through Oct. 18.
[Related: FMCSA boss nominee weighs in on the COVID hours waiver and supply chain backlogs, more]
Apex Capital announces 24/7 Factoring
A new program from Apex Capital will allow its clients who qualify to factor freight invoices after hours, including nights, weekends and bank holidays.
Apex's 24/7 Factoring program gives truck owners the option to get their funds in near real-time outside of normal banking hours. Apex's 24/7 Factoring was designed to keep cash flowing to help trucking companies succeed.
"24/7 Factoring came about as a direct result of listening to our clients, who challenged us to provide funds when they require them – anytime, on their schedule, and in their preferred payment method," says Chris Bozek, President of Apex Capital. "Our best ideas come from our clients. We remain committed to continue delivering practical innovation that helps our clients succeed in an increasingly competitive marketplace."
24/7 Factoring not only provides Apex's clients immediate access to cash, but it also allows real-time, just-in-time funding to their Apex TCS Fuel Cards to ensure that their trucks are rolling and that their drivers are taken care of.
[Related: How load factoring companies' diverse services help some fleets grow]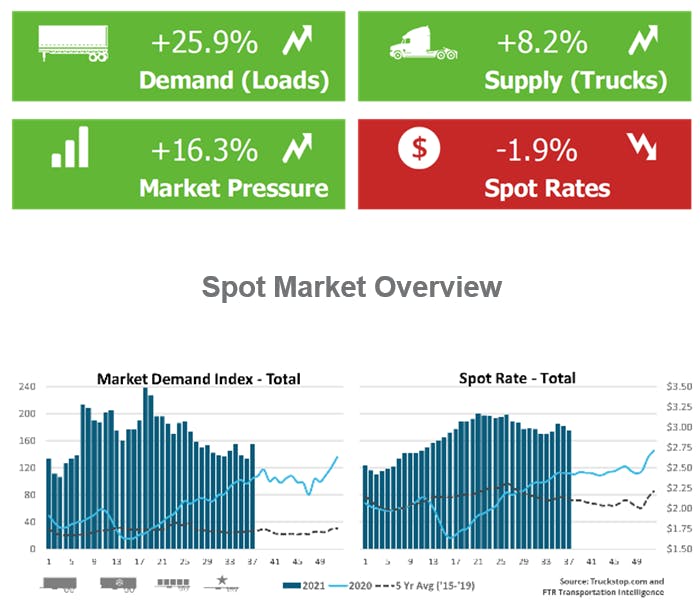 Spot market update – big jump after Labor Day week, though rates ticked down after demand slide | Load postings in the Truckstop.com system bounced back from a Labor Day-induced lull during the week ended September 17. Total spot volume jumped 25.9% to exceed the volume recorded during the week prior to Labor Day. The principal segments – dry van, refrigerated, and flatbed – each posted gains of more than 20%, although dry van and refrigerated volume did not recover everything lost during the holiday week. Meanwhile, total spot rates posted their largest decline in five weeks after the Labor Day demand slide. Volume in the latest week was about 29% above the same 2020 week and about 153% above the five-year average (2015-'19). The holiday outlier aside, total spot load postings have held mostly steady since early July – a trend that generally outpaces seasonal expectations. The situation seems unlikely to change much soon, given continued supply chain disruption. The three largest segments remain well above last year's volume, but the specialized segment this past week was significantly below prior-year levels for the first time this year.

I-10 closure planned this weekend
A section of eastbound Interstate 10 near Phoenix, Arizona, will be closed this weekend, Sept. 24-27, for an ongoing pavement improvement project, according to the Arizona DOT.
The eastbound lanes of the interstate will be closed between 99th and 75th avenues in west Phoenix from 9 p.m. Friday to 5 a.m. Monday. The southbound Loop 101 ramp to eastbound I-10 will be closed, as well as the eastbound I-10 on-ramp at Avondale Boulevard.
Drivers should consider exiting eastbound I-10 ahead of the closure and using alternate routes.
[Related: Roads 511: Highway information in real time]