Trucking news and briefs for Wednesday, Nov. 24, 2021:
COVID vaccine required for cross-border truckers into U.S., Canada
The U.S. and Canadian governments are each requiring non-citizens entering their respective country – whether for essential or non-essential reasons – to be fully vaccinated.
Beginning in early January 2022, the United States Department of Homeland Security will require all foreign national travelers crossing U.S. land or ferry ports of entry to be fully vaccinated for COVID-19 and provide proof of vaccination. The same vaccination requirement began in November for non-essential travelers entering the U.S.
In Canada, beginning Jan. 15, 2022, truck drivers and other groups of travelers who have been exempt from entry requirements will only be allowed to enter Canada with proof of full vaccination.
To meet the requirements of being "fully vaccinated" to enter the U.S., travelers must have received either two doses of the Pfizer, Moderna, AstraZeneca, Covaxin, Covishield, Sinopharm or Sinovac vaccines; or one dose of the Janssen/Johnson & Johnson vaccine.
To meet the requirements of being "fully vaccinated" to enter Canada, travelers must have received either two doses of the Pfizer, Moderna, AstraZeneca, Covaxin, Sinopharm and Sinovac vaccines; or one dose of the Janssen/Johnson & Johnson vaccine.
In both countries, the last doses must have been received at least 14 days before entering the country.
The Canadian Trucking Alliance said in a press release Nov. 19 that it will be pressing both governments for more time to prepare for the cross-border mandates.
"We are extremely concerned there is a perfect storm brewing," said CTA president Stephen Laskowski. "In light of worldwide supply chain disruptions and delays, it's unclear how the supply chain and the trucking industry, in particular, can withstand further turmoil and maintain the service levels required to deliver critical products Canadians and Americans need."
CTA estimated that 10%-20% of Canadian truck drivers crossing the border (12,000-22,000), and 40% of U.S. truck drivers (16,000) traveling into Canada would exit the Canada-U.S. trade system should the vaccination mandate take effect in January.
[Related: 'He died on the road': Remembering owner-operator Mylo Heimbuch]
Trailer manufacturers likely to continue to limit orders through next few quarters, ACT says
According to this quarter's issue of ACT Research's Trailer Components report, component and material availability continue to be a significant problem for trailer manufacturers, and the issue is widespread, not contained to any small group of parts and materials.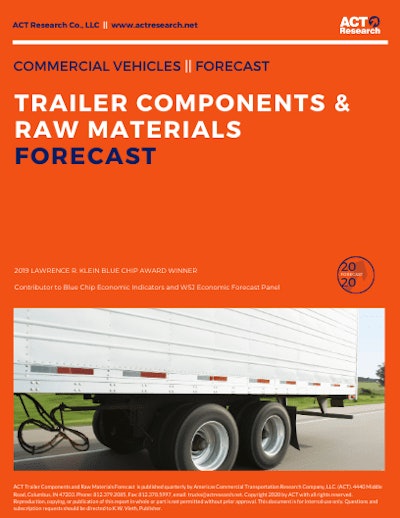 The quarterly is meant to provide those in the trailer production supply chain, as well as those who invest in said suppliers and commodities, with forecast quantities of components and raw materials required to support the trailer forecast for the coming five years. It includes near-term quarterly predictions for two years, while the latter three years of the forecast are shown in annual details. Additionally, analysis is segmented into two categories: components/materials needed for the structural composition of new trailers and those used in the production of undercarriage assembly.
"In addition to supply-chain constraints, workforce availability and reliability are both mentioned as challenges for trailer OEMs," said Frank Maly, director of commercial vehicle transportation analysis and research at ACT. "And while parts availability and staffing considerations are impacting OEM production, they are also challenging to aftermarket channels."
Reports of in-use equipment sidelined due to parts challenges abound. Tim DeWitt, owner of 34-truck power-only refrigerated carrier DeWitt Transportation, said Tuesday turn time at his maintenance supplier of choice had gone from a matter of hours for routine jobs to more than a week in some cases, largely given parts procurement challenges.
"It's hard to get in and out in under a week,' he said.
When it comes to trailer production, sometimes parts issues are "due to widespread availability issues," Maly added, but "sometimes it's because parts have been re-directed to the production side of the business and away from aftermarket support."
Maly said ACT had seen some new industry production capacity under development, yet trailer "OEMs remain reticent to fully open their 2022 order-boards. We expect them to carefully manage their order acceptance over the next few quarters, as they continue to face unusually long backlog-to-build ratios."
Price increases, meanwhile, flow through the trailer build supply chain to the end user. "Many OEMs have had to re-negotiate pricing on previously accepted orders with fleets," Maly said, "implementing either price changes or material surcharges during the year. Sometimes, given their extended backlogs, OEMs returned to their customers more than once for these adjustments, additional reasons for manufacturers' current caution."
[Related: Parts delays appear the rule for major service/repair in 2021]
Texas-based trucker recognized for helping extinguish car fire
The Truckload Carriers Association has recognized Donnell Harris, Jr., from Killeen, Texas, as a Highway Angel for stopping to help extinguish a car fire off I-30 in the grassy median.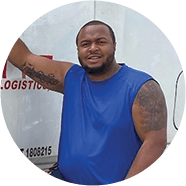 Harris was driving northbound on I-30 just outside Sulphur Springs, Texas, on Aug. 10, when he saw billowing smoke up ahead in the grassy median.
"I thought it was a grass fire," he said. "But as I got closer, I saw it was a Ford Mustang on fire."
The flames were coming from the front of the vehicle and were beginning to spread to the grass. Harris moved to the left lane of the two-lane divided highway and pulled over as far as he could onto the shoulder. Thankfully, the car's occupants, a mother and young girl, had escaped safely and waited a safe distance away.
Another motorist had stopped minutes earlier and was using a small extinguisher, but Harris could see it wasn't enough to put out the blaze.
"I grabbed my extinguisher and ran to help," he said.
Harris and the other motorist were able to keep the flames under control and prevent them from spreading. The fire department arrived on scene within five minutes and took over. Harris was soon back on his way, thankful that things turned out as well as they did.
For his willingness to assist, TCA presented Harris with a certificate, patch, lapel pin and truck decals. His employer, Artur Express, also received a letter acknowledging their driver as a Highway Angel.