Trucking news and briefs for Friday, Nov. 26, 2021:
New York becomes final state to allow under-21 CDL holders
New York Gov. Kathy Hochul on Nov. 15 signed a bill into law that will allow 18-20-year-olds to obtain commercial driver's licenses in the state, with a caveat.
New York's new law requires under-21 CDL applicants to complete a "CDL Class A Young Adult Training Program," as well as a minimum number of hours of supervised driving.
The law requires that the training program "be no less than the Entry-Level Driver Training requirements prescribed by the Federal Motor Carrier Safety Administration." Also, it will include no less than 300 hours of behind-the-wheel training under the immediate supervision and control of an experienced driver. The law defines an "experienced driver" as a CDL holder at least 21 years old who has not had a reportable accident or violation for at least a year, and has a minimum of one year of commercial driving experience.
New York was the last state in the U.S. to require CDL holders hauling intrastate to be 21 or older. Alaska requires drivers to be 19 to hold a CDL and drive intrastate. All other states allow intrastate CDL holders at 18.
The new law has no bearing on federal interstate driving laws, which currently require a CDL holder to be at least 21 to cross state lines. The infrastructure package signed into law earlier this month calls on the DOT to establish an apprenticeship pilot program for under-21 CDL holders to drive interstate.
[Related: Drive SAFE Act becomes law: Here's what you need to know]
2022 Shell Rotella SuperRigs calendar available to order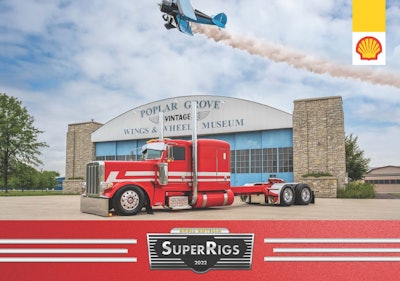 The 2022 Shell Rotella SuperRigs calendar, which features 12 trucks from July's SuperRigs working truck show at the Love's Travel Stops location in Hampshire, Illinois, is now available for order. The calendar is $6.
Eleven drivers were selected to have their trucks featured in the annual calendar and were photographed at landmarks in the Hampshire area. The 12th truck is the 2016 Peterbilt 389 of Brian Dreher who won Best of Show during the virtual SuperRigs contest held in 2020.
Some highlights of the Shell Rotella SuperRigs calendar include:
January – Kiegan Nelson from Hartland, Wisconsin, is a third-generation driver and second time Best of Show winner at Shell Rotella SuperRigs with his 2020 Peterbilt 389. He approaches working on trucks the way many do hot rods or motorcycles.
April – Ben Overton moved to Winnipeg, Manitoba, from New Zealand to drive for Jade Transport. His 2021 Peterbilt 389 Pride & Class features an old school 359 paint job to match the fleet number.
July – Jimmy Ganski from Shantytown, Wisconsin, was flying high after his first time at Shell Rotella SuperRigs. He and his family, along with his 2014 Peterbilt 389, not only made the calendar, but are prominently featured on the front cover.
November – Tony Huttenstine II looked at Shell Rotella SuperRigs calendars as a kid and thought "man … if I could get on it." This year, he and Emily Pohl brought their 2020 Kenworth W900L that is built around the sleeper and features a mid-90's vibe and secured a place in the calendar.
[Related: 2021 SuperRigs winners -- Rollin' Transport takes home Best of Show]
Paccar Parts delivers awards to top-performing Pete, Kenworth shops
Nearing the end of a tough year for parts procurement, Paccar Parts and Peterbilt and Kenworth dealers groups held the virtual 2021 ACCELERATE Your Success Parts and Service Meeting October 19-20. The two-day meeting provided training and discussion opportunities among Peterbilt and Kenworth dealers, Paccar Parts and suppliers.
The meeting included an awards ceremony recognizing dealer achievements and performance. Award criteria was based on sales growth, parts purchase growth, absorption, Paccar MX engine technician staffing, participation in customer support programs and efforts to maximize customer uptime. "These dealerships exemplify how parts and service work together to deliver uptime support to our customers," said David Danforth, PACCAR vice president and PACCAR Parts general manager. "They consistently exceed goals by performing at the highest levels."
The following awards were presented to Peterbilt and Kenworth dealerships:
The Fleet Services Dealer of the Year winners were TLG Peterbilt and Palmer Trucks on the Kenworth side.
The TRP and Special Markets Dealer of the Year award went to Coast Counties Peterbilt, which increased its TRP growth and demonstrated commitment to utilizing eCommerce. On the Kenworth side, Gabrielli Truck Sales showed increased bus segment sales and was active in Paccar Parts' port initiatives.
Peterbilt of Atlanta and Wallwork Kenworth were recognized as the Technology Dealers of the Year for their exceptional growth year-to-date and use of several key Paccar Parts applications, including the eCommerce tool, Online Parts Counter (OPC).
The final awards given at the meeting were for Paccar Parts and Peterbilt/Kenworth Uptime Dealers of the Year. These awards recognized, respectively, Jackson Group Peterbilt and CIT Trucks, whose commitment to parts and service programs delivered industry-leading uptime to their customers.
[Related: Parts delays appear the rule for owner-ops in 2021]