Trucking news and briefs for Monday, May 16, 2022:
Three new commodities added to soon-to-expire COVID waiver
The Federal Motor Carrier Safety Administration on May 13 amended its COVID-19 emergency declaration by adding three new commodities to the list that qualify for the limited hours of service relief outlined in the declaration's waiver of maximum driving time limits.
Despite being at the end of their traditional winter season, FMCSA has added propane, natural gas and heating oil to the declaration. Other fuels -- including gasoline, diesel, jet fuel and ethyl alcohol -- were already included in the declaration.
Under the terms of the declaration, carriers hauling these commodities among others in direct assistance in support of relief efforts related to the COVID-19 public health emergency are granted emergency relief from 49 CFR § 395.3, maximum driving time limits.
Unless extended again, the declaration is set to expire May 31.
[Related: Will the national emergency declaration's COVID hours of service waiver extend again?]
Other commodities covered by the declaration include:
Livestock and livestock feed
Medical supplies and equipment related to the testing, diagnosis and treatment of COVID-19
Vaccines, constituent products and medical supplies and equipment including ancillary supplies/kits for the administration of vaccines, related to the prevention of COVID-19
Supplies and equipment necessary for community safety, sanitation and prevention of community transmission of COVID-19 such as masks, gloves, hand sanitizer, soap and disinfectants
Food, paper products and other groceries for emergency restocking of distribution centers or stores
Gasoline, diesel, jet fuel and ethyl alcohol
Supplies to assist individuals impacted by the consequences of the COVID-19 pandemic (e.g., building materials for individuals displaced or otherwise impacted as a result of the emergency)
Carriers who operate under the terms of the declaration are asked to report their use of it to FMCSA within five days of the end of each month via their FMCSA portal account.
[Related: FMCSA adds reporting requirement with the extension of COVID HOS waiver]
Predatory towing, marijuana among ATRI's 2022 Top Research Priorities
The American Transportation Research Institute Board of Directors has approved the 2022 Top Research Priorities, as identified by ATRI's Research Advisory Committee (RAC).
ATRI's RAC developed the list of recommended research topics at its meeting held in Dallas, March 15-16, and the ATRI Board reviewed and approved a list of recommended topics at its recent meeting.
ATRI's RAC selected research topics that are focused on impacts on the industry's workforce, operational impacts from predatory towing, and expanding the driver population through international work permits.
[Related: Will battery-electric trucks end up a 'black eye' on environmental benefits?]
The 2022 ATRI top research priorities are:
Marijuana: Impacts of decriminalization on the trucking industry. As more states move to decriminalize marijuana and other Schedule I drugs, this study would update ATRI's 2019 report by examining roadway safety and workforce impacts in those states that have changed their laws around controlled-substances.
Quantifying industry impacts from predatory towing. Predatory towing can take many forms -- including tow operators who park near known crash locations, take possession of vehicles, and charge exorbitant rates for release of the vehicle and cargo. This research will quantify the extent of the issue and identify best practices from states that have successfully addressed unscrupulous tow operators through legislation.
Efficacy of driver training on safety outcomes and driver retention. "Driver shortage" and "driver retention" were identified as the top two industry concerns in 2021, according to ATRI's annual survey of carriers. Understanding how initial driver training contributes to the successful and safe integration of new operators into trucking will be the focus of this research, updating an earlier ATRI study from 2008.
Utilizing EB-3 Work Permits to help mitigate "driver shortage." This research will explore the potential for recruiting drivers from outside the U.S. through the employer-sponsored EB-3 Work Permit.
SEC climate rule impacts on the trucking industry. This research will quantify the potential impacts of new SEC climate rules on the trucking industry and their supply chains, focusing on possible Scope 3 reporting requirements. In particular, it will document entities within the supply chain of publicly traded companies that will have to report carbon outputs.
[Related: Parking perils: The increasing cost, and risk, of booting and towing]
New electric-powered reefer units, other cooling products from Carrier
Carrier Transicold last week showcased a range of electric transport refrigeration and cooling products as part of its eCool series. The eCool family includes products for heavy-duty tractors and trailers, as well as medium- and light-duty trucks, and was featured during the 2022 Advanced Clean Transportation (ACT) Expo at the Long Beach Convention Center.
Vector eCool refrigerated trailer system -- The new system creates its own power using leading-edge energy recovery and storage to operate an all-electric Vector trailer refrigeration unit. In the Americas, Carrier formed a strategic alliance with ConMet eMobility to offer the PreSet Plus eHub system, which uses innovative in-wheel motor technology to capture and store clean, regenerative energy for the refrigeration unit. Global foodservice distribution leader Sysco is piloting a Vector eCool system to explore ways this new technology can help the company achieve its 2030 climate reduction goals.
Supra eCool truck refrigeration unit -- This electric complement to Carrier Transicold's Supra diesel truck refrigeration units operates via its own battery module in non-electric truck applications or via the truck's power supply in battery-electric vehicle applications. When it goes into service in 2023, it will help fleets operating in California that are subject to new regulations requiring adoption of zero-emission systems for truck refrigeration.
ComfortPro electric auxiliary power unit (APU) – The new lithium-ion battery-powered version of Carrier Transicold's electric APU, the company says, outperforms electric systems using conventional AGM batteries, providing up to 17 hours of continuous air-conditioning.
Carrier Transicold eCool products can also use refrigerants such as R-452A that have a significantly lower global warming potential than R-404A, the longtime standard refrigerant used in most transport refrigeration systems.
Driver recognized for helping save six people in fiery, multi-vehicle crash
The Truckload Carriers Association has named truck driver Zach Yeakley from Batesville, Arkansas, a Highway Angel for rescuing six crash victims from a deadly, chain-reaction crash in dense fog that involved more than 45 vehicles. He drives for CFI out of Joplin, Missouri.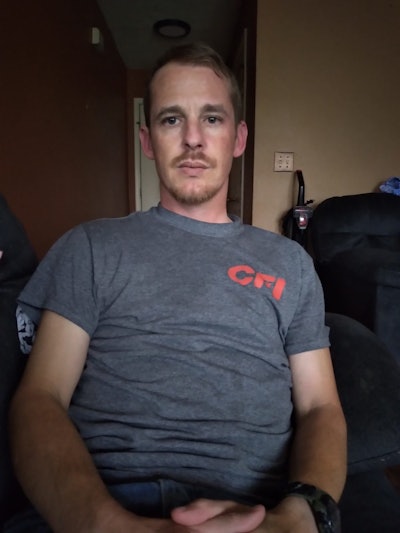 On March 17, around 8:15 a.m., Yeakley was driving to West Memphis, Arkansas, and had just crossed the state border into Charleston, Missouri. He heard on his CB radio that there was an accident up ahead, and then he noticed smoke and a man wearing a safety vest flagging down drivers to alert them to the accident.
The scene was a fire-filled, chain-reaction crash in dense fog that involved more than 45 vehicles. Yeakley immediately pulled over and jumped into action.
"I went up there; they already had a couple people out," he said. "Some people had some broken arms, one had a collapsed lung, a few broken ribs from the impact."
Yeakley, a 15-year member of the Army National Guard, is trained as a combat lifesaver and could quickly assess the severity of the scene. He surveyed the situation so he could tell the paramedics when they arrived. Fire was spreading in the crashed vehicles, and tires were exploding all around them due to the fire.
"There was one guy trapped in his truck," he said. "So me, a sheriff, a state trooper, and a FedEx driver, we did what we could to get him out."
Yeakley and the group were able to pry the dashboard off of another trapped crash victim and rescue him from his vehicle. The flames, he said, were surrounding them. Once the crash victim was rescued from his truck, Yeakley and a sheriff ran back to the scene to try to rescue the driver of a car trapped between a truck and a trailer, also surrounded by flames.
"By the time we got there, the fire had gotten into the car," he said. "We watched him burn."
In total that day, Yeakley helped rescue six crash victims from several vehicles. Police reported at least six fatalities from the fiery crash. Yeakley, who has been driving a truck for four years, said he wouldn't hesitate to jump back into the fire again to rescue drivers, crediting his military training for preparing him for the experience.
TCA presented him with a certificate, patches, lapel pin, and truck decals. CFI also received a letter acknowledging him as a Highway Angel.