Trucking news and briefs for Tuesday, May 24, 2022:
FMCSA waives HOS for baby formula, formula ingredient haulers
The Federal Motor Carrier Safety Administration on Monday issued an hours of service waiver for haulers of baby formula and related manufacturing ingredients.
Baby formula was already included in the COVID-19 Emergency Declaration that allowed for hours of service waivers for drivers transporting baby formula as a finished product. Monday's emergency declaration clarifies that HOS requirements are temporarily waived for carriers transporting both baby formula and the other ingredients used for production, such as corn syrup, casein, hydrolyzed protein and whey.
The waiver covers motor carriers hauling formula and its ingredients to either manufacturers, distributors or stores.
[Related: FMCSA expands COVID hours waivers as emergency declaration expiration nears]
Baby formula has been in short supply since the FDA in February closed Abbott Nutrition's plant in Sturgis, Michigan, after four infants contracted bacterial infections from formula made there. President Biden last week invoked the Defense Production Act to increase baby formula production, requiring suppliers to direct ingredients to baby formula manufacturers as a priority.
According to FMCSA, by execution of its emergency declaration, motor carriers and drivers providing direct assistance to the emergency in direct support of relief efforts related to the baby formula shortage are granted relief from 49 CFR § 395.3, maximum driving time for property-carrying vehicles.
Direct assistance does not include routine commercial deliveries, FMCSA says, including mixed loads with a nominal quantity of qualifying emergency relief added to obtain the benefits of this emergency declaration. To be eligible for relief from 49 CFR § 395.3, the load must be related to the immediate restoration of baby formula supplies.
Fuel prices see slight decline, despite falling East Coast inventories, while spot rates rise with Roadcheck
Diesel fuel prices were on the downswing across most of the United States during the week ending May 23, according to the Department of Energy's Energy Information Administration.
According to EIA, diesel's national average dropped by 4.2 cents to $5.57 per gallon. The decrease was spurred by declines in all regions across the country except the Rocky Mountain region and California, which saw increases of 3 cents and 2.5 cents, respectively.
The largest decreases were seen in the Gulf Coast and New England regions, where prices dropped by 7.9 cents and 6 cents, respectively.
The nation's most expensive diesel can be found in California at $6.50 per gallon, followed by New England at $6.37 per gallon.
The cheapest fuel can be found in the Gulf Coast region at $5.22 per gallon, followed by the Midwest region at $5.29.
Prices in other regions, according to EIA, are:
Central Atlantic -- $6.33
Lower Atlantic -- $5.57
Rocky Mountain -- $5.50
West Coast less California -- $5.60
For more on refining capacity and shortages on the East Coast, read this story, published today.
ProMiles' numbers during the same week saw fuel prices stay mostly flat, falling by 0.8 cents, bringing its national average to $5.49 per gallon.
According to ProMiles' Fuel Surcharge Index, the most expensive diesel can be found in California at $6.44 per gallon, and the cheapest can be found in the Gulf Coast region at $5.23 per gallon.
Meanwhile, market pressure increased in spot freight markets last week, according to Truckstop.com and FTR Transportation Intelligence's weekly report.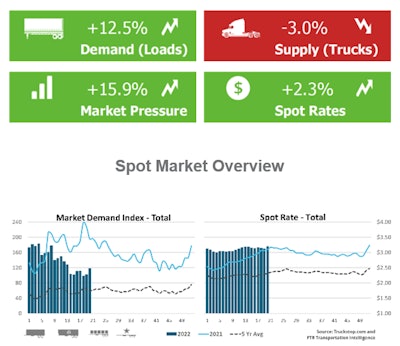 FTR attributed part of the strength to last week's Roadcheck inspection blitz limiting capacity as some operators took time off to avoid potential inspection hassles and as the case may be get other work done.
[Related: Who is to blame for record diesel prices?]
Cuban citizen pleads guilty in Texas CDL fraud scheme
The Department of Transportation's Office of Inspector General announced that Fernando Guardado Vazquez, a Cuban citizen, pleaded guilty in U.S. District Court for the Western District of Texas on May 10 to conspiracy to commit mail and honest services fraud in connection with a scheme to fraudulently issue commercial driver's licenses.
According to the indictment, from January 2017 to about June 2019, Vazquez and two co-conspirators paid a Texas Department of Public Safety (DPS) employee to falsely certify that CDL applicants had passed the skills portion of the CDL test. However, those applicants had either failed or had not taken the test.
The DPS employee provided Vazquez and a co-conspirator with temporary CDLs for the applicants, and DPS later mailed those individuals permanent CDLs.
Bendix hosting ride-and-drive event at Talladega
Bendix will hold a regional Ride-and-Drive technology demonstration next month at Talladega Superspeedway in Lincoln, Alabama, as part of the 2022 season of its popular demo program.
The event will be held June 7-8 and is open to any fleets and dealers in the demo area, as well as owner-operators, drivers and driver trainers.
Advanced registration is requested. Fleets and owner-operators should register using the links below.
Bendix will demonstrate the full spectrum of its tractor- and trailer-based safety technologies, including the flagship advanced driver assistance system, Bendix Wingman Fusion; truck, tractor and trailer stability technologies; and the Bendix ADB22X air disc brake. The 2022 program will also showcase the Bendix Intellipark Electronic Parking Brake technology, as well as SafetyDirect by Bendix CVS, updates to the Bendix BlindSpotter side object detection system, and more.
[Related: Prime time for air disc brakes]