Trucking news and briefs for Thursday, May 26, 2022:
FMCSA extending speed limiter comment period
After receiving requests from the Owner-Operator Independent Drivers Association and the American Trucking Associations to extend the comment period of the Federal Motor Carrier Safety Administration's speed limiter proposal, the agency agreed and is adding 45 days for industry experts to weigh in.
The advance notice of supplemental proposed rulemaking docket will now remain open for comments through July 18. It was previously set to close June 3.
As of Thursday morning, the proposal had received more than 12,000 comments since the comment period opened May 4, with the majority of those comments coming in opposition to any sort of speed limiter mandate.
FMCSA's notice is an exploratory measure to determine how best to potentially implement speed limiters and does not offer specifics as to any speed to which trucks would be limited. The agency's notice leans heavily on trucks' engine control unit (ECU) as the means to limit trucks to a certain speed.
In its notice, FMCSA asks commenters questions mostly related to ECUs and how speed limiters would work with ECUs.
Readers can find specific questions the agency asks and file a comment via this link.
[Related: 'Dumbest idea I've ever heard': Owner-operators say no to speed-limiters mandate]
New Boss Truck Shop opens in Ohio
Boss Truck Shop has opened a new Boss Truck Shop full-service truck repair, maintenance and tire shop location in Hubbard, Ohio, at Exit 234/234B on Interstate 80, located at the Truck World Truck Stop.
The Hubbard shop will also offer roadside assistance services and is connected to the Boss Truck Shop network with a dedicated 24/7 call center.
The new location brings the total number of Boss Truck Shop locations to 48 in 24 states, making Boss Truck Shop one of America's largest service-center chains, the company said.
The Hubbard shop is equipped with three indoor bays to perform services including preventive maintenance, computerized engine diagnostics and engine repair.
CarriersEdge launches auto-hauler training course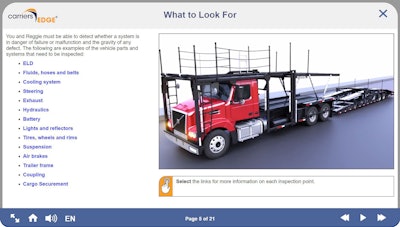 CarriersEdge has unveiled a new series of online training courses for auto-hauler drivers.
The new suite includes "Auto-Hauler Cargo Inspection" and "Vehicle Inspections -- Stinger Steer" courses. A third course, dedicated to unloading cargo, is scheduled for release this summer.
"Auto-hauling is a specialty area with unique needs," said Mark Murrell, President of CarriersEdge. "There is a lack of written information available to auto-hauler drivers, as standard tractor-trailer courses do not offer enough relevant information. There was a need for auto-hauler courses that walk drivers through inspection procedures," detailed best practices for completing inspections.
The "Auto-Hauler Cargo Inspection" course outlines how to properly conduct a vehicle inspection, identify damage or defects on the vehicles being transported and how to accurately report exceptions. After completing the course, operators will be able to:
Perform delivery inspections both during and after business hours
Use multiple viewpoints to spot vehicle damage
Recognize the difference between common defects like scratches, gouges, dents and chips
Record damages and defects, including steps for photographing issues and informing the customer or yard supervisor
Stinger steers are unique truck-trailer combinations with distinct parts that drivers need to regularly inspect. The "Vehicle Inspections -- Stinger Steer" course outlines what drivers need to look for, specific to their truck, to ensure compliance with regulations and to remain safe when transporting cargo. Through this course, drivers will learn:
Regulations for vehicle inspections
Details on inspecting decks, ramps and hydraulic components
How to complete a Vehicle Inspection Report (DVIR in the U.S.)
Both auto-hauler courses incorporate a combination of 3D models and real photographs, providing drivers with a complete picture of the vehicle and what to look for. The courses include inspection "hotspots" detailing how to inspect each area.
Courses are available to CarriersEdge customers at no extra charge, as part of the CarriersEdge subscription service. There are more than 90 titles in the CarriersEdge monthly subscription package, with new and updated titles added regularly. Courses are offered as full-length orientation, short refresher and remedial titles, and as standalone knowledge tests.
[Related: Auto-market turmoil, long-term rates challenges buff the shine off of car hauling]