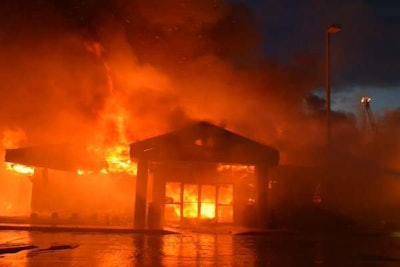 Fire at Indianapolis Flying J truck stop causes $2 million in damage #FOX59Morning https://t.co/NE0km86gqa pic.twitter.com/Fu2CPQ0eES

— FOX59 News (@FOX59) March 21, 2016
A three-alarm fire at the Pilot Flying J truck stop and Denny's restaurant off of I-465 in Indianapolis caused an estimated $4 million in damage, according to the Indianapolis Fire Department.
The fire started at approximately 7:30 p.m. Sunday night outside the truck stop's building and was believed to be a grease fire, investigators told Indianapolis NBC affiliate WTHR.
Fire damage to Indianapolis truck stop jumps to $4 million https://t.co/mjWuQsOvKC

— Indianapolis Hub (@Indy_Hub) March 21, 2016
The facility's manager Matthew Miller and two others tried to extinguish the blaze. High winds thwarted their attempts, so they went inside and evacuated some 40 people, according to fire department officials.
Pilot Flying J issued a statement that, in part, said: "No one was injured during the incident, and the cause of the fire has not been determined. The location will be closed until further notice. The safety of our guests and team members are top priorities at Pilot Flying J."
The fire was under control by 9:43 p.m., according to the IFD. It is unclear how long the truck stop will be closed.
Another statement issued by Pilot Flying J on Tuesday, March 22 said the "damage to the store is extensive, and the store will be closed indefinitely until we can fully assess the condition of the property.
PHOTOS: Huge flames shoot from southwest Indianapolis truck stop https://t.co/0CGEr2YXGv pic.twitter.com/Ox9KIOctj3

— Nina Criscuolo (@Nina_Criscuolo) March 21, 2016