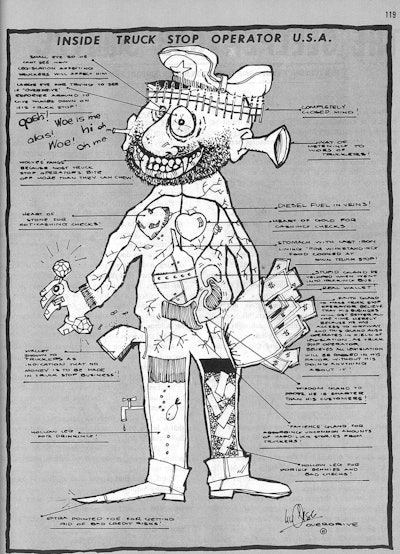 In the early 1960s, it wasn't unusal for truckers, truck stop operators and dispatchers to open the pages of Overdrive and see quite distorted cartoon images of what they most likely imagined themselves to be, as shown in OverdriveRetro's July 15 Years Ago feature. Satiric depictions of truckers with hollow legs for drinking copious amounts of alcohol, unshaven beards, blood-shot eyes and a wild-eyed look from days of nearly constant driving enlivened, even set a tone, for the early issue of the magazine. References to bennies and bad checks were rampant in the irreverent cartoons.
During that decade, truckers, dispatchers, truck stop owners and government regulators all were vulnerable to artist C. Livolsi's zany cartoons and, later, to those of artist Paul Goeppner. In the November 1968 issue, a collection of Livolsi's and others cartoons were reprinted. One of those, of the truck stop operator, can be seen in full view with the artist's delineation of them on this week's Odds & Ends photo gallery. Click on the gallery heading to get to the entire Odds & Ends gallery, and then click on the cartoon featured first in the line.
You may or may not recognize any truck stop operators you've known from the past there, but if you're a fan of the early Overdrives, you might get whacked with a blast of hard-hitting humor from the past.