Following our coverage of reader shout-outs to great trucking companies, online here and also appearing in our October issue, others joined the chorus of praise for true driver appreciators around the trucking world. Here are a couple of the examples:
Mike Hatcher (via Facebook): Roger and Brad Kahler of Fort Transfer in Morton, Ill., hand out up to $200 cash on weekends to drivers for us to go out to eat and drive their company pickups, which they put gas in. We also have driver safety banquets every year. One year it's in Peoria, Ill., and the next year it's in South Louisiana. We had one banquet in the French quarter two years ago and two years before that Brad rented out an antebellum home overnight on the Mississippi river for our banquet. Driver of the Year and any driver with a give-year safe driving record, plus his wife, get an all-expenses-paid cruise for seven days to the Caribbean. These two men are very gracious to their drivers. I doubt there's another owner of a trucking company anywhere that does the same.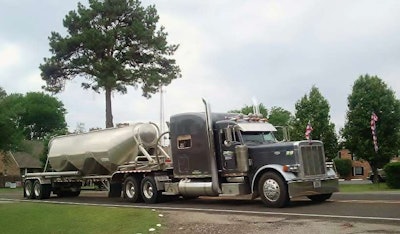 Rebecca Allison (commenting on our website): Tim Ables Trucking maintains top notch equipment [her husband's rig, hauling frack sand, is pictured] and allows drivers to treat the rigs as their own, which causes them to take better care of them. When I lost my parents suddenly in June, within three weeks of each other, Tim Ables didn't balk at getting my husband, Marc, home to be with me! They let him drop his load and come to the hospital both times.
When Marc needed surgery the week after my mom passed, again they said take care of yourself, your truck will be waiting. Some coworkers that left Tim Ables during slow times tried to get Marc to leave, but he said no way. A company that values family and allows time off like this: you can't find that anywhere else these days! And going through the lows is easy knowing the high times will outnumber them! Again, a big thanks to Tim and Anita Ables for the great company you created and for caring about your drivers and their families!