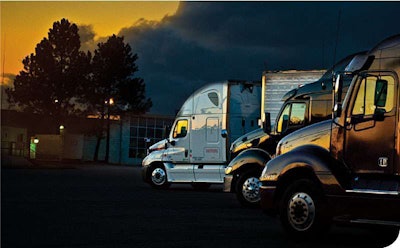 Following news of the American Trucking Associations' urging of the Federal Motor Carrier Safety Administration to further study the science behind split sleep, many readers commented on a need for more permissive split-sleeper-berth rules. Many drivers remembered the legal ability to split in ways other than the current 8- and 2-hour possibility. Among them was owner-operator Gordon Alkire, who put the current situation quite succinctly:
My better half and co-driver and I used to do the split sleeper: 6 and 6 or 5 and 5. It worked for us. We managed to get the job done safely without a 34-hour restart. What was that? Never heard of it back then.
The advantages of the ability to split can stack up not just for team drivers — in such a situation, says Alkire, you're "not behind the wheel long enough to get numb legs, fatigued, or bored and unsafe, then you're back to the bunk to sleep." Ideally, as it was with the pre-2003 hours of service regs, any extended time spent in the sleeper does not penalize your 14-hour clock.
Alkire says he generally sleeps 5 to 5.5 hours at a time whether driving or not, "and then I am up." On the road today, he sits "getting bored until the 10 hours is up, and by then I am beginning to feel fatigued and on the downhill slide to being already in the need of a nap. This is unsafe."
He echoes so many others on the hours rules in general, and the current sleeper-split regs in particular, when he says that "one sizes does not fit all."
Listen to the podcast for further views, and call 530-40-VOICE, or 530-408-6423 to weigh in with your own thoughts on the subject of hours flexibility.
In the podcast, you'll hear more voices on the California Air Resources Board's Truck and Bus Rule, too, which officially takes effect January 1, 2014 — essentially, it outlaws non-retrofitted 1996-2006-model year heavy duty diesel engines within its borders, with some exceptions. The Board has extended the primary January 1 deadline effectively to Jan. 31, however, in an effort to give fleets and owner-operators more time to take "good faith" steps to comply. Effectively, that means meaningful enforcement of the 2014 Truck and Bus Rule deadlines won't happen until then.
For owners making moves to purchase a retrofit or a new engine/truck to get compliant, a six-month extension is also in place to make that upgrade, but you'll need to report any efforts toward compliance into the CARB TRUCRS system with your operation's registration by Jan. 31 there to take advantage. Find more information on reporting via this story.
Here's a direct link to the TRUCRS system.
Following find a list of the most recent reporting on CARB:
**CARB sued by OOIDA over retrofit filter requirement in emissions regulations
**CARB public meetings clarify proposed rule amendments, hear other ideas
**The CARB bind: On eve of public meeting, more voices on proposed compliance **alternatives
**CARB: Operators' voices, more on the regs in podcast
**CARB sued for allegedly not disclosing defects of particulate filters
**Podcast: CARB compliance flexibility, or lack thereof, not set in stone
**California delaying enforcement of retrofit deadline for truck owners