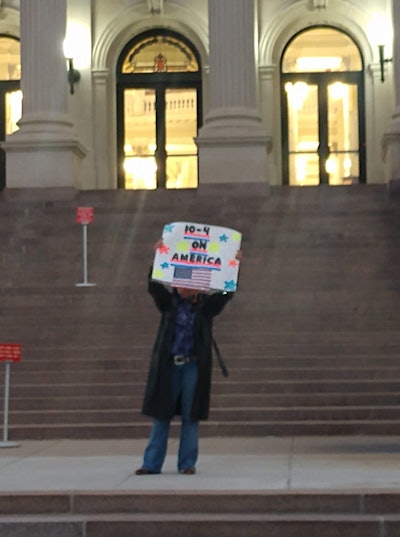 Despite having a small turnout of just seven truck drivers for a slow roll in support of the "That's a Big 10-4 on D.C." event going on late last week in the nation's capital, organizers of an event in South Dakota still believe they were successful in having their concerns heard by the general public.
Jeremy Johnson and Shawn McIntosh organized the South Dakota event through their Facebook group, The Disrespected Trucker. The seven drivers that showed up at the Countryside Travel Plaza along I-29 near Sioux Falls slow rolled a total of 268 miles on Thursday, Oct. 3.
Johnson said the support the group received from the motoring public and law enforcement during the slow roll was all positive.
"People would drive by us with their thumbs up, waving American flags, honking their horns. I didn't see one negative reaction," Johnson said. "People have been very receptive, and I think we've got the start of something great."
Johnson said the group focused on being respectful of the general public while participating in the slow roll, going slower than normal highway speeds but not slow enough to be dangerous.
"Our intention is to make change in the industry diplomatically and respectfully," he said. "Shutting down traffic isn't the way to do that, and it's not the direction we want to go."
As a result, McIntosh said a number of motorists joined the truckers in the slow roll with their flashers on for a few miles to show solidarity.
"The outpouring of support from people in South Dakota has been excellent," McIntosh said.
McIntosh added that while they were out to support the larger "That's a Big 10-4 on D.C." event, he wants in the future to see it become "That's a Big 10-4 on America" to get the whole country involved.
In addition to the slow roll Thursday, Johnson and McIntosh, along with two other truck drivers, went to the state capitol in Pierre to try to get some face time with some South Dakota legislators, who were not in session last week.
McIntosh and Kevin Steichen, president and co-founder of the United States Transportation Alliance, were able to meet with South Dakota Secretary of State Steve Barnett while at the capitol. Johnson said the hour-long meeting was productive.
"Mr. Barnett had no idea about the legislation that is being stuffed down [truckers'] throats," Johnson said. "We felt really good about it."