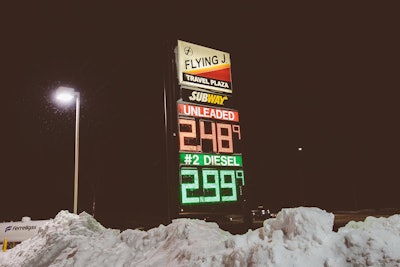 Tony Webster via Wikimedia Commons
Updated May 22, 2023, with more current information.
Diesel prices have fallen from recent record highs, but with spot rates down horrendously, shrewd owner-operators and drivers could do well to turn to money saving apps before pulling up to the fuel island.
As far as apps go for saving money, the Mudflap app currently reigns supreme. The free app advertises itself as a way for drivers to save as much as $200 per fill-up at its network of 1,500 mostly independent truck stops across the country. With over half a million downloads and a 4.6 star rating in the Google app store, it's the only major app effort to offer actual discounts on diesel and DEF.
Drivers simply download the app and give their name, company name, an email and a payment method to participate.
Owner-operators signing up "aren't filling out an application like a fuel card with a credit check," Mudflap CEO Sanjay Desai told Overdrive last year. It's a "60-second experience" setting up an account to begin accessing in-network fuel purchases from truck stops and regional chains -- among them Sapp Bros., Kwik Trip, Casey's and others.
All payments go through the Mudflap app, and drivers will generate a code on the app once they reach their desired fuel station, show the code to the clerk, and get the discount on the sale right then.
The Mudflap app works with the truck stops to provide discounts, much like a large fleet would get better rates on bulk buying fuel.
Other apps can help inform drivers' choice of truck stop, like Fuelbook, a similarly well-reviewed and widespread app for mapping prices of diesel shops. Trucker Path, the near ubiquitous route-planning app well-known for its truck-parking information-sharing utility, also provides a view of diesel prices on a map. Even Google Maps these days can be cajoled into showing such information.
But to actually get a discount on diesel, Mudflap stands alone, making it almost more like the National Association of Small Trucking Companies' fuel card.
Fuel cards, like NASTC's, require a bit more to sign up, but can also offer healthy discounts on fuel.
More fuel-related resources in Overdrive:
**Weapons in the fuel arsenal: One owner-operator's success with a relative newcomer
**Trucking 101: Understanding fuel surcharges
**New GoFuel discount program
**Owner-operators report rates slipping against the rise in fuel
**Fuel-market insantiy: A tale of two loads, bedrock fuel-cost control
**'As if soaring costs weren't enough,' diesel shortage hits truck stops across America