Trucking news and briefs for Tuesday, May 16, 2023:
Diesel prices fall back below $4/gallon
For the first time since early February 2022, the national average for a gallon of diesel is below $4, according to the latest weekly update from the Department of Energy's Energy Information Administration.
The last time diesel was below $4 was the week ending Feb. 7, 2022, when prices across the country averaged $3.95 a gallon.
Fuel fell back below that $4 a gallon mark during the week ending May 8, when prices fell 9.6 cents to $3.92 per gallon. During the most recent week, prices fell another 2.5 cents to $3.90 per gallon.
During the week ending May 15, prices fell in all regions across the country, with the most significant decrease being seen in New England, where prices fell by 13.1 cents.
The nation's cheapest fuel can be found in the Gulf Coast region at $3.59 per gallon, followed by the Lower Atlantic region at $3.79 per gallon.
The most expensive diesel is in California at $4.83 per gallon, followed by the West Coast less California region at $4.38 per gallon.
Prices in other regions, according to EIA, are:
New England -- $4.24
Central Atlantic -- $4.24
Midwest -- $3.82
Rocky Mountain -- $4.09
ProMiles' numbers during the same week saw fuel prices fall by 6.4 cents to $4.02 per gallon.
According to the ProMiles Fuel Surcharge Index, the most expensive diesel can be found in California at $5.15 per gallon, and the cheapest can be found in the Gulf Coast region at $3.59.
[Related: Paths to 10-plus mpg in a Class 8 diesel tractor with aero, downspeeding, more]
Used truck sales took a nosedive in April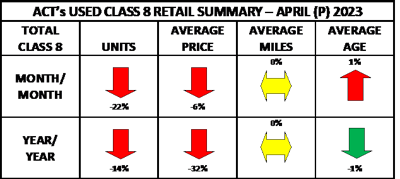 The preliminary Class 8 same dealer used truck retail sales volume balloon deflated in April, according to the latest report from ACT Research, shrinking 22% from March.
The decline split the difference with the auction and wholesale markets, ACT said, with auction activity pulling back (-45%) from March's quarter-end spike. On the flip side, wholesale deals were up 130% from March.
Combined, the used truck industry saw preliminary same dealer sales fall by 27% month over month.
Compared to March, average retail prices declined 6% in April, while average miles were flat and age increased 1%. Compared to April of 2022, volumes, price, and age declined; miles were flat.
"Historically, April is a pretty average month, slowing 8%-10% from March," said Steve Tam, Vice President at ACT Research. "Clearly, some used truck buyers are beginning to react to the increased pressure of slowing freight and economic uncertainty."
Tam added that the preliminary average retail price for Class 8 used trucks in April was $68,500, which is 6% lower than March and 32% lower than the price peak in April 2022.
[Related: Given sky-high repair costs, used-truck warranties more valuable than ever]
Right to repair legislation gets more co-sponsors
The Right to Equitable and Professional Auto Industry Repair Act, or REPAIR, picked up two more cosponsors last week, bringing the total to 15.
Rep. Jay Obernolte (R-California) and Rep. Chellie Pingree (D-Maine) signed on to the REPAIR Act, which is carried by Rep. Neal Dunn (R-Florida).
"The REPAIR Act would give owners, including the rural communities in my district, secure access to critical data so their chosen service center can replace parts and repair their vehicles," Dunn said. "I am proud to support competition in the vehicle repair industry."
The REPAIR Act would provide independent repair shops and vehicle owners the right to critical information, tools and equipment needed to repair vehicles. This includes repair and maintenance data now being wirelessly transmitted through telematics systems.
The heavy-duty industry now operates under a memorandum of understanding brokered in 2015 by the Commercial Vehicle Solutions Network (CVSN), MEMA, the Auto Care Association (AutoCare) and Heavy Duty Aftermarket Canada. The MOU ensures that vehicle owners and independent repair facilities have access to OEM-controlled service information, tools and parts. It also enshrines providing diagnostic tool information to third-party aftermarket tool manufacturers.
MEMA's Senior Vice President of Government Affairs told a HDAW panel earlier this year that federal law is needed because while the MOU is a step forward, no MOU covers any future developments in technology. Furthermore, a federal law is stronger than any state law or MOU, and it would cover privacy, cybersecurity and transportation issues across the board.
The bill was introduced in the House on Feb. 9. It has been referred to the House Energy and Commerce Subcommittee on Innovation, Data and Commerce.
Learn more about the REPAIR Act and how you can talk to your Senators and representatives at repairact.com.
[Related: FTC aiming to crack down on 'right to repair' violations]
Women of Trucking Advisory Board meets again
The Department of Transportation's Women of Trucking Advisory Board held its second meeting on Tuesday, and the board, comprised of a diverse group of women with roles across the trucking industry, focused on how to bring more women into the business.
Chief issues identified were the need for a crisis hotline established by the DOT, mentorship, scholarship, and increased access to entering the trucking industry for women. The group also stressed problems within CDL training they felt kept women out of the industry.
SHE Trucking, led by WOTAB member Sharae Moore, got a shout out for their training efforts, but other women in fleets said they often see drivers straight out of training who can't even properly hook a trailer.
The board did address the downturn ongoing in the trucking industry, saying that the slowdown has caused training periods to last longer and keep women away from home for longer.
The expenses of childcare and home responsibilities also sat high on the list of obstacles for women in trucking, with many suggesting grants and funding opportunities for women, but urging that they be applied wisely.
"I'm concerned when we're doing grants and giving money for training, all it's doing is being taken advantage of," said Emily Plummer, operator with Prime. "They take their money and they don't train them, it's just sad."
Furthermore, the group agreed broadly that many women don't want to drive for decades, and want to eventually transition to a stationary dispatch or fleet management role. In that area, the group said it would look at trying to remove a bachelor's degree requirement from many such roles, something they considered arbitrary and holding them back.
Upcoming Webinar: Catching elusive 'work-life balance' as an owner-operator, small fleet owner
DATE: May 23 at 1:00PM Central

More are looking for that elusive goal of work-life balance with healthy profits and maximum time efficiency on the road to justify time spent on other pursuits. In this webinar — sponsored by Bestpass — two men who've been in those shoes in a variety of roles present strategies toward gauging and achieving balance to improve quality of life for yourself and/or your operators, whether you're a one-truck owner leased to a carrier or with authority, or a small fleet owner hoping to deliver better balance to drivers and, ultimately, to yourself.
Love's helps move forward high-school CDL training program
According to the Patterson High School Truck Driving Program in Patterson, California, Love's Travel Stops recently made a donation that enabled instructors to create a distracted/impaired driving course utilizing the program's golf cart.
In 2017, Patterson High School became one of the first high schools in the nation to offer CDL training as career and technical-education elective courses. Their one-year class meets FMCSA Entry Level Driver Training (ELDT) theory standards and prepares students for the Commercial Learner's Permit, doing so with an interactive, hands-on approach. The program includes the use of two state-of-the-art Advanced Training Systems simulators, as well as a golf cart to teach backing skills.
The Love's donation not only provided the resources needed to purchase the course infrastructure, but also a pair of Fatal Vision goggles designed to replicate the effects of being under the influence of alcohol.
Said Dave Dein, the program's coordinator and instructor, "It is so important to give students an experience to emphasize the dangers of distracted/impaired driving rather than just telling them not to do it." To make the lesson meaningful rather than just a fun activity, at the conclusion of the driving course the students read personal stories of people who were impacted by distracted or impaired driving in order to put faces behind the staggering statistics.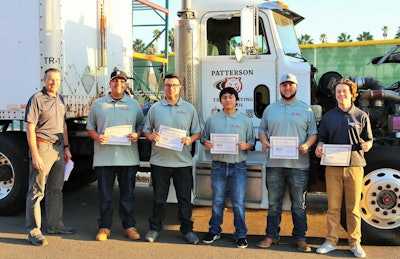 To date, Dein's Next Generation in Trucking Association has worked with more than 150 high schools across the nation interested in starting CDL programs.