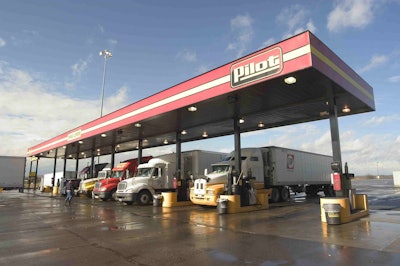 Pilot Flying J and the seven trucking companies who opted out of a 2013 class-action settlement with the company to sue it separately will meet Nov. 19 to negotiate a settlement.
Magistrate Judge Gregory Wehrman of the U.S. District Court in the Eastern District of Kentucky issued the order Aug. 12, who ordered the parties involved in the case to meet to "negotiate and approve a settlement in this matter."
The cases were ordered to mediation July 30 by U.S. District Judge Amul Thapar, who referred the case to Wehrman.
Pilot Flying J finalized an $85 million class-action settlement in November of last year with 5,500 trucking companies.
Seven trucking companies, however, opted out of the settlement to pursue their own litigation. Those companies include Shoreline Transportation, Osborn Transportation, Wright Transportation, National Retail Transportation, Mario's Express Service, Triple D Supply and FST Express.
A judge consolidated the cases in April and transferred them to Kentucky, which is also overseeing the cases' criminal proceedings.
In addition to the $85 million civil settlement, Pilot also reached a $92 million settlement with the U.S. Justice Department, which absolves the company of any more criminal responsibility. It does not protect prosecution of individuals, however.
So far, 10 Pilot employees have pleaded guilty to fraud and conspiracy charges stemming from the allegations against the company.