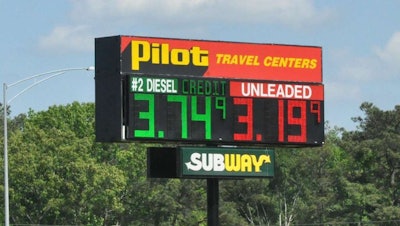 Two of the remaining carriers suing fuel provider Pilot Flying J have amended their lawsuits to allege that the company's CEO, Jimmy Haslam, "instructed" employees to cheat diesel fuel customers out of fuel rebates.
The amendments were submitted Nov. 14 by National Retail Transportation and Keystone Freight Corp. in the U.S. District Court in Kentucky that's handling the roughly half-dozen remaining against the company.
Pilot Flying J spokesperson Rachel Albright says Haslam was unaware of the fuel rebate withholding when it was occurring and has been working to correct the problem since the April 2013 federal accusations.
"CEO Jimmy Haslam from the very beginning of this investigation has said that he was unaware of any wrongdoing, pledged to get to the bottom of the situation and to correct any discrepancies with any customers. We will deal appropriately with this filing as we have others," Albright said.
NRT and Keystone claim in their amended suits that Haslam "instructed Pilot employees to advise [carriers] that they would receive" rebates on each gallon of fuel purchased from the company, according to the court documents.
However, "Haslam never intended for Pilot to honor its agreement," the plaintiffs claim in the amendment.
The alleged fraudulent scheme occurred "under Haslam's direction and control," the plaintiffs claim, further alleging "Pilot and Haslam personally benefitted from the scheme in the form of increased profits, bonuses, valuation of his company and compensation packages."
The amendments make the same claims about former Pilot president Mark Hazelwood, who resigned from the company in May.
The two carriers, along with the five others who opted out of an $85 million settlement last year with Pilot, are expected to meet with Pilot Flying J this week (Nov. 19) to negotiate a settlement.
Last year's settlement included 5,500 trucking companies that had diesel contracts with Pilot.
The outstanding cases were consolidated in April and transferred to a federal court in Kentucky.
Pilot Flying J also reached a $92 million settlement with the U.S. Justice Department earlier this year, absolving the company of criminal responsibility. The settlement does not protect individuals from prosecution, however.
Ten Pilot employees have pleaded guilty so far to fraud and conspiracy charges in the case, and Hazelwood has been notified that he is under investigation for his involvement in the case.