The previous installment in this series, "The Biggest Little Voice in Trucking," about safety groups' influence on trucking regulation is available via this link.
The Obama administration's nomination of former Maryland Motor Truck Association head Anne Ferro to helm the Federal Motor Carrier Safety Administration in 2009 brought with it a chorus of attacks from the Truck Safety Coalition.
Parents Against Tired Truckers founder Daphne Izer and Citizens for Reliable and Safe Highways (CRASH) board member Jennifer Tierney, whose father was killed in a truck crash in the 1980s, criticized Ferro as an "apologist for the failure of FMCSA to improve the safety record of motor carriers." The two held up as prime evidence Ferro's tenure with the Maryland association.
Little did they know that Ferro would be a fellow traveler in the use of emotional appeals to influence policy. That was most dramatically evident during the fight over the 34-hour restart's new restrictions in 2014. Ferro's infamous blog post – invoking the safety lobby's "tired truckers" boogeymen in part of its title: "The Steps We've Taken to Keep Tired Truckers off the Road" – used the accident story of PATT board member Ed Slattery's family to argue against congressional moves on the 34-hour restart.
The Owner-Operator Independent Drivers Association called for Ferro to step aside. She did, ultimately. Long before that, however, at the level of FMCSA's Motor Carrier Safety Advisory Committee, a perhaps more important change had taken place in the balance of member constituencies.
While MCSAC recommendations are not binding on FMCSA, the committee's work has influenced advances relative to medical certification, the electronic logging device mandate and device specs, the 2013-implemented hours of service, and changes in the Compliance, Safety, Accountability program, among other areas.
Governed under federal rules for such committees, MCSAC is intended to include reasonably balanced representation from industry, law enforcement, labor and safety organizations. It was originally a 15-member group. Now, with the addition of three labor representatives and other changes, it has 19 members.
Road Safe America's Steve Owings has been a MCSAC member since its establishment in late 2006, serving as chairman between 2012 and 2014. Advocates for Highway and Auto Safety also has had a representative on the group from the beginning.
Notably, the Truck Safety Coalition, made up of PATT and CRASH, was not there at the start. But today, three of MCSAC's 18 representatives come from the Coalition. (A fourth, an alternate voting member, is able to substitute when CRASH's representative is absent. No other constituencies on the panel have an alternate voting member.)
"All were put there by Anne" Ferro, says committee member Todd Spencer, executive vice president of the Owner-Operator Independent Drivers Association.
In 2010, Truck Safety Coalition Executive Director John Lannen and Jane Mathis, PATT board member and treasurer, joined the committee. The direct CRASH representatives, including the alternate member, were added in 2013.
MCSAC: What a difference a decade makes
When the Motor Carrier Safety Advisory Committee began meeting in 2007, it had four members with a direct involvement in the trucking industry, making up 27 percent of the advisory panel. Today, there are three direct trucking members, accounting for 17 percent of the expanded body. Over the same period, representatives of trucking safety-advocacy groups more than doubled from two to five (not counting an alternate voting member from CRASH), now making up 28 percent of the membership.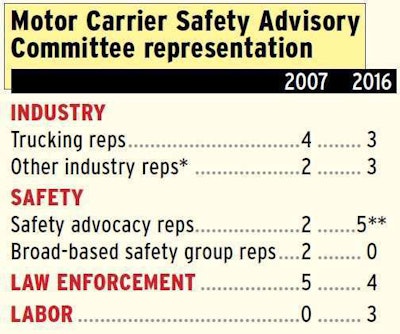 * In 2007, FMCSA counted trucking insurance representative Dave Parker among the safety representatives. He's now counted among the industry representatives. Other industry reps include those representing motor coach/bus constituencies.
** An alternate voting member from CRASH is not included here.
The committee "used to have representation from broad-based safety organizations" such as the National Safety Council, says Rob Abbott, outgoing safety policy representative for the American Trucking Associations, who joined the advisory committee in 2011.
That same year, Robert Mills of the Fort Worth, Texas, police department's commercial vehicle unit appeared at a Truck Safety Coalition press conference attendant to its signature Sorrow to Strength conference. The biannual Sorrow to Strength event brings truck crash survivors together for the purpose of delivering appeals to members of Congress and the government otherwise.
Mills' address struck a chord against additional weight on the highway system, but it also invoked a familiar figure in its appeal for electronic logs to help law enforcement "get some of these tired truckers off of our nation's roads and highways."
In 2013, Mills took his seat on the MCSAC, where he remains.
Also in 2013, industry representative Bob Petrancosta, who'd retired after years with Con-way, was replaced on MCSAC by Don Osterberg, then with Schneider National, as an industry representative. Widely respected within trucking, Osterberg also was sympathetic to safety advocates' goals, being an outspoken proponent of speed limiters and ELDs. He was honored in 2010 by the Truck Safety Coalition for his carrier's rigorous approach to driver sleep apnea testing.
When Osterberg retired from Schneider, says Abbott, he was not replaced on MCSAC. That left only three representatives with a direct tie to trucking: Abbott, Spencer and Danny Schnautz of Texas-based Clark Freight Lines.
FMCSA is satisfied with the committee's makeup and "seeks every opportunity to achieve greater balance," says spokesman Duane DeBruyne.