Stacy Turner heads up all things relative to driver employment at the seven-driver Turner Transport open car hauling fleet based near Atlanta. One of those drivers, her husband and fellow company head Eric Turner, says that as far as retention goes, the fleet has little problem keeping its drivers on board. That's largely due to something of a holy trinity of best practices that Stacy is quick to boil down in her interviews with driver prospects. She considers all who join to be family.
Want to keep a driver around for a long time? Give him "good equipment, good home time and good money," says Turner driver Jay Dorris, paraphrasing Stacy's central message.
Turner's haulers, with few exceptions, are home at least on the weekends, if not more often. If they're not, it might be for a special occasion such as the fleet's recent trip to the Great American Trucking Show in Dallas, where Eric showed his Detroit Series 60-powered 2015 Peterbilt 389 glider in Overdrive's Pride & Polish National Championship competition.
They brought the entire driver corps with the exception of one hauler who stayed behind to take care of ongoing business. On the weekend prior to GATS, "every last one of us worked both days so we could make it here," Stacy said at the show in Dallas. "Guess what? No one complained about anything – it's what we had to do to get the job done. We're all team players."
Retention issues are not so simply handled by other small fleets, if Overdrive's Spring 2016 Operational Survey is any indication. Retention was named by more than six in 10 respondents as one of the biggest issues in employing drivers.
Stacy Turner's pay, equipment and home-time dictum also rings true for the other three fleets consulted for this story. All have found some measure of success by paying close attention to drivers' needs.
Pay
At the 20-truck J&C Investments Inc. based in Garland, Texas, and with a location in Nebraska, owner Jeff Hardage says compensation is probably his biggest tool in keeping drivers happy. Many small fleet readers of Overdrive agree with him. The Operational Survey showed raising was the most frequently named successful retention tool among that segment of the readership: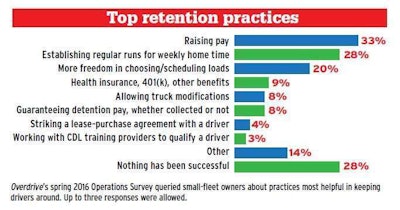 Paid on a mileage basis and running 3,000 to 3,500 miles weekly with multi-drop dry van freight, his drivers make $60,000 to $70,000 a year, Hardage says. The 16-driver fleet serves a primary customer as its central distributor in an area stretching from Texas into Ontario, Canada. That customer closes down on holidays, so most of those are paid days off for the drivers, he says.
Such an income beats the company driver norm. Average income is in the low $40,000s, according to the U.S. Bureau of Labor Statistics, or between $50,000 and $60,000, based on analyses of the pay packages of medium-size and large carriers by the National Transportation Institute.
It's also near what Schneider National co-founder Don Schneider once famously said drivers needed to make annually in truckload – $70,000 – to alleviate large fleets' recruiting and retention issues. Richard DeForest, of owner-operator business services provider ATBS, cited that figure in an Overdrive's Partners in Business seminar at GATS this year. However, it was 13 years ago when Schneider, who passed in 2012, said it. With inflation applied, it'd be more like $93,000 today.
The situation has been one in which "the rewards don't match the requirements of the job," DeForest says – and that won't change until freight rates support more income for the most important part of the supply chain: the driver.
Small fleets such as J&C have hit a sweet spot, keeping rates strong with a primary customer and establishing solid relationships with brokers on select lanes for freight such that "they pick up the phone and call us" when an opportunity arises. Contract rates with the customer are good enough that "if a trip out is within a 300-mile radius" of their locations, "it's not worth back-hauling," so drivers often return empty.
The 40-truck Fleenor Bros. fleet hauls hazmat explosives and other commodities out of headquarters in Joplin, Mo. Many of its 65 drivers run team. During the 2009-10 recession, "we had to cut everyone's pay, but not really significantly," says part-owner Kyle Cousins. "We've gotten it back now and even a little more, but we're trending toward more incentive-driven pay increases." Until recently, he says, the company didn't have a safety bonus.
The move to tie pay increases to more performance-based measures, he believes, gives drivers recognition when it's deserved. It's helped retention because "drivers like to see that they're getting paid for everything that they do."
J&C has moved to a guaranteed detention pay system in which drivers receive $20 an hour after two hours waiting at a dock, regardless of whether that rate is collected from the customer. Other fleets interviewed for this story have similar policies.
Augusta, Ga.-based Cadle Trucking maintains such a system for its six drivers. Owner-operator Ben Cadle also has instituted within the last year a weekly minimum guarantee to cover drivers during slow periods for flatbed freight in his operation as an agent for Bennett Motor Express. Instituted about a year ago when flat freight slowed down considerably, the policy guarantees $850 a week plus vacation and holiday pay, among other perks, Cadle says.
He's had two drivers for seven years each. He hopes the new policy delivers a reality that all his drivers won't "get anything any better anywhere else."
Equipment
Turner Transport's flagship 2015 Peterbilt 389 isn't the only show-worthy rig in the fleet. "All my trucks are chromed out," says Eric Turner. "Three Volvo 780s, two Freightliner Coronados and two Peterbilts."
The opportunity to operate top-shelf equipment encourages longevity at Turner and elsewhere. Drivers who've stuck by the company through times good and bad are rewarded with first pick of new equipment.
That's also the case at Cadle Trucking, where Cadle says those seven-year veterans "get the new trucks" or the choice of other equipment.
But equipment also can be a downside for retention, as Turner makes clear. Some of his late-model units have had issues with fuel mileage and emissions systems, creating undue downtime for his drivers, who make most of their money on percentage commissions. The fleet has begun investing in gliders, working with Fitzgerald Glider Kits of Crossville, Tenn.
Turner reports no significant problems with those units to date, and a boost in fuel mileage of close to 2 mpg over other trucks in the car-hauling operation.
Home time
It's a common small-fleet practice to hire within the area in which the company is headquartered. Many operate on an out-and-back model that gets drivers home for the weekend, if not even more frequently.
The Turners believe this dynamic is critical to their success. Turner driver Dorris underscores the big-happy-family dynamic by noting how close the spouses of Turner drivers are with each other, Stacy and the whole team.
Cadle also typically gets everybody in for the weekend, which also helps in rounding up all the equipment at the same time for maintenance. "I'll routinely walk around when they come back in to be sure I don't see anything wrong with them that the mechanics might have missed," he says.
Cadle says if you treat a driver like family, you end up with loyalty in the long run, and J&C Investments owner Hardage agrees. "We don't have a lot of turnover, because we treat our guys like family." He gives the example of two drivers who recently were taken off the road during battles with cancer. "We keep paying them a salary." They deserve it, he adds: "They've been with me for 20-plus years."
When Stacy Turner brings a new driver on board, that driver's comfort level is of paramount importance, she says. "Most of the time, we'll go buy that person a particular truck" if they haven't had someone leave a truck empty.
Drivers' needs should take precedence over equipment decisions, respondents to Overdrive's survey emphasized. Asked whether, when hiring to expand a small fleet, it made more sense to hire the driver before buying the truck, most respondents said the driver is more important.