Trucking news and briefs for Tuesday, April 6, 2021:
Calif. court opinion goes in favor of A.B. 5 applying to trucking
While a larger trucking case against California's A.B. 5 law's application to motor carriers and owner-operators is still unfolding in a federal district court, a second state court in California has ruled that federal law does not preempt a law that would effectively outlaw the leased owner-operator model in the state.
Trucking has been operating under an exemption from A.B. 5 since the beginning of 2020, when the law went into effect. A lawsuit by the California Trucking Associations against A.B. 5 is still in progress, and an injunction is in place until that lawsuit plays out.
A 1994 statute set by the Federal Aviation Administration Authorization Act (F4A or FAAAA) says federal laws preempt any state-level laws that would "interfere with prices, routes and services" of motor carriers. That's the statute that CTA and its attorneys are pressing the courts to uphold against A.B. 5 as it relates to trucking.
California's Second District Court of Appeals last week, however, ruled to the contrary, saying the F4A provision does not preempt any state rules that apply the ABC test for independent contractors. In hearing a case involving truck drivers who sued drayage company East Coast Transport over alleged misclassification, the appeals court said previous court rulings, including one involving drayage carrier Cal Cartage at the end of 2020, led to this ruling that F4A does not preempt A.B. 5.
The outcome of CTA's case against A.B. 5 is still unknown, as the U.S. 9th Circuit Court of Appeals decides to either uphold or end the preliminary injunction issued by the U.S. District Court in Southern California.
Operation Safe Driver Week to focus on speeding
This year's Operation Safe Driver Week will be held July 11-17 with an emphasis on speeding, the Commercial Vehicle Safety Alliance announced Tuesday.
During the week, law enforcement personnel will be on the lookout for truck drivers and passenger car drivers engaging in risky driving behaviors in or around commercial vehicles. Identified unsafe drivers will be pulled over and issued a citation or warning.
"Data shows that traffic stops and interactions with law enforcement help reduce problematic driving behaviors," said CVSA President Sgt. John Samis with the Delaware State Police. "By making contact with drivers during Operation Safe Driver Week, law enforcement personnel aim to make our roadways safer by targeting high-risk driving behaviors."
CVSA selected speeding as its focus this year because, despite a drop in roadway travel last year due to the pandemic, nationally, traffic fatalities increased. According to the National Safety Council's (NSC) preliminary estimates, the estimated rate of death on roads last year increased 24% over the previous 12-month period, despite miles driven dropping 13%.
Judging by the volume of moving violations issued around the country to truckers, too, traffic enforcement by state officers with accompanying inspections was down by a similar margin -- 16% compared to 2019, when they'd risen each of the last few years.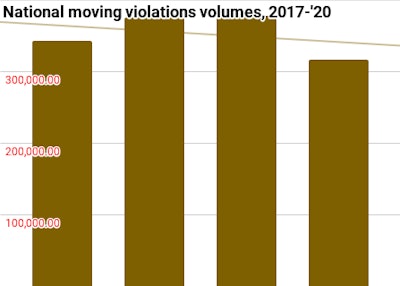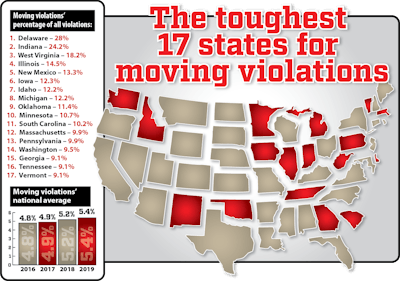 In addition to speeding, during Operation Safe Driver this year law enforcement will be tracking other dangerous driver behaviors -- reckless or aggressive driving, distracted driving, following too closely, improper lane change, failure to obey traffic control devices, failure to use a seat belt, evidence of drunk or drugged driving and more.
Last year, truck drivers received more than 10,000 warnings and citations for various unsafe driving behaviors during Operation Safe Driver Week. Speeding was the most common traffic violation for truckers during last year's enforcement spree, which resulted in 2,339 citations and 3,423 warnings.
[Related: The toughest states for moving violation enforcement]

Groups pledge to fight towing, staged-accident fraud
The American Trucking Associations, along with the American Property Casualty Insurance Association and the Coalition Against Insurance Fraud, are teaming up to promote the passage of legislation to "tackle the scourge of towing fraud and staged vehicle accidents across the country," the groups said in a press release.
A recent ATA survey of nearly 200 motor carriers found that 77% of respondents cited law enforcement referrals as their primary issue when selecting a towing company, and 70% of surveyed carriers reported facing serious issues with getting their cargo released after a tow.
"The partnership brings the nation's largest property-casualty insurance and trucking associations together and pairs them with the Coalition's formidable consumer interest credibility and voice in the field of insurance fraud," Coalition Executive Director Matthew Smith said. "When it comes to changing the landscape for policy holders in the specific arena of towing and staged accident fraud with these three organizations, the possibilities are endless."
The partnership is partly in response to an ongoing staged-crash ring in New Orleans in which a number of trucking companies were targeted.
"Our members are increasingly concerned with the impact predatory towing and staged accidents are having on their ability to conduct business," said ATA Chair Sherri Garner Brumbaugh, president and CEO of Garner Transportation Group, Findlay, Ohio. "By joining with APCIA and the Coalition Against Insurance Fraud, we are confident we can put an end to these unscrupulous and unethical practices."
Additionally, the groups said towing companies "are abusing insurers and crash victims" by showing up unauthorized to crash scenes to tow unsuspecting vehicles for high rates.
New Love's in Mississippi
Love's Travel Stops opened a new location last week in Sandersville, Mississippi, off of I-59.
The new location offers 93 truck parking spaces, a McDonald's restaurant, eight diesel bays, five showers, a Speedco and more.
The store is the 17th Love's location in Mississippi.