The Convoy company today steps into load-board territory with a new "Convoy for Brokers" program -- offering freight brokers other than Convoy's own brokerage direct access to the network of owner-operators and small carriers who use its current platform. That's not a small number of trucking companies -- the company says it represents more than 300,000 trucks in aggregate.
If you're a Convoy app user today, said company VP of Partnerships Brooks McMahon, you don't have to do anything new to access new load opportunities that may arise from third-party brokers' engagement with the system. "Carriers that are already certified in our network simply need to sign into the Convoy app. They'll see loads from Convoy and from participating third-party brokers together in the app, which they can then review and select loads to bid on."
If you're already onboarded with a particular broker using the app, load booking can proceed simply. If not, "they will need to get onboarded with such broker for the first load booked, and then they're off and running from there forward," McMahon added. Carriers get rate confirmations through the app as with a Convoy-brokered load but with the third-party broker's name on it as the broker of record.
Carriers continue to reap the benefits Convoy currently touts as coming with use of its program -- payment in two days with QuickPay, "hassle-free detention," instant in-app feedback on bids, and more.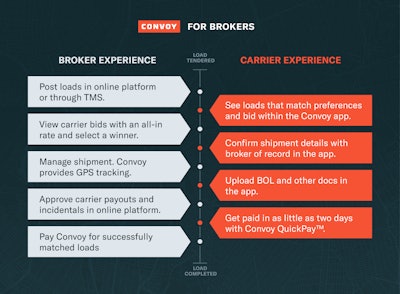 As a carrot for outside broker participation, the company is offering what it calls a "zero-risk pricing model" -- i.e., brokers are only invoiced when loads are successfully booked through the program.
In developing its system, Convoy worked with USA Truck and AFS Logistics, both of whom have heaped some praise on the system. AFS Transportation Management President Andy Dyer lauded the pricing model as offering opportunities to scale with growth as load matches are successful through the system, without big up-front investments.
USA Truck Senior Vice President George Henry hoped freight-industry waste might be "avoided with new approaches to capacity sourcing and shipment automation" like Convoy's platform, and noted Convoy for Brokers had "helped us support additional growth in our load volume and increase the productivity of our team by making it easier to access trucks."
Henry also admitted that "there are some areas where we compete with Convoy," though believed this particular coopetition (competition and cooperation at once) model served USA Truck's brokerage's interests well.
Other tech-forward companies have gotten into brokerage before expanding out into the load-board space -- KeepTruckin's Smart Load Board, for instance, followed the purchase of One Point Logistics and work within the company understanding at a more granular level how the freight matching world worked. Notably, though KeepTruckin closed One Point well before the October 2020 operational unveiling of the Smart Load Board.
Convoy, on the other hand, leans into the coopetition aspects of what it's doing by delivering to brokers a platform that McMahon says is partitioned from the brokerage side of Convoy. Convoy is operating only "as a tech and capacity partner and facilitator" with the Convoy for Brokers platform, he said. "The brokerages that use this new program will remain the broker of record for loads booked through our platform," and protections are in place for brokers' "relationships with the shippers and carriers they work with."
[Related: KeepTruckin load board makes debut with brokerage partners]
The platform, he added was built with that in mind, including "three layers of isolation from the rest of Convoy's business — isolation of broker data, technology, and processes. For example, brokers' data is stored in separate tables that can only be accessed by members of the Convoy for Brokers team. This data isn't used by the systems and models that power our products and services for shippers. We've also built a separate technology stack to enable a further degree of separation."
The company's IT security policy outlines additional isolation-of-data steps and data privacy commitments are including in the program agreements and privacy policy.
Convoy for Brokers, the company hopes, will contribute to reduction in hours of back-and-forth emails and phone calls for brokers and carriers alike, give brokers a hand up on the carrier-vetting process and more. The program, McMahon added, "is the result of more than a year of hard work" with collaborator USA Truck and others. "Our work together over the last year exemplifies how freight industry collaboration can benefit all parties — carriers, shippers, and brokers."
Dan Lewis, Convoy CEO, hoped the platform would be a benefit to brokers who share the company's goal of eliminating waste in the matching process. "The only way to achieve that mission is by partnering with other freight companies and sharing the benefits of a digital freight network," he said.
[Related: A pandemic-induced milestone for a diversifying loads platform]